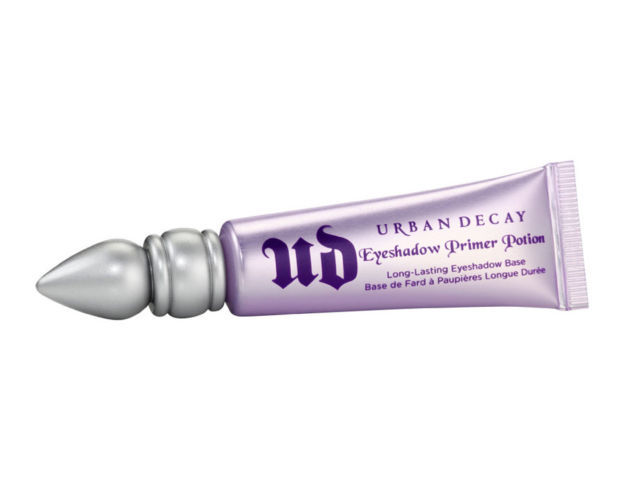 Eye shadow and eyeliner have the potential to run, crease, or even clump. Fortunately, Urban Decay's Primer Potion enables you to wear eye makeup confidently without worrying about your appearance. As the name suggests, Primer Potion serves as a first layer for base colour and shades. It has the potential to keep eye makeup looking great for the entire day, leaving you free to focus on more important things. Following some key steps can help you look your best when using the Urban Decay Primer Potion.
Choose a Colour
Urban Decay Primer Potion is available in four different colours, including Original, Greed, Sin, and Eden. Each of these provides a distinctive appearance that you can use in conjunction with eye makeup to create an original look.
Primer Potion Shade

Description

The basic Primer Potion

Dries invisibly for a natural appearance

Creates a yellow-gold colour

Has a shimmer

Dries to a light champagne colour

Has a shimmer

Produces a light beige colour

A matte primer
Due to the tint in Eden, Sin, and Greed, these products are also usable as shadows or highlighters. You can purchase sets of four small bottles that contain each type of Primer Potion, so try experimenting with all of them to find an appearance that suits you.
Apply a Moisturiser
Before using the primer, it is important to apply a quality eye cream. Moisturising eyelids in the morning can keep the skin soft and receptive to the primer, which prevents eye shadow from appearing cakey or chalky. It also reduces instances of creasing. Allow the moisturiser to dry thoroughly before using the Primer Potion.
Apply the Primer
Once your eyelids are soft from the eye cream, apply the Primer Potion. There are two different forms available for the product. The original packaging is an upright bottle with an applicator wand, while modern releases of the product use a squeeze bottle. Both versions provide the same Primer Potion, although the application method for each is slightly different.
Squeeze Tube
There are a few different ways to apply Primer Potion from the squeeze tube. You can put one or two small drops onto your eyelid and spread it around using your finger. Alternatively, try placing the primer onto the back of the hand and using a finger to gather as much as you need. If you want to do both eyelids at once, squeeze a small amount onto the tip of a single pointer finger. Rub two pointer fingers together until you have an even amount of primer on each, and then apply it to the eyelids.
Bottle and Applicator
If you have the original bottle style, use the applicator wand attached to the cap of the product to apply the primer. If this feels uncomfortable, or if you use too much this way, dab a finger into the built-up primer inside the cap. From there, apply the primer using a finger as you would with the squeeze tube.
Use Small Amounts of Primer
A thin layer of primer is all you need for the product to work properly. A drop no larger than a pea should be sufficient, and you may be able use a drop as little as a sesame seed. Spread the primer across your skin from the lash line up to the eyebrow, or on any area you intend to use eye shadow. Allow the primer to dry for a few minutes to ensure the base colour adheres properly.
Apply a Base Colour
Once you have put on the primer, add the base colour and any additional shades you like. If the eye shadow is creasing, it may be the result of using too much primer. It can also be due to overly dry skin. Experiment to find the best use of primer and eye shadow for your skin.
How to Buy Urban Decay Primer Potion on eBay
You can shop for all shades of Urban Decay's Primer Potion from the sellers on eBay. To find these items, enter search terms like " Primer Potion Sin" into the search field on any eBay Web page. You can also browse category links to find a wide selection of beauty products . Try shopping on eBay Deals to obtain free shipping on items from top-rated sellers.
Proper use of Urban Decay Primer Potion can help keep eye makeup looking great all day. For the best results, use a moisturiser before the primer and allow the primer to dry before adding a base colour. Try using each of Primer Potion's shades to find a combination that looks great on you.