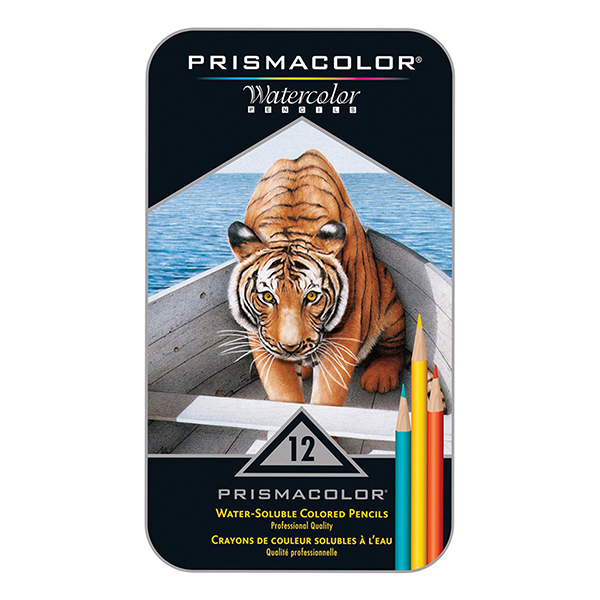 Watercolour pencils provide a unique design option that captures the softness of the popular watercolour paint with the specificity and intensity of drawing. The unique look provides a different medium for sketch artists who wish to diversify their style. Like the paints, watercolour pencils, crayons, and related supplies are relatively easy to find. They are low-mess and inexpensive. As with paint, water and special paper are a part of the drawing process. Various grades of watercolour pencils exist, with many artists preferring the highly-reviewed Prismacolor and Derwent Academy brands. Learning how to use watercolour pencils requires diligence, creativity, and practice. The final result is beautiful art that lasts a lifetime.
Collect the Appropriate Supplies
Collecting the right supplies is the first step to creating attractive sketches using watercolour pencils. Having all supplies on hand makes the process simpler and keeps the artist from having to step out mid-design.
* Watercolour Pencils
* Watercolour Paper
* Regular Pencil
* Cup of Water
* Waterbrush
Select the Appropriate Paper
When using watercolour pencils it is important to use the correct type of paper. Watercolour paper stands up dampness, while regular paper buckles beneath the moisture. Although it is possible to use watercolour pencils without water, the addition of liquid following design provides the characteristic look that differentiates watercolour pencils from standard coloured pencils.
Draw a Sketch of Subject Using Regular Pencil
To start the process of creating a watercolour pencil design, artists typically sketch the outline of the subject using a regular drawing pencil. This creates a guide for developing the rest of one's image. This is a rough sketch, with little to no detail. Shapes are important, but detail is not. Use a light, regular drawing pencil without colour.
Add Base Layer of Watercolour Pencil
Start fleshing out the intended design by adding a base layer of shade using watercolour pencils. This base provides the underlying tone to build one's design, such as a person's skin colour or the primary colour of a piece of fruit. Highlights, outlines, shadows, and shading come later. Some artists apply a thin layer of water to the paper before adding the base layer. This creates a distinctly different look than on dry paper, later brushed with water. Those who are new to watercolour should try several styles.
Add Second Layer of Watercolour Pencil for Shade
Typically the second layer of watercolour designing is the shading process. Shading helps to create realism and depth. At this point one's design should start to look complete. Shadows and highlights are final touches, used to create a more realistically detailed design. Several layers of watercolour pencil provide various levels of depth, just as with coloured pencils.
Create Shadows and Highlights
Following the drawing, create shadows and highlights using a variety of colours. Lighter shades added in certain areas, contrasted with darker shades, create realistic dimension. This is particularly important when creating realistic, classical still life designs.
Brush Image with Water
If dry, brush the design with water following completion. Any paintbrush works. Some artists use a variety of different brush sizes, though flat 'water' brushes are typically preferred for this task. Brush over lightly and carefully. Shades can lighten somewhat when water is applied. This creates the watercolour design, and is sometimes referred to as washing the design. It is important to apply small amounts of water at a time, rather than saturate the piece. This helps to maximise artist control and reduce the amount of pigment dilution.
Dip Pencils in Water to Add Outline
After brushing the design with water, provide time for it to dry. After drying, dip pencils in water and outline the image. This increases depth and provides for a more solid design. Some artists may not want the effect produced through this method. Experimentation is a must, as many variables are possible with watercolour pencils.
How to Buy Watercolour Pencils on eBay
Watercolour pencils and related art supplies are widely available on eBay. To find appropriate supplies on eBay or eBay Deals, for any watercolour project, try typing terms in the site's search engine such aswatercolour pencils or watercolour paper. Use eBay's refinement options to narrow the selection of search results. A wide variety of brands, from sellers all over the world, make it possible for consumers to collect every necessary supply for a complete watercolour design. Every budget is accommodated. Sometimes supplies of this type are available as a 'lot' through an eBay seller making it less expensive to collect everything in one delivery.