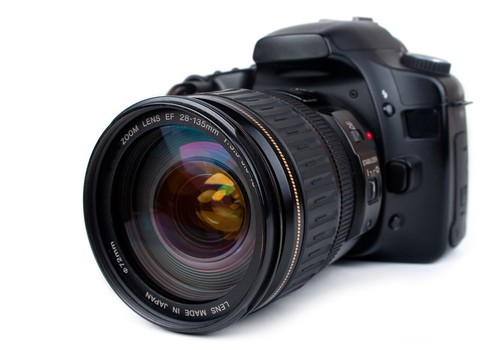 DSLR cameras are capable of capturing crisp and attractive digital images and videos. Canon produces several of these cameras, enabling you to select one that fits your budget and needs. You can shop for DSLR cameras from camera shops, department stores, and online marketplaces like eBay. Although these products provide plenty of flexibility, the high number of features and buttons they contain can be a bit intimidating at first. Understanding several key features can help you get started with a Canon DSLR camera.
Shooting Modes
One of the most useful aspects of a DSLR camera is its shooting modes. There are four primary shooting modes on Canon's cameras, and they are identifiable by the letters Av, Tv, P, and M on the mode dial. There is also an automatic mode. Each of these affects the amount of control you have over a camera's aperture and shutter speed.
Aperture Priority Mode (Av)
The Av mode allows you to set the depth of field by adjusting the aperture. This means you can bring background objects in and out of focus. Once you choose an aperture, the camera automatically selects a suitable shutter speed. A higher aperture number brings a greater number of background objects into focus, while a lower number causes the background to become indistinct.
Shutter Priority Mode (Tv)
Shutter Priority Mode enables you to choose the shutter speed for the shot. This means you can choose to blur images of moving subjects or capture them clearly. As you choose the shutter speed, the camera automatically selects the aperture for the shot.
Program Mode (P)
Program mode offers greater flexibility than the automatic mode, but still provides an easy way to capture attractive shots with little effort. In this mode, you control the flash and focus, while the camera handles other factors. However, you have the option to adjust the aperture and shutter speed, if desired.
Manual Exposure Mode (M)
This mode enables you to manually set the aperture and shutter speed, making it a suitable option for advanced users. You can choose to have the auto focus turned on or off while you adjust the other settings, and an indicator on the viewfinder reveals the aperture and shutter speed settings.
Full Automatic
The automatic mode adjusts aperture and shutter speed for you. This is a convenient mode when you are first learning to use the camera, although it is also useful for shooting casual photos.
Video Mode
Canon DSLR cameras can record video in a variety of resolutions and frame rates. Lower frame rates and resolutions occupy less storage space on thememory card and computer, though they have reduced clarity. There are three available video resolutions for all DSLR cameras in the Canon lineup, including 1920x1080, 1280x720, and 640x480 pixels.
Canon DSLR cameras also feature five frame-rate options for video. These affect the smoothness of the videos you record.
Frame Rate

Description

Uses little room on the memory card

Motion appears rougher than on other settings

25 fps

Used for video broadcasts in PAL regions, including Australia and Europe

30 fps

Standard for video broadcasts in NTSC countries, including the US

50 fps

Standard for 720p video

Used for HD broadcasts in PAL regions

60 fps

Gives video a seamless look

Easy to edit down to 30 fps

Occupies large amount of room on a memory card
Bear in mind that a high setting is not always the best choice, as some applications have a maximum resolution or frame-rate limit. Try experimenting with different resolutions and frame rates to find settings that work well for you.
Use the Latest Firmware Updates
You can obtain regular firmware updates for Canon DSLR cameras from the manufacturer. To do this, check the firmware version of the camera. This information is located in Firmware option of the camera's menu. Once you identify the version you have, head to Canon's website to see if there is a newer version available. If there is, download the update to a memory card and transfer it to the camera.
How to Buy a Canon DSLR on eBay
You can shop for several Canon DSLR cameras along withaccessories from the sellers oneBay. Locate the camera you want by entering keywords into the search field. eBay Deals offers products with free shipping from top-rated sellers, so check listings there to find a great deal on your next camera.
Canon's DSLR cameras enable you to capture high-resolution video and still images for a variety of applications. Begin by familiarising yourself with the different camera modes for still shots. It is also useful to understand the frame rates and resolution settings for videos. With a bit of patience, you can enhance your photography practice and capture eye-catching images and videos with a Canon DSLR camera.