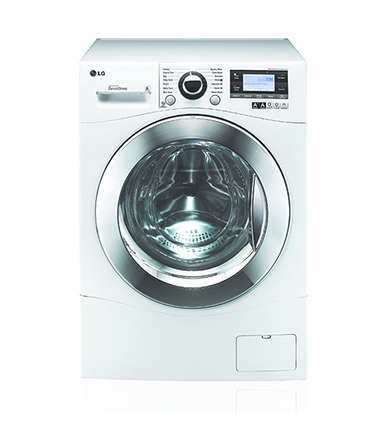 Busy people who need to wash clothes as quickly and efficiently as possible can rely on LG front load washers. The company's models feature TurboWash and LG Steam technology, as well as a TrueBalance Anti Vibration System. The manufacturer's SpeedWash technology allows people to clean small loads in just 15 minutes. Front load washer models range from 0.06 to 0.15 cubic metres, and colour options include white, graphite steel, and wild cherry red. When selecting the right washer, make sure to choose the right location to place it in, and then learn a few easy usage steps to start washing clothes. To search for LG front load washers, shoppers can go to local shops or visit eBay.
Installing an LG Front Load Washer
When choosing a place to keep the washer, make sure to keep a few key details in mind, including location, whether to use a pedestal, ways to reduce noise, and how to connect the washer to the water supply.
Choose the Location
When selecting where the washer should go, whether it is an LG model or one from another manufacturer, choose a place where it stays safe from temperatures below freezing. Make sure it stays indoors to keep it safe from outdoor weather conditions, and never place it where it can get wet or damp. Place the washer within reach of an outlet. Finally, always ground the appliance to prevent electric shock.
Install the Washer
To save money, some shoppers install the washer themselves. Before beginning, always read the owner's manual, including all safety information. If in doubt about an installation step, consider contacting the manufacturer for clarification.
Those who want to install the washer themselves should also make sure to level the washer to reduce noise and vibration. To ensure water line and airflow clearance, LG recommends allowing for at least 2.54 cm on the sides and 10 cm in the back of the machine. Also, make sure to leave room to open the washer's door, at least 61.2 cm in the front. If installing the washer in a carpeted room, ensure that the base opening remains clear and unobstructed.
Using an LG Front Load Washer
LG has made using its front load washers easy. First, group the clothes by colour and fabric. Make sure to read care instructions for new clothes items. Next, open the dispenser drawer and add in the detergent and liquid fabric softener. The dispenser drawer includes a Main Wash Powder Detergent Compartment, Main Wash Liquid Detergent Compartment, and Liquid Fabric Softener Compartment.
After adding the appropriate detergent, select the cycle and cycle modifier. Then select any other machine options. Begin the wash by pressing the Start/Pause button. Remember, when using the washer, apply settings appropriate to the type of clothing to avoid shrinkage, colour fade, or colour run. LG washer advanced technologies, including TurboWash, LG Steam, and ColdWash, also help penetrate stains and dirt.
LG Technology

Function

Sprays a concentrated detergent onto the clothes

Quick soaking time

Eliminates dirt, odours, and wrinkles using steam

Uses less water than conventional washers

Allergiene cycle removes more than 95 per cent of household allergens

ColdWash

Provides cold water savings with warm water performance
Always consult the washer's user manual to learn more details about washer cycles and settings and how to use them effectively.
LG Front Load Washer Models
LG front load washer models range from 0.06 to 0.15 cubic metres. Specific models feature advanced technologies, including LG Steam, ColdWash, and TurboWash settings. When choosing the perfect LG front load washer, make sure to keep available room space and washing capacity requirements in mind. For bigger families, consider the 0.15 cubic metre Mega Capacity TurboWash machine. Families with two or three members can use a smaller machine.
How to Buy an LG Front Load Washer on eBay
To search eBay or eBay Deals for a front load washer, go to any site page and type in a few keywords. Then, use the category options to narrow your search down even further. Remember to read all product specifications, including size and colour, before making a purchase. Also, review seller ratings to ensure high customer satisfaction reviews.
Thanks to advancing technology, using front load washers is easier than ever. LG front load washers, which range from the Large to Mega Capacity models, garner high ratings from LG customers who value the steam, turbo, and cold wash options. Remember to select a model according to family size and then place the washer in a safe and secure spot before using it.