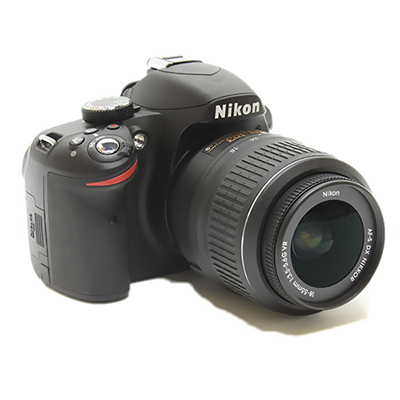 Sure, that point-and-shoot camera and the husband's iPhone take decent pictures. But when they want a higher-quality shot, they often turn to a DSLR. Today's full-feature models, including those from the revered manufacturer Nikon, pull double duty: They can operate in a simple, automatic mode, yet also offer an expanse of options to help beginning and established shutterbugs obtain the perfect shot, no matter the conditions. A brief review of the Nikon D3200's important features and settings prepares the buyer for a trip to eBay, where a full range of cameras, lenses, and accessories awaits.
Nikon D3200 Features
Lightweight and compact, the Nikon D3200 is easy to hold and operate with easy-to-manipulate buttons and dials. The right brightness and texture of the shot come from a large image sensor and whopping 24.2 megapixels. Portrait shots benefit from the camera's multiple Scene Modes, including the Scene Recognition System, which identifies the subject and setting conditions to deliver just the right focus, colour, and brightness combinations. This also allows for an easily programmed background blur to ensure that viewers' eyes move directly to the intended subject. When blur is unwelcome, the camera's wide ISO sensitivity range facilitates a clear shot, even with dim lighting or moving subjects, such as those at sporting events.
Other noteworthy advanced features of the Nikon D3200 include high-quality video recording; 24 million pixels, both effective and total; an ISO capability from 100 to 6400, up to the equivalent of 12800; high-speed shooting of 4 frames per second; a long-life rechargeable Li-ion battery; and a sizeable LCD viewing monitor that delivers a consistently crisp picture. For ease in navigation and setting, the camera has a built-in Guide Mode, a help menu of sorts that provides on-the-spot set-up for a number of situations.
How to Use the Nikon D3200
Camera newbies may wish to start their adventure with the D3200's point-and-shoot functionality. Rest assured that the wide range of automatic settings provides numerous options for personalisation unavailable with non-programmable SLRs, tablets, or smartphones. There are two fully automatic settings, AUTO and FLASH OFF. It is important to note that the camera's shutter speed is slower in the absence of flash; thus, the manufacturer recommends the use of a tripod, or an extremely steady hand. With two hands, one on the handgrip and the other on either the body or lens, raise the camera to the dominant eye; then, using the onscreen focus points, frame the subject as desired. Pressing the shutter-release button halfway automatically sets the focus point; if needed, the built-in flash pops up at this point. By completely depressing the shutter-release button, the camera captures the picture.
Beyond these automatic settings, the Nikon D3200 comes with six easy-to-use scene modes for capturing pristine pictures in a variety of situations:
* Portrait
* Night Portrait
* Child
* Close up
* Landscape
* Sports
While these settings are highly beneficial, it is important to learn the backbone of DSLR operation: aperture (A) and shutter speed (S). Shutter speed refers to how long the camera leaves the shutter open before capturing the picture. On the slow end is 1/30 of a second, whereas fast can be up to 1/250 of a second. Experienced photographers recommend a long exposure (slow shutter speed) in low light, and a faster speed when capturing moving subjects. ISO settings vary from day to night, indoors to outdoors, with some standard starting points bearing consideration.
| | | | |
| --- | --- | --- | --- |
| Light Conditions | Indoors | Outdoors | ISO Setting |
| | | X | 100 |
| In the shade on a sunny day | | X | 200 |
| Hazy | | X | 200 |
| Lighting in the daytime | X | | 200 |
| Cloudy | | X | 400 |
| Lighting in the evening | X | | 400 |
| Late night | | X | 800 |
| Low-light conditions | X | X | 800 |
| Sporting arenas at night | | X | 800 |
Hand in hand with shutter speed is aperture, which controls the depth of field: what part of the subject or image a photographer wishes to focus on. In setting a large aperture, shutterbugs can pinpoint the emphasis on a desired subject; by comparison, the smaller aperture maintains a uniform focus across the entire frame. Aperture is represented via F-stop, so named because of its former reference to a lens's focal length. As new photographers grow more comfortable with their camera, they can dive into its more advanced settings and options, including focus mode (AF-A, AF-S, AF-C, and MF), flash mode, ISO sensitivity, white balance, and picture controls.
How to Buy the Nikon D3200 on eBay
eBay is a shutterbug's dream. With cameras, lenses, tripods, accessories, and bargains galore, you cannot help but find the perfect products for your photography needs. The Nikon D3200 is a popular product; make sure you check out not only the main eBay site, but eBay Deals, as well, as you never know what you can find. Digital cameras have made it easier than ever for you to capture your favourite moments, from your children's birthday parties to family vacations to holiday photos. A full-featured DSLR such as the Nikon D3200 vastly expands your capabilities. With both basic and advanced setting options, you can get the perfect picture every time.