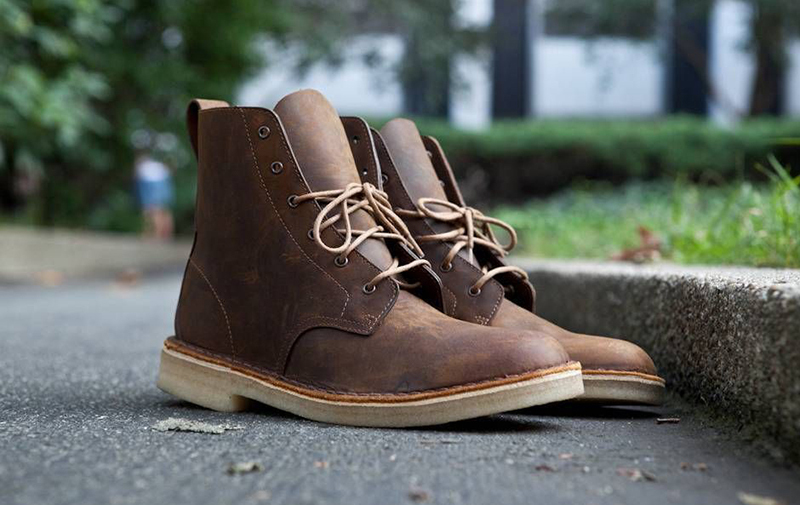 Modelled after the ankle-high crepe-soled boots sported by English officers during the Second World War, Clarks desert boots are a rugged style for any occasion. Available in numerous boot and sole colour combinations, wearers can increase their boots' utility by waterproofing them. Clarks recommends using a rain and stain repellent or non-silicone spray to protect the exterior. Waterproofed Clarks desert boots can withstand water and snow without spotting, leaking, and weighing the boots down.
Benefits of Waterproofing
Clarks desert boots feature a crepe sole and small heel attached to the leather upper with sturdy stitching. Two-piece footwear construction is vulnerable to leakage, and materials such as suede and leather can spot in the rain. Water-permeated boots lead to uncomfortable soaked feet. Every time moisture enters the leather fibres and exits through drying; the leather easily cracks causing visible damage. Salt, commonly used to melt snow on footpaths in winter, is corrosive to leather and can permanently damage, stain, and weaken leather boots. Consumers should note that waterproofing treatment is not permanent, and it needs repeating with continual exposure to moisture.
Waterproofing Suede Clarks
Waterproofing suede boots starts with brushing the suede, followed by the waterproofing process. The consumer needs a suede brush, suede-specific waterproofing spray, and a second-hand towel. The spray should allow the boots to retain their breathability. Users should treat their boots in a well-ventilated room.
Preparation
To ensure the spray does not discolour the boots, spot test it on a small, inconspicuous section. Next, remove the laces. Gently run a suede brush across the grain so it faces the same direction. Variations in the shade should not occur.
Spray Application and Drying
Holding one boot, spray the suede surface evenly and completely, but resist the temptation to overdo it. Heavy coats of spray can discolour the suede. Spray the second boot the same way. Dry the boots on a towel in a well-ventilated room for 24 hours. Ensure the spray has dried by touching an inconspicuous area. After waterproofing, if the boots become wet while worn, pat the dampness with a cloth, and let them dry thoroughly. Refresh the surface with a suede brush.
Waterproofing Leather Clarks
Consumers should use a waterproofing product made specifically for leather, either a compound or a spray. Most products impart a deep, shiny look after application, which fades after a day or two as the leather absorbs the product.
Waterproofing Compound
Beeswax treatments, such as Sno-Seal and Huberd's shoe grease, dry and provide a seal that repels moisture. Produced by an American firefighter, Obenauf's heavy-duty leather preservative provides industrial-strength protection against extreme weather conditions. These compounds repel moisture but do not act as a boot polish.
Waterproofing Spray
Waterproofing sprays are not as thorough as waterproofing compounds in protecting leather boots, but they provide an effective barrier that last for several wears. Shoe repair professionals recommend applying this spray generously, as leather boots are not as susceptible to uneven application as suede boots. Waterproof leather sprays are a bit easier to apply than compounds and are generally ready to wear in 30 to 60 minutes.
Application
First, remove the laces, and ensure the waterproofing compound or spray does not change the colour of the leather by testing it on a discreet area of the boot. Treat the entire surface so there are no sections where water can penetrate. Users should follow the directions for the specific product. Allow the boots to dry in a well-ventilated room.
Clarks Desert Boot Care
In addition to waterproofing these rugged boots, consumers can take other measures to extend the life and comfort of their Clarks desert boots. These include storing them using shoe trees.
| | |
| --- | --- |
| Tip | Benefit |
| Wear alternate boots | Allows moisture to dry if regular boots become wet |
| Store on cedar shoe tree | Absorbs moisture |
| Dry boots at room temperature, not near heater | Heat damages adhesives and leather's suppleness |
| Store out of shoebox | Shoebox storage in humid climate causes deterioration |
The manufacturer recommends that wearers follow the cleaning instructions that come with each type of leather boot. Clarks desert boots come in full-grain leather, suede, and beeswax leather, which all require slightly different cleaning methods.
How to Buy Boot Waterproofing Supplies on eBay
After you identify the waterproofing product that best suits your Clarks desert boots, begin your search on eBay. Enter the item you want such as 'boot waterproofing', in the search box located on any page. To refine your search, enter details, such as a brand or boot material. Examine the seller's feedback ratings, ensuring the merchant has a history of good customer service. Understanding the waterproofing process for different types of boots allows you to choose the right product.