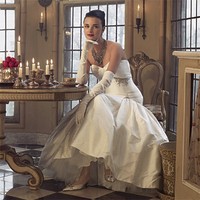 There was once a time when a woman wouldn't leave the house without a pair of gloves on. Wearing gloves soon fell out of fashion for casual wear but in weddings - they add so much elegance and glamor to your wedding ensemble. There are lace, satin, silk, fingerless, beaded gloves - how do you choose just one pair? Read on to find out how to wear gloves during your wedding day.
Color and fabric
First, choose a color that matches your wedding dress's color and fabric as closely as possible. If your wedding dress is made out of white lace, then pair it with white lace gloves. If you're walking down the aisle in an ivory satin number, choose ivory satin gloves.
Length
There's only one rule to follow when selecting gloves to go with your dress: the more formal the wedding dress, the longer the glove. The length of the glove is usually based on the number of buttons. A strapless ball gown goes best with the opera-length glove, which has 16 buttons. A glove with 8 buttons (an elbow-length glove) or 6 buttons (ends below the elbow) looks great with a short-sleeved gown. A casual wedding in a garden calls for wrist-length gloves. When in doubt, go for the 6 or 8-button gloves, as these lengths will complement most wedding gown styles.
Wearing the wedding ring
During the wedding ceremony, the groom will need to slip the wedding band onto your ring finger! You don't have to remove your glove in front of everyone. Instead, make a slit on the seams of the ring finger of the left glove, and push the material during the ceremony. After the ceremony, you can either sew the slit quickly or wear an un-slit pair. Alternately, you can choose to remove your gloves during the ceremony and put it back on before the reception.
Consider fingerless gloves
Fingerless gloves are very popular and come in all sorts of styles. The best thing about fingerless gloves is that the groom can easily slip the wedding ring onto your finger during the ceremony. It's also a lot easier to eat with fingerless gloves on.