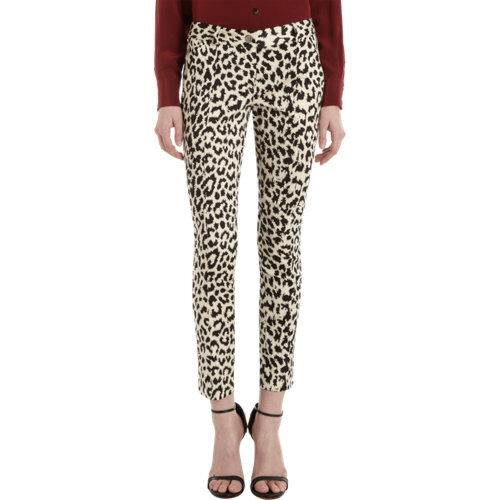 Most women love heels or at least the idea of wearing them. High heels have been the quintessence of elegance for decades and they have the unique ability to embody a feminine and glamorous look all in one pair of shoes. Even though they may not be the most comfortable shoes around, heels can be worn without any pain if they are chosen correctly. Heel shoes can be worn for all occasions and in order to look good all a woman has to do is choose a model that is consistent with her style.
The combination of heel shoes and trousers is one of the classiest looks one can attain, if done correctly. This is a very versatile mix, as heels can be worn with an elegant pair of cigarette trousers and a comfortable pair of jeans as well. Women who are looking for a new pair of shoes that goes well with their favourite trousers should learn more about different possible combinations before making a purchase.
Dos and Don'ts of Wearing Heel Shoes with Trousers
Women can choose from many styles when it comes to heel shoes. From block heels to stilettos, many kinds of heels are a good fit for trousers. While most kinds of trousers work well with heels, there are some dos and don'ts one should consider for creating the perfect outfit. Before buying a new pair of heel shoes, one should first think about the type of trousers they intend to wear them with. Not all kinds of trousers work well with any kind of heel.
Wedges and baggy trousers are a definite do. Whether women are looking for wedge sandals for summer or wedge boots for the cold season, they can pair them successfully with some baggy trousers or jeans. This combination is excellent to refine any silhouette, but in order to work well, the heel should be at least 15 centimetres high.
Women who would like to wear heel shoes with a business suit have several choices. A trousers suit goes well with open court shoes, sandals, or even stilettos. An important rule is to pay attention to the colour scheme of the outfit when choosing a pair of heel shoes for a business suit. For casual outfits, one can play more freely with colours, but for example, yellow heel shoes would not be a good fit for business attire.
Types of Heel Shoes that Work Well with Trousers
Even though most types of trousers can be paired with heels, some combinations work better than others. For example, a pair of wedge sandals is a good choice for a pair of casual flared linen trousers, while a pair of low-heel Mary Janes is not. Besides taking into account the style of the shoes, buyers should also consider the materials from which the shoes are made of.
Court Shoes
Court shoes are a great choice for cropped trousers. Pairing these two fashion items may create a provocative, yet interesting outfit. High or mid-heeled court shoes are also a good choice for tapered trousers, as the combination often results in an optical illusion of elongation.
Stilettos
Perhaps the most popular type of heel shoes with women of all ages, stilettos have been the epitome of elegance and attractiveness for decades. The good thing about owning a pair of stilettos is that they are versatile, which means one can wear them both for casual and formal outfits. They can be easily paired with some boot cut jeans for an effortless chic look, but also with a pair of elegant trousers for a special event. Another popular combination is stilettos with skinny jeans. This is a style that can be adapted for various occasions. One can work it as a casual outfit in combination with a shirt and jumper or dress it up for an evening event with an elegant T-shirt and a leather jacket.
Boots
Heeled boots are a must for creating elegant outfits in the cold season. Ankle boots are a good option for skinny and boot cut jeans. They also work well with skinny cargo trousers, chinos, khakis, and cords.
Peep Toe Sandals
Peep toe heeled sandals or wedges are one of the best choices for cropped trousers. They offer extra height, as well as an elegant look. Women can pair them with flared trousers as well and the golden rule to look fabulous in peep toe sandals is a perfect pedicure.
Ankle Straps
As the main purpose of ankle straps is to accentuate one' ankles, these shoes work best with cropped trousers. The higher they are, the better the elongation effect is put in place. Ankle straps are a good choice for elegant outfits, but they can also be integrated into casual styles.
Mary Janes
Many women think that Mary Janes can be paired exclusively with dresses or skirts. The truth, however, is that Mary Janes with cropped trousers are a very trendy combination. The trick is to wear Mary Janes with a mid-heel instead of low-heeled ones for a more elegant effect.
Tips for Choosing High Heels in the Correct Size
Wearing heel shoes in the wrong size is very uncomfortable and in time could lead to backaches and other health problems. This is why buyers should pay close attention to the size of the shoes they are buying, especially if they are doing so online. Shoe sizes differ from country to country, so it is often essential to be able to convert sizes. The following chart can help buyers find their correct size when shopping for a new pair of heel shoes.
| | | | | | |
| --- | --- | --- | --- | --- | --- |
| AU | US | UK | Europe | Inches | Centimeters |
| 23.2 | 6 | 4 | 37 | 9 | 23.2 |
| 23.5 | 6 1/2 | 4 1/2 | 37 1/2 | 9.25 | 23.5 |
| 24 | 7 | 5 | 38 | 9.45 | 24 |
| 24 | 7 1/2 | 5 1/2 | 38 1/2 | 9.45 | 24 |
| 24.7 | 8 | 6 | 39 1/2 | 9.65 | 24.7 |
| 25 | 8 1/2 | 6 1/2 | 40 | 9.85 | 25 |
| 25.5 | 9 | 7 | 40 1/2 | 10 | 25.5 |
| 26 | 9 1/2 | 7 1/2 | 41 | 10.23 | 26 |
| 26.5 | 10 | 8 | 42 | 10.4 | 26.5 |
| 27 | 10 1/2 | 8 1/2 | 42 1/2 | 10.6 | 27 |
| 27.5 | 11 | 9 | 43 | 10.8 | 27.5 |
| 28 | 11 1/2 | 9 1/2 | 44 | 11 | 28 |
| 28.5 | 12 | 10 | 44 1/2 | 11.2 | 28.5 |
| 29 | 12 1/2 | 10 1/2 | 45 | 11.4 | 29 |
| 29.5 | 13 | 11 | 46 | 11.6 | 29.5 |
| 30 | 13 1/2 | 11 1/2 | 46 1/2 | 11.8 | 30 |
| 30.5 | 14 | 12 | 47 | 12 | 30.5 |
Besides choosing the right size for heel shoes, buyers should also pay attention to the height of the shoes. Not everyone can walk on very high heels and it takes a bit a practice to get the hang of it. Choosing low or mid-heels for daily wear may be a good choice to avoid fatigue or any kind of pain.
How to Find Heel Shoes on eBay
If you are interested in buying heel shoes to pair with trousers, you can find a large selection on eBay. You can find heel shoes in all styles, colours, and sizes and it is thus easy to find the perfect pair with just a few clicks.
Use the search bar of the website to find the kind of heel shoes you are interested in. Type the words 'heel shoes' to receive several pages of results, complete with brands, pictures, and detailed descriptions. In general, the results you get are too numerous, but you can save time by refining them by size, colour, style, and price. Read the description of the product carefully before making a purchase. Finding the perfect pair of heel shoes on eBay should be a smooth and enjoyable experience, especially if you take your time to go through as many models as possible and look for great deals before making a decision.
Conclusion
Wearing heel shoes with trousers seems like an obvious fashion choice, but the truth is there are certain rules to follow in order to obtain the desired effect. The good news is that there is a pair of heels for any pair of trousers. Finding them may be a bit difficult, especially because of the overwhelming selection available. However, with a bit of research and maybe some trial and error, every woman can learn which kinds of shoes are suitable for the trousers in their wardrobe.
Whether one is looking for a pair of colourful wedge sandals, a pair of mid-heel ankle boots, or shiny peep toe sandals for a glamorous party, it is easy to find them all with a simple search on eBay. By using the information in this guide, anyone can find the ideal pair of heel shoes in a matter of minutes.