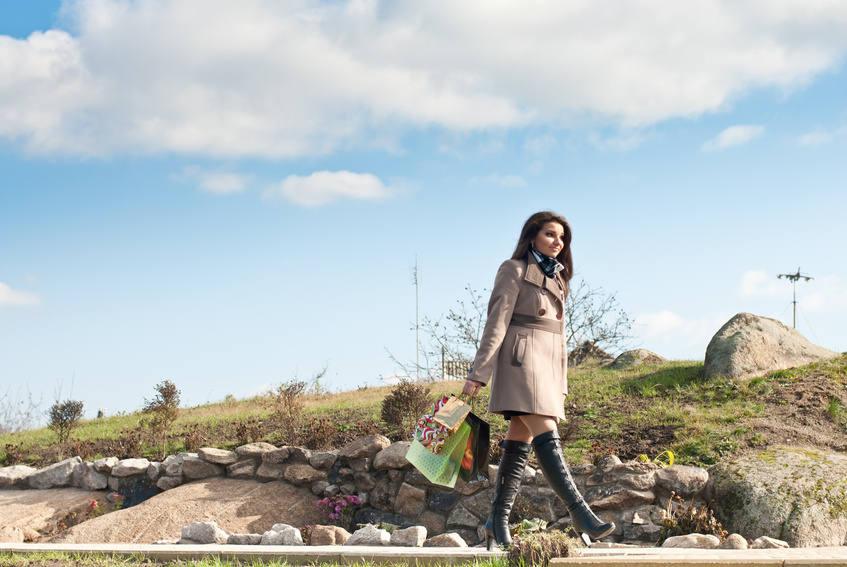 Boot weather doesn't last for long in Australia, so shoppers need to nab knee-high boots quickly before the season is over and learn how to wear them with the latest trends. Classic designs in neutral colours, such as black and tan, can serve wearers well for many winters rather than avant-garde boots that go out of fashion quickly. With the right well-fitted boots, fashion savvy females can create casual, smart, or statement looks.
Fitting knee-high boots
One of the main challenges is finding a pair of knee-high boots that fits over the calves. Some designers take this into consideration by building in panels that stretch and blend seamlessly into the structure of the boot to accommodate legs of nearly any size.
Designers of stretchy knee-high boots
Zoe Kratzmann is an Australian designer brand that creates luxurious, contemporary knee-high leather boots. The stylish footwear includes a stretch panel that makes it much easier to fasten the zip. The boots have a streamlined silhouette and flattering design. Jaime Mascaro manufactures elasticated riding boots with a strip of leather down the side that offers a fabulous fit. Stuart Weitzman's internationally best-selling 5050 boots have iconic status partly because of the micro stretch design. There are also specialists, such as Duo Boots, that make footwear for wide calves.
Casual looks for knee-high boots
Flat knee-high boots are an excellent choice for everyday wear because they are comfortable and stylish. Lighter tones of tan and brown are especially good for daytime, but black suits any occasion.
Denim looks
One of the most popular ways to style flat knee-high boots is to pair them with skinny jeans. The jeans need to have a close fit all the way down the leg so that excess fabric doesn't bunch at the top of the boot. Wearers can continue the slimline style with a fitted T-shirt or choose a more bohemian look by balancing out the fitted bottoms with an oversized knitted cardigan or loose tunic.
Slouchy looks
Slouchy boots that feature ruching are another casual option. Since the boots have a textured appearance, they look best with garments that have clean lines. For example, they give a chic A-line skirt a more informal style. Asymmetric hemlines also complement the folded fabric on the boots.
Smart looks for knee-high boots
Knee-high boots look great with dressier outfits, especially when they sport a heel, be it small or sky-high. Short swing dresses and miniskirts evoke the classic styles of the 1960s, and wearers can give them a modern touch by adding patterned leggings or tights. Both heeled and flat boots work well for this style. Consumers who want to channel favourite stars from the 1970s, such as Sally Boyden on "Young Talent Time", can wear a pair of white knee-high boots.
Statement looks for knee-high boots
Women who want to be the star of the show should shun practical knee-high boots and choose embellished or patterned designs that make a statement. Shoppers should avoid wearing garments that could clash or draw attention away from the footwear.
Sparkly knee-high boots
Yves Saint Laurent makes patent black boots with gold, glitter-encrusted heels that give a playful touch to any outfit. The rest of the ensemble shouldn't include any other shiny materials that detract from the boots. Pair them up with classics, such as a shift dress and trench coat.
Fringed knee-high boots
Fringing attracts attention while remaining informal, and the swinging strands can appear anywhere on the boots, from running the full length of the back to framing the ankle. To keep an outfit in proportion and balance out the fringing, these boots look best with a less-is-more approach, such as simple leggings and a cape coat.
Patterned knee-high boots
Patterned knee-high boots call for shorter hemlines to showcase the design. Either a short skirt or simple shirtdress in a plain colour looks fabulous with multi-colour footwear. Keeping accessories to a minimum ensures that the outfit doesn't become too busy.
How to buy knee-high boots on eBay
A vast range of knee-high boots is available in the inventory on eBay. For a general list of products, type "knee-high boots" in the search box that appears on every page. Add details, such as the colour or material, to narrow down the results; for example, type "black leather knee-high boots". Whether you want a retro look or a classic design that lasts from year to year, you can find the ideal knee-high boots to fit your calves and personal style.