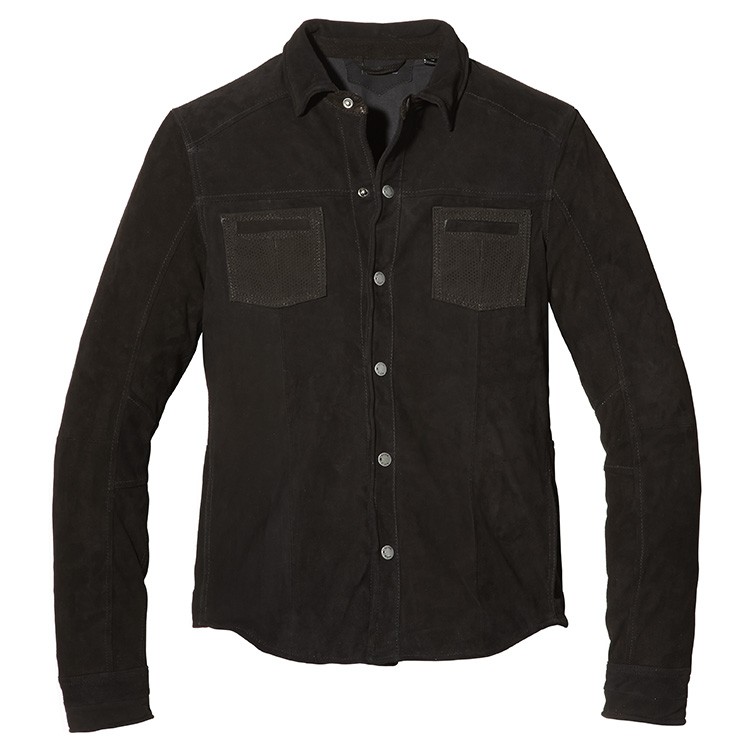 Suede is made from a type of leather with a napped finish, and is commonly used to make women's jackets. The material comes from the underside of the skin of an animal, primarily a lamb, but goats, cows, and deer are also used. This means that the fabric tends to be softer, thinner, and more pliable than standard leather. Due to its texture and porous nature, the material is highly susceptible to wear and tear.
Suede jackets can be worn for casual occasions or dressed up for events at night. When considering how to wear and care for a suede jacket, first ensure that the garment is the right size. Suede jackets can be bought at department stores and online at retailers such as eBay.
Size of Suede Jackets
Suede jackets should be tailored to fit a woman's body in order to achieve the best look. This means that it is important to take into account the bust, waist, and hip measurements to get the proper size.
| | | | |
| --- | --- | --- | --- |
| Size | Bust (cm) | Waist (cm) | Hip (cm) |
| 8 | 87-91 | 75-80 | 93-97 |
| 10 | 92-96 | 81-84 | 98-102 |
| 12 | 97-101 | 85-89 | 103-107 |
| 14 | 102-107 | 90-94 | 108-112 |
| 16 | 108-113 | 95-99 | 113-117 |
| 18 | 114-120 | 100-108 | 118-126 |
| 20 | 121-127 | 109-117 | 127-135 |
| 22 | 128-135 | 118-124 | 136-144 |
| 24 | 136-142 | 125-132 | 145-153 |
To measure the bust properly, place a cloth tape measure at the fullest part of the bust, wrap it under the armpits, and around the body. Waist measurements should be taken at the natural waistline, above the belly button and below the rib cage. Hip measurements should measure the widest part of the hips.
Wearing a Suede Jacket
When buying a suede jacket, look for material that is soft for the most flattering look. Some suede jackets are stiff and structured, but softer suede offers a more tailored and fitted feel. In general, it is best to avoid bulky and oversized jackets. Try to find a suede jacket with a built-in lining as this offers more protection to the garment from perspiration and natural body oils.
Colour of a Suede Jacket
Choose a suede jacket that is a neutral colour, such as a dark grey. Neutral, dark colours conceal marks and imperfections, while complementing a wider range of wardrobe choices. If choosing a lighter colour, such as white, be extremely careful with the other items worn with the jacket. Certain materials, such as dark denim, have the tendency to rub against the suede and can bleed colour into the material, leaving the jacket difficult to clean.
Garments to Pair with a Suede Jacket
Suede jackets can be styled with various garments, depending on the look a woman is trying to achieve. For a trendy and sophisticated style, consider pairing the jacket with leggings and a pair of mid-calf or knee-high suede boots. A short or mid-length skirt or dress can also give the outfit a chic look.
Consider blending textures and colours. Wear a collared shirt or jumper and khakis. A suede jacket with a slightly flared cut or scalloped edges can complete the look.
Accessorising a Suede Jacket
A suede jacket is the kind of garment that should be the statement piece of the outfit. If more accessories are desired, then choose pieces that are simple with a minimum amount of detail, like silk scarves. Silk scarves in a complementary colour are stylish, yet not overwhelming. It is best to avoid bulky jewellery as it can contrast to much with the texture and style of the jacket.
Caring for a Suede Jacket
Caring for a suede jacket properly helps to maintain its appearance and quality, and extends its lifespan. In order to have years of happy wear, start caring for the jacket before it is worn for the first time. Suede is made from the underside of animal skin, so extreme care must be taken when cleaning the fabric.
Pretreating Suede
Pretreating a suede jacket keeps it looking great, especially if it is in danger of getting wet. The treatment acts to protect the fabric from rain, sea water, and other fluids by helping the water to bead up and fall off the jacket's surface rather than being absorbed and causing a stain. Protecting or waterproofing spray can be bought separately for a small amount of money. Buyers should make certain that the spray is formulated for use on suede fabric. After treating the garment, it is best to allow it to dry before wearing it.
Weather Conditions
When wearing a suede jacket, it is recommended to avoid direct sunlight. Sunlight can bleach suede, leaving it discoloured and unable to be restored. If the jacket is worn while doing activities or in bad weather, the fabric can become rough over time. It the jacket does become wet, it is best to dry it immediately with a towel.
Home Cleaning vs. Dry Cleaning
Be aware that it may be nearly impossible to get a stain out of a suede jacket due to its texture, with proper cleaning, some stains such as salt or water can be removed. Although it is possible to spot clean a suede jacket at home, the item should be taken to a professional dry cleaner for expert care. Never submerge suede in water as this can damage the fabric and cause it to lose its softness.
If cleaning the jacket at home to remove a small amount of dirt, use a microfibre cloth or suede brush. For a salt associated surface stain, rub a clean, white pencil eraser gently over it to remove the small bits of suede that are stained. Avoid rubbing too hard or the surface stain may become permanent. If the stain has been absorbed into the jacket, soak a cloth in rubbing alcohol and dab it gently on the stain. It is important to avoid rubbing the stain as it may spread.
Buying a Suede Jacket and Accessories on eBay
Buyers can enter their search for any type of suede jacket or accessories into the search box on the eBay home page and a wide variety of results are displayed. For more selective listings, use eBay's advanced search feature to filter the search to exact specifications, such as price, condition, and colour. You can also browse deals on jacket and coats as well.
Before finalising any purchase on eBay, buyers should investigate the item's seller thoroughly. This is simply a matter of reading a seller's feedback comments and checking his or her rating. A good rating indicates that the seller is known for dealing reliably within the eBay community and providing good quality products. Sellers with consistent positive feedback from buyers over an extended period of time are indicated by the Top-rated seller badge.
Conclusion
Suede jackets can be worn in a range of different ways; they are a useful component to have in the wardrobe. Before considering how to wear and care for a suede jacket, make sure the garment is the right size and shape for the body type of the wearer. The jacket should be form fitting for a tailored look. It is important to take into account the suede jacket's colour, as well as other garments, for proper styling. In order to achieve a casual look, dress down the jacket with jeans or leggings. For a more sophisticated look, wear a silk scarf and a pair of heels. Proper care is a vital part of owning a suede jacket. For greater protection, pretreat the jacket with a waterproof coating. eBay sellers offer a range of suede jackets and accessories.