Give facial skin a soft, luminous glow with a compact powder
bronzer
, or if you prefer a tint, give a liquid or gel bronzer a try. In Australia we are aware of the damage caused by sun, but we still all love that the golden glow of a suntan. A golden tan still is synonymous with health and vitality. Have a tan without sacrificing your skin or health, and fake it with bronzers.
You can apply a
highlighter
- Icing Sugar Shimmer Powder or Creme Highlights for Lips and Cheeks to enhance the bronzer, adding an extra lift, while still looking very natural. Go easy, with a large soft brush on those areas of the face that "sit up", such as under the eyes, brow bones, middle of the forehead and above the top lip. Remember, it is meant to be very, very subtle (barely there, but there, not "I'm a disco ball"!).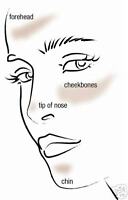 Using gels,liquids or lotions
Apply your gel or lotion bronzer with your fingers or a foundation brush. Dab the bronzer onto the apples of the cheeks using a circular motion. Work the colour back toward the hairline. Leftover colour can be dabbed onto the bridge of the nose, forehead and brow bones to warm the rest of the face. For a more subtle look try applying it mixed with body lotion.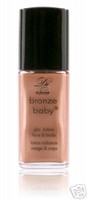 For a powdery soft, glow, sweep your powder brush over your compact bronzing powder and tap it on the back of your hand to remove any excess. Blend well. Focus on applying shimmer to the top of cheekbones - where light naturally hits the face - for the most flattering look. Refer to the diagram above.
For lighter complexions, follow with a touch of pink or rose Colour Pots Cream Cheeks in Snuggle Up or All The Way onto the apples of the cheeks for that natural-looking flush.
Avoid going too much darker than your natural skin tone; bronzers are designed to warm not colour.
Keep sun-bronzed make-up simple. With your eyes, opt for contrasts to enhance skin tone. Simplify your eye make-up with warm brown or black liner and a few coats of mascara. On lips, try sheer, clear corals, reds or russets.
Apply little or no foundation. Keep skin's colour as natural looking as possible. Try a tinted moisturiser or sheer finish make-up instead of a solid layer of foundation. If you are wearing foundation, it's easiest to use a powder.You can also mix liquids or gels through your foundation for a subtle glow. Go easy though or it will look like you've got a dark foundation on.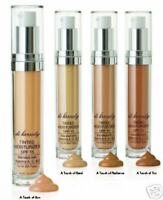 Build colour slowly. If you happen to accidentally overdo it, use a dry cotton pad to wipe some off or dust your face with a little loose powder to lighten the colour.
Don't forget the dècolletage and, for that matter the rest of your body! Both powders and Gels can be used on the body as well for an all over, sun-kissed golden glow. Remember though to allow gel/liquid to dry before dressing and if it's a hot day apply only to exposed areas to avoid rub off onto your clothing.
Article © Di Kennedy Cosmetics 2006