What is a Fly Trap
Fly Traps come in all shapes and sizes. The main feature is that the trap is constructed of either a plastic cup with a lid or a plastic bag with a lid that has a funnel in the center and allows the flies to enter but not to leave. Some form of attractant is added and after a few days, the trap starts to fill with flies. As the flies enter, they attract more flies.
The cup Fly Trap
This cup is the perfect product for home use. It is 750ml in size and can be re-used, making it environmentally friendly. The contents when full can be dug into the garden and makes excellent fertilizer.
Bag Fly Traps pack flat
The most sensible design is one that uses a bag. It packs flat for better shipping both on import and locally, saving energy resources.
Be careful which traps you purchase
There are MANY cheap imitations and most of them don't work properly or even not at all. The bags are made from thinner material and fall off the traps and the bait has not been properly tested and proven. Some traps are shipped illegally and the bait may introduce pathogens into Australia - the bait needs to be irradiated - this treats it so it is harmless to our fauna and flora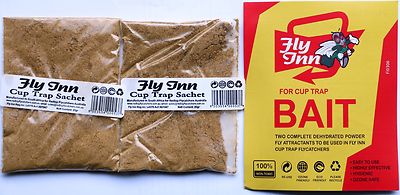 Not all bait is made equal
Make sure that the bait is registered and has been tested and proven. Not all bait is made the same and while some takes a little longer to activate, may actually prove to be a much better product as it ultimately collects many many more flies.
In summary
Purchase a fly trap that comes with a money back guarantee. If it does not work, ask the manufacturer to guide you - your water supply may neutralize the organic material in the bait due to chlorine content. We advise to use water that has sat for a couple of days. A handy trick is to add a Tablespoon of your local soil to the trap - this kick starts trapping and sustains it. You may also add an egg or some mince to the trap for even better results. Remember to hang your traps in the sun above head height and keep them away from children.
Where to purchase
Have a look at the RedTop FlyCatcher Store - they offer RedTop and FlyInn Fly Traps and there are some great combination and quantity deals available. Click on the images above, they will take you to our eBay store and purchase pages. We hope you found this guide useful.