How to clear a babies blocked nose
A babies nose may become blocked due to a cold, allergies or simple mucous build up. They are common in babies under 6 months old. A blocked nose can be a serious problem. A baby will continue wanting to breathe through the nose when it is blocked. A clear nose is needed for feeding as the baby will have a nipple or teat in their mouth. This can make feeding time very difficult leading to irritation and concern which can then affect the flow of breast milk.
The best way to get rid all of the mucous is to suck it out using a nasal aspirator. There a number of aspirators on the market but the safest and most effective is the Nosefrida. Nosefrida is non-invasive-instead of going inside the nose like the bulb, it forms a seal with the outside of the baby's nostril(creating a vacuum). Parent powered(mouth) suction is used which is much stronger and effective than the static suction of the bulb or battery powered aspirators.
NoseFrida is also easy to clean, dishwasher safe, and BPA & Phthalate free.
NoseFrida was developed by ear nose and throat specialists over 10 years ago and helps over 500,000 parents each year worldwide.
Used and recommended by Paediatricians, TGA approved in Australia and FDA(Food and drug administration,USA)
Nosefrida is the number one selling Nasal Aspirator Worldwide, it reduces the amount of mucous in the nose. When your baby is congested and they are too young to blow their own nose, Nosefrida helps clear their nose, enabling them to breathe, feed and sleep easier.
Nosefrida has been in the top 10 selling baby products for 5 years
The nosefrida can be purchased from http://www.ebay.com.au/itm/NEW-Nosefrida-Nasal-Aspirator-Baby-Snot-Sucker-Blocked-Nose-Suction-Clear-Babies-/111095987183?pt=LH_DefaultDomain_15&hash=item19ddd63bef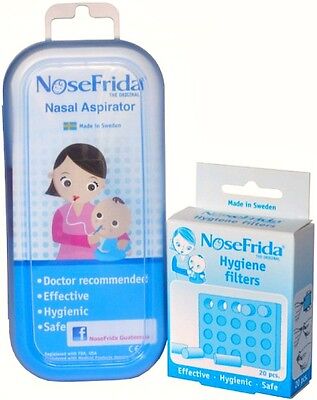 If you found our guide helpful please click YES on was this guide helpful below. Thanks for reading.