Hello from SheDevilDVD666.

My guide is to show simple ways of giving your listing ans store a better chance of being looked at more times, more often than someone selling the same product/s, resulting in your listing gaining more hits and ultimately selling for more than your competitor. Quite simply, why be "Joe Average" when you can be "Joe Millionaire".
Write an effective Headline for your listing:
eg: Do you love? Did you know? Save $$$
Headlines which are asking a question make you stop and think. They also contain a benefit, a need and a reason to stop on that page. This is because the average potential buyer will want to know :Why save $$$? Did i know what??? What do i love??? etc.
Check out our store and look at some of the listings.
Why Use Creative Images (animations or charicatures) to brighten up your listing + constant use of a LOGO?
Pictures sell a 1000 words as the experts say. Visual images including animations, graphics and logo etc are usually the first thing buyers look at without realising it. A "Devilishly Hot" Graphic or Logo should jump out at you from the page.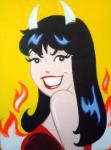 Repeated use of your logo (your Brand identity) will increase your awareness through prolonged and repeated use on Ebay. In other words the more you use your Logo, more people, more often, will recognise you instantly. This is the beauty of Branding.
Thank you for reading this. I hope it is useful.
Oh... Do you know why you should neve write a listing in Capitals?
See you next time with the answer.