Take it from me, I've done it, I bought my dress, shoes, tiara, veil, lingerie, pew and car decorations, ring pillow and some flowers straight off ebay. There are many more things than just these available on ebay but because of my connections I had already organised them from elsewhere. If you only have a small budget for your wedding then ebay is definitely the way to go, you will save heaps!
Your dress is the most important part of the day so make sure you know what you're looking for and are certain the style will look good on. Alot of brides have an idea in their mind of what they want in a dress but when they get it on decide that they don't like it so much after all. If possible, go to a bridal store and try on a few dresses in styles that you like, don't worry about the prices because you'll find one so much cheaper on ebay. By doing this, you have seen the style on you and know that you will look absoultely beautiful on your big day. When searching for a dress on ebay, try to find the sellers that are offering brand new dresses. Not everyone is a standard size and you won't necessarily fit into a "size 12" wedding dress, it will have been altered at least once already to fit it's previous owner. However if you are confident that this will work for you then by all means go right ahead. Always read the description carefully, is it the colour you want or will they make it in the colour you want? How much is postage? I won the auction on my dress for just $9.99 but the postage was $158 so be careful. The postage is how the seller ensures that they make some money out of the sale and that is why the auction price is so low. But really, when you consider the total price of $168 for a beautiful wedding dress, brand new and made to fit, this is so exciting and so much cheaper than a bridal shop. And where did I get this dress from?
Seller
The next stop is to find a veil to suit your dress and your hairstyle. If you're having your hair out it is better to find a light veil (long ones tend to be heavy) but you need to find one that is longer than your hair. Really any veil will look gorgeous so just find whatever you're happy with. You can buy new or secondhand but make sure you ask the seller lots of questions if there are things not specified in the description. You want to get the perfect veil, and be 100% happy so make the most of it. I bought a second hand veil and was very happy with both the price and the product.
If you're having a tiara there are so many sellers, if your dress seller also has tiaras, or veils, try to combine postage as this will save you money. It is important that you let the seller know you will be buying multiple items so they will package them all together.
Shoes are always a touchy issue when it comes to buying them online, it's important to make sure you're buying the right size or they will exchange them if they don't fit. I'm a dancer so I went for dancing shoes, they're beautiful and I find that they are so much more comfortable than ordinary high heals. For shoes try to stick to Australian sellers as the size charts will be the same as you know your shoe size to be. These are the shoes I chose.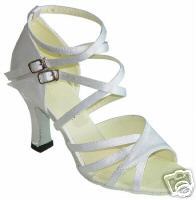 from seller
Dance Shoes Company - Sydney
Lingerie is another thing you have to be careful about, it is very easy to find alot of beautiful lingerie on ebay but be absolutely certain it will fit before you buy it. I have bought a few items that haven't fitted properly and had to live with the consequences, I'm not an average size and some people's interpretation of "small" or "size 8" are different to your average underwear stores.
Silk flowers are a great way to make sure your bouquet can be kept forever. They won't wilt or break from being dried and will look just they way they did on your wedding day forever on your mantle. I didn't actually buy my bouquet but flowers for my flowergirl's basket on ebay. They also have a great range of baskets and flowers for your hair.
Pew decorations, its up to you, but I've been told it's better to use something that hangs. A friend of mine had roses standing upright tied with bows and they kept falling over. I decided to go with ribbon bows, ribbon is so much cheaper on ebay and you can get large rolls so you don't end up with offcuts, and this ribbon can also be used to decorate the cars.
There are so many ring pillows available on ebay, it was hard to choose one. They have personalized ones, plain ones, special ones, original ones, just about anything you could ever imagine. The best thing is though, they end up costing about the same on ebay as they would in a store, and that's including postage. But the styles you find on ebay, I have never seen anything like it in a store.
Well this has been an outline of the things I bought off ebay for my wedding but there are so many more things you can buy: bomboniers, place cards, candles, engagement rings, invitations, sparkling wine, garters, cake ornaments, jewellery, flowergirl dresses, bridesmaid dresses, attendants gifts, the list is endless.