This is a comprehensive guide on how to spot fake/counterfeit/replica MAC Cosmetics Eyeshadow/Eye shadow palettes on eBay.
As a fanatical MAC consumer for over a decade, and now a reseller of authentic MAC products through the eBay Store - Peach & Primrose, it is alarming to see the increasing number of counterfeit and fake MAC products currently listed on eBay, the most common of which are fake MAC eyeshadow palettes.
I have produced a series of eBay guides to assist buyers to easily identify the many fake MAC products listed on eBay, which include but are not limited to MAC Pro Palette eyeshadow pans, MAC eyeshadow palettes, MAC lipsticks, MAC foundation, MAC eyeshadow pots, and MAC Fluidline gel liners.
This series discusses the following fake/counterfeit/replica MAC products:
How to identify a fake MAC Eyeshadow palette:
1. Check the edges and appearance of the eyeshadow - an authentic MAC eyeshadow palette never has bevelled the edges on the eyeshadow pans, the surface is always flat with a light texture, not heavily textured with shapes/indentations.


Add a caption
FAKE PALETTE EXAMPLES - Textured surface, wrong applicator, wrong palette styling

2. Look at the number of eyeshadows in the palette. MAC does not manufacture and never has manufactured anywhere in the world MAC Eyeshadow Palettes containing 12, 18, 21, 32, 88, 120 or 180 eyeshadows. If you see these on eBay these are FAKE.


3. Check the applicator if one has been provided with the palette - MAC supply brushes, not sponge tip applicators if there is an applicator provided in a palette.


4. If the eyeshadow in the palette is a cream rather than a powder based eyeshadow, it is a fake. MAC have never brought out a cream eyeshadow palette.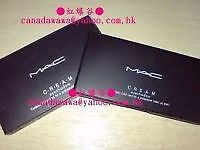 5. Verify the names of the eyeshadows in the palette - every single MAC eyeshadow should have a unique colour name (ie. Shroom, Vanilla, Brule, Woodwinked) and a finish type (ie. frost, pearl veluxe, matte). The seller should be able to provide specific colour names. MAC eyeshadows are never named with a number (ie. #1) or a generic description such as purple, black, blue.

Forms of an authentic MAC eyeshadow palette:

1. MAC releases a number of palettes during the year as part of collections - these are usually in the form of a 4 slot Pro Palette, with a clear lid containing 4 x 2.5cm diameter cirular eyeshadows. They have occasionally brought out duo palettes as part of a collection. Holiday palettes are an exception to this rule.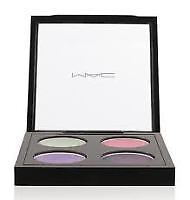 Example - MAC Authentic "Quite Cute Quad Palette"

2. A custom MAC Pro palette - these are created by the customer using MAC Pro Palette eyeshadow refills. The refills measure 2.5cm in diameter, are circular and have a magnetized backing. The eyeshadow refills are put into either a 4 slot MAC Pro Palette (clear lid - same as Quite Cute Quad Palette example above) or a 15 slot MAC Pro Palette (solid black lid).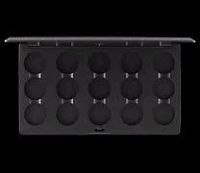 Example - Authentic MAC 15 slot Pro Palette

3. MAC Holiday Palettes (released November/December for Christmas) - these are usually face palettes or eyeshadow palettes. The eyeshadow palettes generally contain 6 eye shadows in squares or slim rectangles. They can also take the form of a face palette - which may have a bronzer/highlighter/blush included.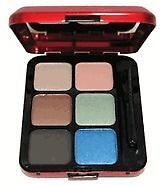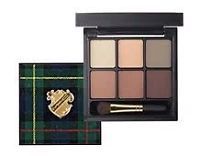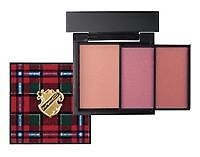 Above example - First two pictures are two MAC Holiday palettes released for Christmas in previous years. Note that the applicator in the palette is a BRUSH not a sponge tip applicator. The edges of the shadows are flat and the surface is not heavily textured. The third picture is an example of an authentic MAC Holiday Face palette.


Other ways to verify an authentic MAC product:

All MAC products have a specific name, like Satin Taupe, Shroom, Vanilla, Oyster Girl, Russian Red, Ruby Woo etc., except for foundations that are usually a combination of 1 or 2 numbers followed by NC, NW, or C. They do not just have a general name like blue, white, red and are not named with numbers alone (ie. Eyeshadow #1). All palettes released for collections are also given a name, and the name of the shadows inside the palette are written on the back.


Why you shouldn't buy counterfeit MAC items.

Whether you agree or disagree with knowingly purchasing fake or replica products, you should at a minimum consider first and foremost the serious health implications involved with using a fake cosmetic product. Authentic MAC cosmetics have been demagogically tested and approved for cosmetic use. When you purchase a counterfeit product, you have no idea of what legal or illegal ingredients that have been used to make the product or the conditions the cosmetics have been prepared in. This has the potential to lead to rashes, allergic reactions and even burns to the skin, which basically defeats the purpose of using make up in the first place to enhance your beauty. Who wants to sport a rashy and swollen face for their big night out?!!


Buyer BEWARE:

It's a good idea to check the MAC website for a product you're thinking of buying. The reason is that many fake products don't actually exist on the MAC website. You might purchase something only to discover later that MAC never made that eyeshadow, gloss, blush colour in any of their collections. Some products won't appear on the MAC website because they are old or discontinued, in this case you can do a google search as these will often appear on makeup blogs and review sites.

As always, please check the sellers feedback and whether they are selling other suspicious items. Furthermore, one can check the buyers who left them positive feedback, to see if they have purchased MAC items in the past and if they would be able to tell the difference between real and fake! Remember, if the price seems too good to be true, then it probably is.


Reporting a counterfeit item to eBay:

If you purchase a fake please leave factual, calm and negative feedback to protect other bidders and keep Ebay SAFE from counterfeiters. You will also need to lodge a dispute and notify eBay/Paypal of the fraudulent transaction if the product has been listed as authentic and branded as MAC.

Listing a counterfeit item is against eBay policy and should be reported. If you come across any fakes on eBay, please take down the Item Number and report them to eBay at the following link - http://pages.ebay.com.au/help/policies/replica-counterfeit.html