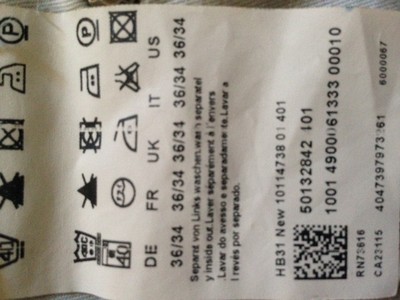 We all love to use eBay in search of that bargain or those hard to find items which are no longer available in retail stores.
When it comes to buying clothing online, and in particular on eBay, how do you know if the item is genuine? What do you look for in the photo's provided by the seller? What questions do you ask the seller to determine the items authenticity?
One particular designer label of which I personally have seen many counterfeit items for sale on eBay, is one of my favourites, "Hugo Boss".
I have been a long time customer of Hugo Boss and can identify a genuine label/tag on a piece of clothing to that of a counterfeit item.
First and foremost, it is very important to understand what information is printed on the inner label, (White tags with sizing, model and item number information).
The following example is from a pair of men's Hugo Boss jeans, which provides clear information about the item.
1) Sizing - This can be seen below the ironing symbols, displaying the size of the item for 5 countries.
DE (Germany), FR (France), UK (United Kingdom), IT (Italy), US (USA)
2) Waist Size / Leg Length
36/34
3) Model Name and Number
HB31 New 10114738 01 401
4) QR Code Symbol
5) RN & CA numbers (Below the QR Code)
RN73616
CA23115
6) Article Number
50132842 101
7) Barcode Number (Below the article number)
1001 490006133300010
If a seller has not provided a picture of the inner label with the above information, contact the seller through the eBay messaging system, asking them to provide the above details.
If the advises you that this information is not displayed anywhere, do not purchase that item.
The more information & photo's provided in a listing, the easer it is for the buyer to make their decision on purchasing that item.