Hi all,
Firstly let me start by stating some credentials. I'm an eBay Powerseller and I've been selling a variety of Geniune Microsoft Products for almost 3 years now and had come across all kinds of counterfeits. However, as of late, I've noticed a sharp increase in High grade counterfeits for Microsoft Windows Vista Ultimate Retail Box.
My aim today is to try raise awareness and knowledge on How to:
Spot a counterfeit before buying if possible
Spot a counterfeit when you receive the item
How to deal with a counterfeit
LATEST SCAM TACTIC June 2009:
Picture this scenario:
Your COA clearly shows that your Microsoft product is counterfeit. (Continue to read below to find out how to spot counterfeits through the COA)
However, your Microsoft product passes windows update, online validation! You think to yourself, "This guide must be rubbish, I passed windows genuine software validation test online."
THINK AGAIN!
The latest tactic employed by pirates is to attach GENUINE OEM, ENTERPRISE, or anything that is of lesser value to the Retail Boxes.
Yes, you may have a working copy. But if I actually paid for a retail copy of say Microsoft Vista Ultimate, I would expect to be getting a RETAIL licence.
I do not need to explain the disadvantages of having an OEM licence because it is on my listings.
The only way around this is to call Microsoft immediately if you think something is fishy(eg. The COA looks very very dodgy). Just explain to Microsoft that you bought a copy off eBay and would like to check the licence if it is legit. Once you have given them the product key, they would tell you exactly what licence you have.
SO TAKE NOTE: Passing validation doesn't tell you anything other than it is a genuine product key. However, the product key can be an OEM, Enterprise, Volume licence etc..
Real world example: A customer told me that he bought a copy of Microsoft Office 2007 Retail Box on eBay. He went ahead and install and passed validation. However, he noticed that the COA looked dodgy after reading this guide. He called Microsoft and they informed him that his product key is an Enterprise Volume Licence. Although genuine, they had to cancel the product key given the circumstances. Paypal refunded with the help from Microsoft.
Firstly some general tips:
Please check the seller's feedback and rating, if the seller has little feedback/has been inactive(no sales/purchases) for the past 90days. Please be more aware as you got no exact information on the reliability of the seller.
-
If the seller uses the generic product photo instead of the actual product picture. The seller may have something to hide?
-
If it is too cheap to be true, it probably is.
-
When purchasing software, don't save petty cash and purchase from a trustworthy store/individual/powerseller. Their reputation is more important than anything else, if the software is indeed coutnerfeit, they would more than likely assist you rather than run away.
-
Try to pay by Paypal, I'm by no means a big fan of paypal. But I believe the Buyer's protection, especially when purchasing high value items is undoubtly worth the extra trouble to pay through them. Remember to read the terms and conditions of the Buyer's Protection first and make sure you understand it.
-
Please have a look at the wonderful Microsoft website: microsoft.com/resources/howtotell/content.aspx?displaylang=en&pg=counterfeit
-
Also this high-grade counterfeit gallery which is a MUST SEE: microsoft.com/resources/howtotell/counterfeit/gallery/high.aspx
SPOT BEFORE YOU BUY!
The COA(Certificate of Authencity)
The easiest way to spot a counterfeit is by looking at the COA(Certificate of Authencity). Microsoft has done a great job with the COAs as pirates still do not have the technology to make a complete duplicate. A counterfeit COA is actually very obvious once you know where to look.
At the point of writing, I've spoted a counterfeit Microsoft Windows Vista Ultimate for sale. Item no. 280343208498
The seller is most likely oblivious he has a counterfeit copy as he posted a very clear picture of the COA.
Take a look at microsoft.com/resources/howtotell/counterfeit/gallery/high.aspx
Now lets do some comparisons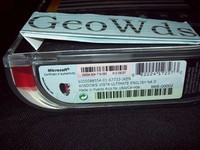 eBay messed up my resolution but have a good look at the COA.
You would notice that the Port-Hole oval has a clean cut inside edge rather than showing threads.
Now compare the above image to these: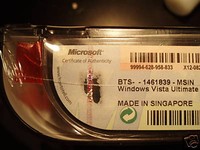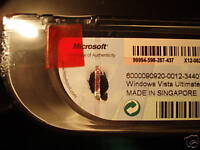 These above are GENUINE.
The Port-Hole oval are showing threads and the simulated thread(silver thread) is interwoven into the label itself and not a seperate piece.
Here are some more pictures of counterfeit COAs for comparisons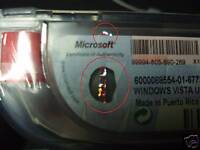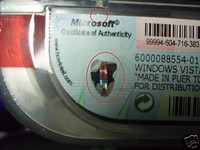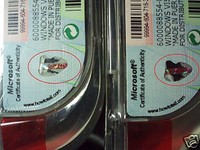 The counterfeit copies are only able to 'cut' out the Port-Hole and are also not able to show the distinct interwoven silver thread through the COA label.
Color Print
Other ways to spot would be to look at the general print quality of the product. Counterfeit copies tend to have a different colour print which may be easy to spot.
Example:
One on the left is a Genuine copy and on the right is a bad counterfeit.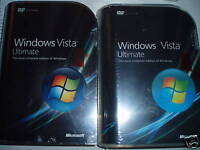 Size
One last distinct feature of a counterfeit copy is that it may be slightly larger than the original. This is hard to spot but this is good knowledge nonetheless.
Example:
One on the left is a Genuine copy and on the right is a bad counterfeit.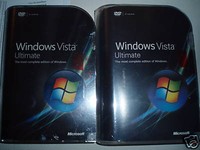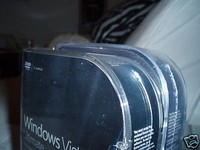 Product Key
Obviously, the way to check if your copy is counterfeit when you receive it is to break the seal and open the box to reveal the product key.
You can call Microsoft or validate your copy online to find out if your copy is indeed a counterfeit.
Post Sale Help
Lastly, if you are unfortunate enough to receive a counterfeit product, log on to eBay/Paypal immediately and lodge a dispute to freeze the seller's funds.
Also call microsoft immediately and they would assist you in reporting the case. Another easy way is to log on to the howtotell website and click on 'Report Suspected Piracy' and fill in the details and submit the information to Microsoft.
Thank you for reading
I hope you find this article useful and wish you always have an enojoyable experience on eBay. Please visit my store for genuine microsoft products and other junk that I may be selling.
Sincerely,
Zpktech