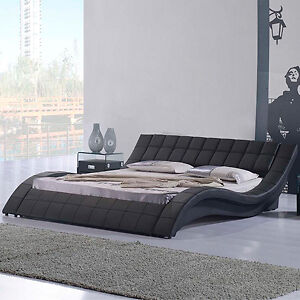 Leather beds add a touch of class and elegance to any bedroom. While it's beautiful to look at, leather furniture can be a challenge to maintain if it's not done properly.
Before you start cleaning your leather bed you must determine what type of leather it is. There are numerous types such as genuine leather, PU leather and split leather. You can normally find this type of information on the tags or by calling the retailer you purchased it from.
Today's leather furniture is usually made with top-coat protected leather which allows you to clean with the method below. But before you begin, read your tags so you know for sure what kind of leather you own. Some types of leather cannot tolerate water and should only be cleaned professionally.
What You Need
Vacuum cleaner with soft brush attachment
Mild liquid facial or body soap
Distilled water from the tap
Buckets
Four soft rags
Water-based leather protector/conditioner (found in most furniture stores)
How to clean your leather bed
Vacuum your bed thoroughly, ensuring you use the soft brush attachment to get into the nooks and crannies of the furniture. Leather can scratch easily so if you have a strong suction vacuum, consider using a handheld one to prevent leaving marks on the leather.
Mix a few drop of liquid soap into a bucket with a quart of distilled water and mix until suds form.
Test a small area first.
Dip a rag into the water and wring out until damp.
Work on one section at a time, wiping the surface of the bed.
Dip a separate rag into distilled water with no soap and wring until damp. Wipe away the soap residue.
Dry with third rag.
You may buff the surface with the fourth rag to restore luster.
Treat the surface of the leather bed with leather protector or conditioner.
To maintain the quality and lifespan of your leather bed, ensure to practice the following:
Clean any spills as soon as they occur. Leather is porous and if liquid penetrates the surface, the stain will be difficult to remove.
Avoid using any type of harsh or abrasive cleaners as these will cause damage your leather surface.
Never use any kind of oils, furniture polish, or product containing waxes or silicone on your leather bed as it may damage and leave it sticky.
Try not to use varnish, ammonia-based cleaners or bleach as it could be too harsh and cause damage and discoloration.
Vacuum and dust your leather bed regularly to help the leather breathe and last longer.
Leather does need to be replenished occasionally. You can make your own cleaner. Mix 1 part distilled white vinegar with 2 parts linseed oil. Shake and apply to leather in broad circular motions. Let it sit for 10 minutes, and buff with a soft cloth.
Never use baby wipes or other alkaline cleaner on your leather as it may damage the finish.