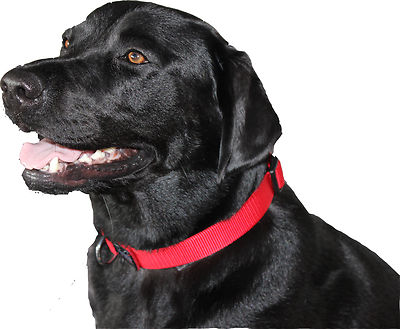 We all enjoy buying good looking accesories for our beloved dogs. Just like buying clothes for yourself on-line, it is important to ensure that you get the measurements right for your furry friend.
There are three main measurements that you need to consider if you are buying an accessory for your dog.
The collar size
The girth for items like coats, life jackets etc
The length from the nape of the neck to the base of tail for coats and similar accesories.
These three measurements should be all that you need.

Cindie from Cindie's Quality Pet Products
Collar size
The collar should be a comfortable fit without being so loose that your dog will slip out it. It is usual to allow sufficient space to allow you to slip two fingers between the collar and your dog's neck.
Adjustable nylon collars are usually quoted as a range of sizes from smallest circumference to largest eg 16" - 28" (41 cm - 71 cm). This type of collar is also very suitable for puppies who are growing quickly although puppy collars are smaller and narrower 9" - 14" ( 23 cm to 36 cm).
You can find
adjustable nylon collars
in a range of bright colours like hot pink, turquoise, brilliant red, purple, royal blue.
For
leather
and other rigid collars with punched eyelet holes, the collar size is generally measured from the outmost hole available to the pin point. Leather dog collars come in different widths and different colours. The better quality collars will have a suede or smooth leather finish on the inside of the collar to prevent chafing on the dog's neck
Available measurements are usually in the range below:
Size 12" or 30 cm Size 18" or 45 cm Size 24" or 60 cm
Size 14" or 35 cm Size 20" or 50 cm
Size 16" or 40 cm Size 22' or 55 cm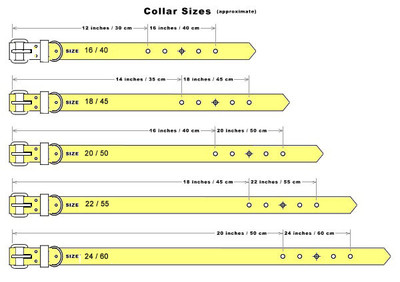 Girth
If a girth measurement is required you should measure your dog at the largest circumference of the chest.
Most coats and life jackets have velcrose fastenings under the chest area and these can be easily expanded.
All items displayed can be purchased from
Cindie's Quality Pet Products eBay store
.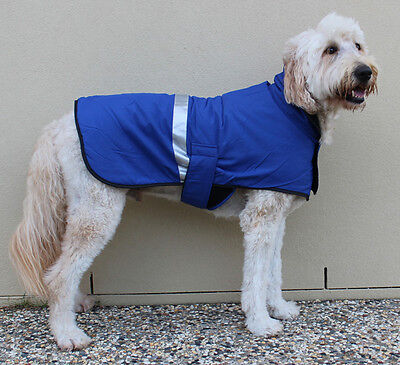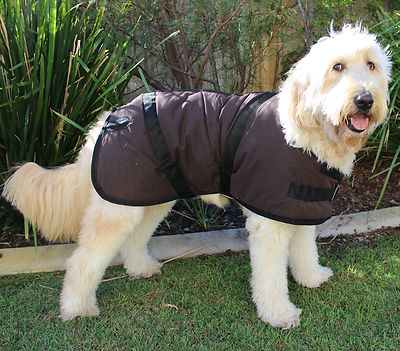 Cindie's Friend, Shami the Groodle
.
A very well behaved model.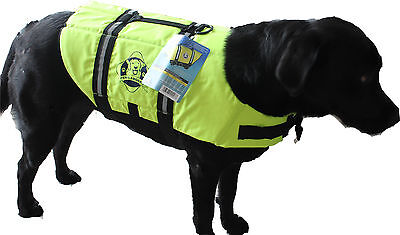 Cindie is very reluctant to model life jackets.
Length
To ascertain the length of your dog for the fit of a raincoat or jacket you should measure from the nape of the neck to the base of their tail.