This guide follows on from our previous guide:
Perfumes are a dangerous good - postage restrictions
In light of Australian State and Federal laws, International conventions, and the recently announced eBay Australia policy, which prohibits businesses/sellers from utilising Australia Post services to send fragrances without a consumer commodities dangerous goods contract, it is important for consumers to know that businesses/sellers who use Australia Post without this contract are putting public safety at risk, and they should be reported to the relevant authorities.
This guide will briefly explain to you what the packaging requirements are for Class 3 Flammable Liquids (Perfumes/Colognes) and how to go about reporting violators. This guide has no bearing upon alcohol-free fragrances which can be sent via all methods, however, part 3) of the packaging requirements should be followed for all liquids to ensure that any spillage is contained and other mail isn't damaged as a result.
When we received our contract with Australia Post we were advised of what the packaging requirements are for our products, which include:
1) The packaging has to withstand a sustained drop from a height of 1.5 metres
2) The packaging has to withstand a weight of up to 15kg being placed on top of it
3) The fragrance and fragrance packaging has to be secured in such a way that if a breakage was to occur, the majority of any spillage would be contained. This is usually done via the use of a sealable bag and/or multiple layers of wrap and packing beads or absorbent paper.
Below is an example of how a fragrance should be packaged for delivery with Australia Post. (For delivery, the various boxes on the eParcel label would be completed with delivery and return addresses, barcodes and a few other bits and pieces)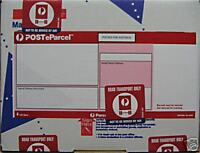 With the above photo, you will notice the following:
* A posting box is used. My advice from Australia Post and CASA is that under no circumstances should a satchel or envelope ever be used for delivery of dangerous goods.
* The box has "Road Transport Only" labels placed over it. The advice that I have received is that only a single Road Transport Only label is required, however, we use a few so that there can be no qualms that this is meant for precisely what the sticks say - "Road Transport Only - Not To Be Moved By Air".
* The dangerous goods declaration on the box is not signed, and where the dangerous good declaration would be on the eParcel label (directly below the pink part of the label) is covered with a Road Transport Only sticker.
If the business/seller you have bought from has used any of the following postal services, it is likely they have sent the item illegally:
* Express Post and Express Post Platinum
* Airmail (this includes mail originating from both within Australia and overseas)
* EMS/ECI (this is the international express courier postal service in Australia and overseas)
* Registered mail
* Normal mail (even no-frills Australia Post services are covered under state based DG legislation meaning even intra-city deliveries have many of the same requirements as air deliveries)
If the business/seller you have bought from has signed the dangerous goods declaration, and the fragrance contains alcohol (the majority of fragrances), it is likely they have sent the item illegally.
As mentioned above, sending dangerous goods illegally is a public safety risk. Within the dangerous goods industry, the risks of misdeclaring, mislabelling and illegally transportation of dangerous goods, are oft cited by the infamous Valujet Flight 592. More info on Valujet Flight 592 is at: www.en.wikipedia.org/wiki/ValuJet_Flight_592 and www.aviation-safety.net/database/record.php?id=19960511-0 (cut and paste links into your browser)
Australia has an aviation record which is the envy of nations around the world, and we can't allow people who have a blasé attitude towards the sending of dangerous goods to put at risk the safety of people travelling by air, and they should be reported to the following agencies:
* The Civil Aviation Safety Authority (CASA) can be contacted on 131 757 and ask to be connected with a dangerous goods inspector
* Australia Post can be contacted on 131 318 and ask the operator to connect you with someone who can take your complaint (explain briefly it has to do with dangerous goods).
CASA and Australia Post will require from you some of the following information:
* Business/sellers name
* Business/sellers address
* Business/sellers email
* How the DG was sent to you - keep all packaging and paperwork which was included as this might be required
With the help of the public, we can ensure that our transportation system, particularly the air transport system, remains safe and the envy of the world.
Further reading on dangerous goods and transportation can be found at the following links (cut and paste into your browser):
Civil Aviation Safety Authority - www.casa.gov.au/dg
Australia Post dangerous goods guide - www.auspost.com.au/Pdfs/DangerousGoodsGuide.pdf (this is PDF file - Adobe Acrobat will be required)
Department of Transport and Regional Services (Commonwealth Govt) - www.dotars.gov.au/transport/australia/dangerous
International Air Transport Association - www.iata.org/whatwedo/cargo/dangerous_goods
International Civil Aviation Organisation - www.icao.int/anb/FLS/DangerousGoods