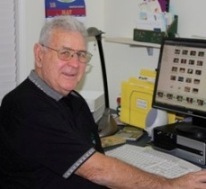 Several models of various vehicle makes use a common model compressor but have the hoses located at different angles from one model to another. The manifold is the one thing that varies as it has the pads for the hoses to be connected to. The manifold is a non wearing part and can be fitted from your old compressor to the new one.
There are a couple of ways for sellers to approach this.
Stock say 10 different complete compressors to suit the 10 different vehicle models. This increases the cost of stocking which must be passed on in the selling price.
Stock 1 basic compressor without the manifold covering the 10 different vehicle models. This dramatically reduces the cost of stocking which saving can be reflected in the selling price.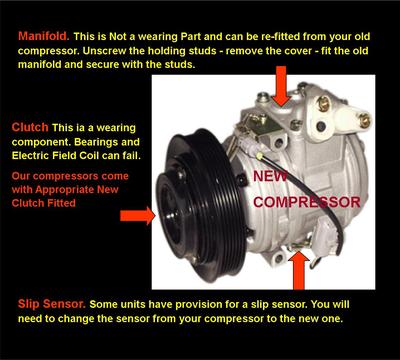 Toyota is one range of vehicles which use a common compressor with a variety of hose configurations.
For example the Denso 10PA15c with the same clutch specifications fits over 10 different vehicles all with different manifolds.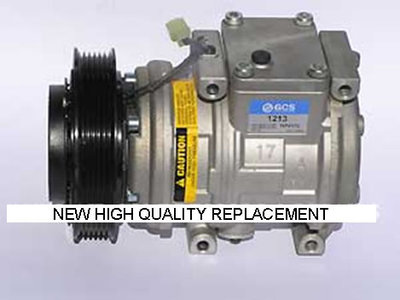 Typical example of a replacement for a Denso compressor supplied without the manifold.
Other examples are as follows;
Model

Vehicles it fits

Model

Vehicles it fits

180

Some FJ62
HJ60, 61
HJ61 2HT Turbo
BJ70 (10P15C)
FJ 70, 73, 75 (10P15C)
HJ75

184
181

Hilux RN & YN Series
HZJ 70 73 75 78 79 80 (10PA15C)
PZJ70 73
HDJ80
HDJ80
1HDT80 (10PA15C)
Spacia
Tarago
Town Ace

185

FJ80
FZJ80
FZJ105
Hilux LN 105 106 130
4 Runner LN130
4 Runner LN130
Dyna LY211

182

FJ 70 73 75 (10PA15C)
Hilux LN. 88 105 106 111
Hilux LN 147 152 167 172
Dyna LY61, 211

186

1HDT80 (10PA15L)
HDJ80
HZJ80 (10PA15L)
HZJ105

183

Camry SV 20, 21, 22, 4cyl, 3 SFE
Camry SXV 20R, 4 cyl
Camry SDV 10, SXV 10, 4cyl wide body

196

Dyna BU 61, 65, 66, 88, 91, 110, 142,
Tarago YR21 DX, 4YE motor
Conclusion
A lower price does not necessarily mean an inferior product if one seller offers one complete with the manifold and another the compressor without the manifold. However always make sure that the manufacturers name and details are nominated.