Now you have your precious Jewel beetles, scarabs the trick is now to set them as natural as possible.
Use the same relaxing box you use for butterflies and the same system if you are going to set and spread the complete beetle, including wings. You can* pin the beetle carefully by holding it in place with dress maker *pins. Do not pin the beetle specimen through any part of the body. Once set glue to stiff white cardboard strips cut to the length of the specimen plus a tad more for a pin and notes. Use clear nail polish applied to the underside of the beetle...add a bit more nail polish to the cardboard and place beetle on this....hold in place as before with dressmaker pins until nail polish set.(see photo of set specimens in display cabinet)

Use your cheaper or damaged specimens to start with or collect a common beetle from your own backyard and start with this.

If you are only going to set the legs you can speed up operations by the following. Find a shallow dish that the beetle will rest in. Check out how much of the legs are beneath the body. Fill dish to this level plus a tad more with boiling water and float the beetle specimen in this for 5 minutes. Put the specimen back in to the relaxing box and do the hot water below trick(put a dish of hot water under the closed relaxing box and this will warm up the inside, wipe setting box underneath as condensation does occur)...see butterfly setting guide. Leave in relaxing box for 1 - 2 hours and repeat float/hot water guide for another 5 mins. Make sure you do not submerge the top of the body as this may change the color of your specimen. Dry with paper towels with care and then turn specimen over and slowly move each leg joint with flat tweezers back and forth. They may seem tight but be firm as this will click in to a nice movement with practice. You can now set the legs with pins to any position you choose......I try to make them look as natural as possible with a nice uniform angle and each side the same(legs).(see enclosed photo) **The pins do not pierce the specimen, they only go on each side of the leg/body etc to hold and set(dry).

You can now put these in to your drying boxes and leave for 3 - 4 days. Store as described in Butterfly display.( Air tight, glass fronted display cases, plastic boxes with good sealing lids). To all containers add moth balls or Napthalene. Pin the moth balls by drilling first with fine drill, you don't want them rolling around destroying specimens. Keep Napthalene crystals in the satchels pinned or put in match-boxes with holes in them and glue in to place . Good luck, it is totally worth the time and effort for your investment, collection, display and enjoyment. Cheers Unique Butterflies.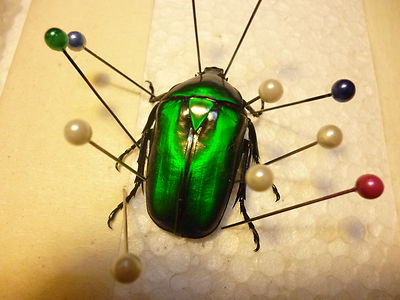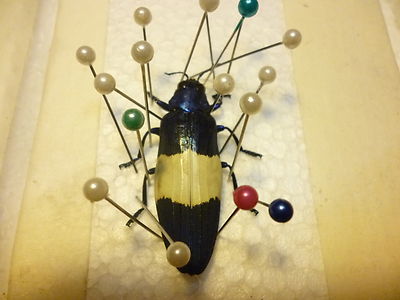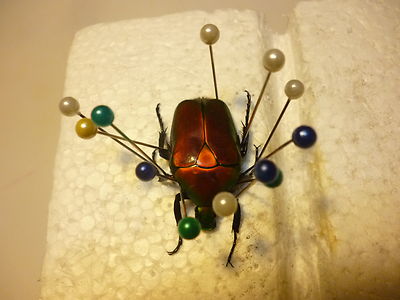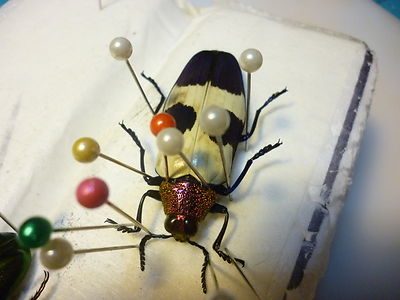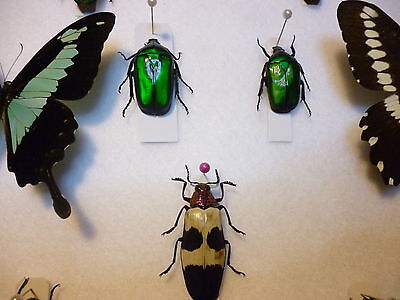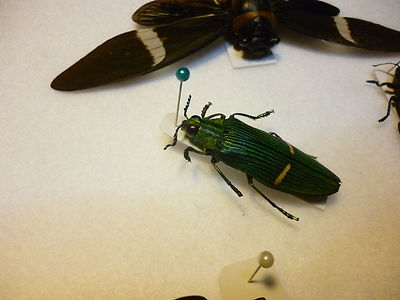 Add a caption
Pinning through cardboard saves cracking and damaging the specimen