You will find any number websites & ebay sellers offering non-offical Sensormatic Anti-Shop Theft Labels. This guide will help you spot the fakes (or at beatvery old stock) and ensure that you are getting the best available product at the best price.
Sensormatic AM Labels were once branded with the "DR" symbol to signify that they were genuine. Sensormatic stop using this designation in about 2002, when a number of cheap copies started appearing on the market. To give buyers the best opportunity to spot the difference they added the "claw in cross hairs" logo to their AM Labels and change the part number to: ZLDR-2.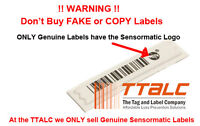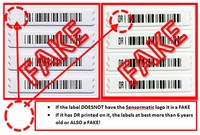 If you are considering buying Sensormatic AM Labels, you should be aware that FAKE or COPY versions will not be as effective. Making it easier for shop thieves to steal from your store. Additionally, label which are more than 4 years old may not adhere to the products you need to protect. As the glue gets older it becomes less adhesive. In deed, Sensormatic recommends a maximum self-life of 2 years, (see http://www.sensormatic.com/SensormaticGetDoc.aspx?FileID=6038) for their specification sheet.
Good Buying
The Tag and Company