This guide is aimed to help people identify a SCAM car listing. I thank you for reading this guide and hopefully you pass this information onto family and friends.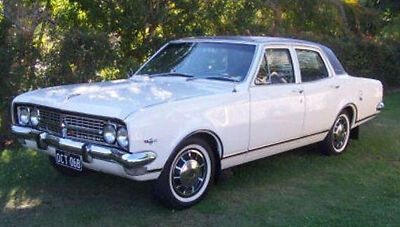 As a Monaro owner and daily eBay visitor its not rare to come across FAKE eBay listings advertising certain rare and expensive muscle cars. (Monaros, Toranas, Mustangs, GT's, Corvettes etc) Its very frustrating to see, obviously, and a waste of time and money for alot of people who are genuinely looking to buy a car.
95% of people recognise a fake listing when they see a HK GTS Monaro in immaculate condition with a buy it now price of $10,500 but for some reason there is always bidders and eBay users tricked into believing it (Refer to a recent Today Tonight episode which showed 3-4 people scammed out of thousands over eBay)
Thats why I wrote this guide. Hopefully this guide saves someone sending thousands of dollars to a con artist.

Here are a few tips for potential buyers.
Almost ALL scam listings will have a BUY IT NOW option. These 'buy it now' prices are very low in comparison to 'real' prices. EG. A Monaro, GT or Torana for example, worth $40,000 odd will be advertised for $10,500 buy it now.
The listing is usually, in most cases just a duplicate of a recent auction where a car may have already sold or the reserve not met. One thing I have noticed is that if you look closely at the scammers pictures of the car, the pictures are not a very good quality. Them seem pixilated or 'grainy'. Have a close look next time, you will notice it.
A dead givaway for a scam listing is the 0 feedback and new user status. However, some scammers 'hijack' other users accounts to list their fake item. This make it appear as if a reputable user is selling the car. If they do hijack an account they will always list the item with text telling you to email someone if you have a question. Below is an example of the text used in the auction.
"Please do not use the "ASK THE SELLER A QUESTION" button, I will not respond. If you have a question you MUST email me at somename@yahoo.com"
The reason that they ask you to do this is because when an account is hijacked by scammers they are unable to change the eBay account email address so the real user will always have access to their account and receive an email whenever the "Ask the seller a question" is used.
You can contact the real owner using the 'email seller' link. This will send a message directly to the email address of the real user. (This doesnt apply to classified ads). I will also suggest using the 'Ask the seller a question' and sending a message about car listed. This will notify the real owner of the bogus listing.
The email.
Ok, lets say you have found your dream car. A LC GTR Torana, perfect condition and its only $9,800 buy it now! Wow! You read the listing and they tell you "Please do not use the "ASK THE SELLER A QUESTION" button, I will not respond. If you have a question you MUST email me at somename@yahoo.com"
You email them at "somename@yahoo.com" and within no time you get a response. Its usually a long, story type email about the car and its location, REG details and price and payment arrangments. I can almost GUARANTEE you will find the following quote in the scam email.
"The car is in Germany/Ireland/Africa/UK etc"
Here is a REAL email I received recently off one of these scammers. I have not edited it in any way.
"Hello Matt,

First of all you must know that right now Im located in Germany due to my job and the car will be shipped from here. I have a car from my job to drive here, so I can`t keep this one anymore, pay insurance and all the associated taxes, as I have a 5 years contract here. It is very difficult for me to drive a right-handed car in Europe, so I`m forced to sell it.
The car has been garaged all its life with the exception of the Third Owner for about 7 months (stored under a carport).Body has no major dents or scratches, it has two small (minor) bits of rust coming through behind back wheels.
Mechnically is in excellent condition, new springs have been fitted all round and front V8 sway bar, these are the only changes to the Original Car. Also, I found about the very high import duties and I've changed my mind and I've decided to sell the vehicle. I want to sell it in Australia because is still registered there. You will get from me the keys and all documents to register the car into your name.

The price of my car is $18,000 , but I will require an $9,000 deposit upfront. The car will be insured during transportation and will be delivered in front of your door.

If you are still interested we will complete the deal only through Ebay using their Vehicle Protection Program. If you agree with these terms, please reply with your eBay userID, full name and shipping address. I will forward your details to ebay and they will notify you about our deal.

Hope to hear from you soon!"
Most scammers will try and sell the story; "I just moved overseas and I just found out I cannot register the car over here. Its still, however registered in Australia". Then they will try and organise that you can send them $5,000 for the car now, and when the car is over here in your hands you send the rest. They will try and reassure you that the $5,000 deposit doesn't get to them unless you can confirm the car is on shore. This again isnt the case and you would have just lost $5,000.
If you get this email, report it then delete it.
Classified Ads.
These are becoming popular now with scammers as they can use a classified ad to post their phone number so they talk to you over they phone, making the sale seem more genuine. This however, is not the case. While some sellers using 'classified ads' are genuine, please be cautious to every classified ad you see. If you think its a scam, ring the number and ask them to meet with you, with the car.
You can also contact eBay directly using the Live Chat service and notifying them of the suspisious listing. eBay Live Help
If you get put in a 'waiting queue' while in live chat, just type your message in the chat box and it will eventually get read. I often do this and just leave it, opening a new browser window to continue using the interent.
Below is an example of what you could write to eBay Live Chat;
Hello, Im concerned that eBay item number _____________ is a fraudulent listing. There are many indications to me to beleive this item is a scam.
Hello, Im just writing to inform you that I believe the eBay username ________________ has been hijacked and is being used to list fraudulant eBay listings. I think you should check it out.
If you come across a listing you think is fraudulant, please act and either notify eBay or report the item. You can do this by scrolling to the bottom of the fake items page and clicking the 'Report Item" link. The more reports, the quicker it gets taken down.
And always keep in mind the old saying, "If it sounds too good to be true, it probably is"
Always view a car BEFORE buying. I return flight across Australia might be $500, but its better than losing $10,000.
If you found this guide useful, please let me know by clicking "YES"