Be warned, many sellers are offering FAKE or very old Sensormatic labels and at full retail!
Fake labels have a lower performance level than the genuine product. Meaning that your valuable stock is not as securely protected. Any savings you might make by buying fake labels will be offset by increased shop theft.
To confuses buyers, some manufacturers of fake labels print "DR" on them as this was a designation Sensormatic used on early production of their labels. Sensormatic replaced the "DR" with their logo in about 2006. So if you are offered labels with "DR" printed on then they are most likely also fakes OR they could be six (6) or more years old.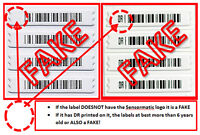 At the Tag and Label Company we only sell GENUINE Sensormatic Labels (Product Code: ZLDR2)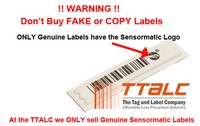 If you are interested in buying genuine Sensormatic labels please visit our store or visit our website
Best Regards
The Tag and Label Company