Hummels and look-alikes - how to tell the difference
This guide is intended to aid the new Hummel collector in discriminating between the genuine Hummel item and the many copycat reproductions that occasionally get listed on Ebay as the genuine article. For a more comprehensive guide to identifying Hummel figurines refer to A Guide to Hummel Backstamps .

Storybook Time - The real article
Hummel figurines came into production more than 60 years ago, modelled on the drawings of Sister M I Hummel, a Bavarian nun. The German Nazi Government did not allow the Goebel company to continue production of Hummel figurines during World War II, leaving the door open for reproductions from other countries to meet the established and growing market.
Herbert Dubler
During this period a New York firm, ARS SACRE, , produced figurines in the style of Hummel and many of these had B Hummel inscribed on the upper base. They also had a foil sticker with Ars Sacre or Hubert Dubler Inc printed on it., which proclaimed it to be an authentic Hummel figure. It is these that cause some confusion for the beginning collector.
Most Dubler pieces were made of Chalkware or Plaster of Paris and some were also cast in bronzer silver. They often came with a green felt base.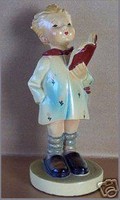 This is a Dubler figurine in similar style to the genuine Hummel, which often features a small child wearing falling-down socks and over-sized slippers.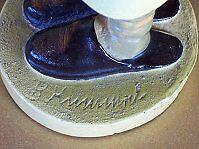 It is possible that, in time, these figurines may become collectable in their own right - as Hubert Dubler figurines.
Made in Japan & other countries
Many reproductions were also made in Japan, but these are easily recognised by the absence of authentic markings and they usually have Made in Japan, or just Japan, stamped on the underside of the base.

These figurines are often found on Ebay, listed under Hummel, with a vague description from the seller who suggests it 'may' be a Hummel, or even worse, suggests it is a genuine Hummel but unmarked. A bargain starting price can excite even the most experienced collector but, if the marks of authentication are not mentioned, ask the seller for a more complete description befor placing your bid.
Plastic Hummels
Hummels have even been reproduced in plastic and, in a photo on a listing, look very similar to the real thing. Again, to save any disappointment or misunderstanding, ask the questions before placing your bid.
I hope this small amount of information has been helpful.
(c) Merlene Fawdry