Hump for Suits:
Some of our designs are having built in hump.
You can use the selected humps with any suit.
We are offering a free hump with every suit
size 15cm x 15cm. If you want some other
size or design you can select from list
as per your choice.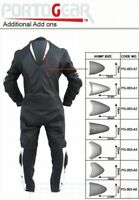 To know more about hump details visit us at :
http://www.portogear.com
http://stores.ebay.com/portogear