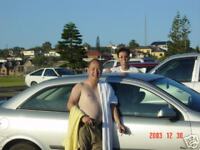 Inset : - I am the one in the front. The Loser is at the back !!!
Can cook, eat, and but don't know how to use the dish washer !!
Can help with wine or beer selection. Owner must have a slab of beer in the fridge before i arrive.
Can be a plumber. Skilled tradesman with sinks, toilets etc but at the moment have problem with my own bodily function.
Can be a wrestler with kids. Handle the kids the way that rugby players can.
Can be a romantic lover. For the desperate housewifes !
Can be gardenar. Must have a pool and a small garden.
Call me call me now....my 24 hour hotline is 0400 XXX XXX.
(It doesn't mean you can call me when I am sleeping).