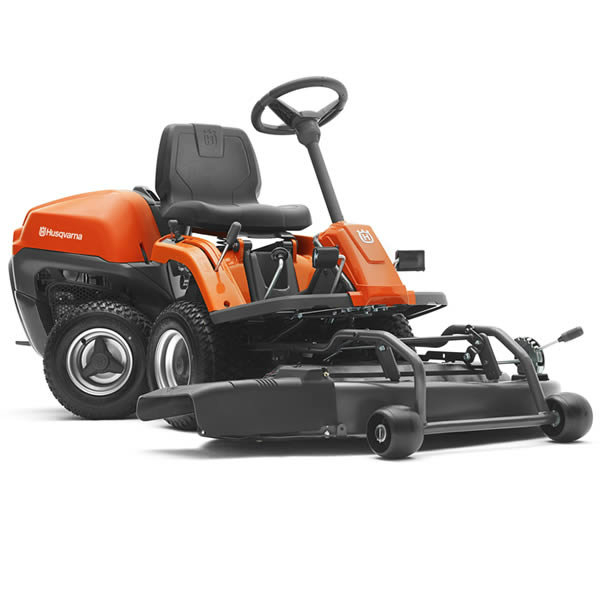 A lawn mower is an essential gardening tool for those who want to keep their lawn tidy, and for those who have a large amount of land to tend, a riding mower is an ideal choice. Husqvarna offer a range of riding mowers, as well as other gardening equipment, which can be useful for different needs. Standard riding mowers are available, which are suitable for cutting large area of grass, while larger, more powerful models can be used for heavier duty yard work. Also available are accessories for riding mowers, which can help to get the most out of a lawn mower. A wide range of Husqvarna riding mowers can be found on eBay.
Types of Riding Mower
There are a number of main types of riding mower widely available, which can be suitable to different types of garden and for different uses.
| | |
| --- | --- |
| Standard Riding Mower | The standard riding mower is suited to most ordinary tasks, and are among the most widely used types of riding mower. These can be used for lawn mowing as well as to pull lightweight loads, such as baggers and small carts. |
| Garden Tractor | Garden tractors are generally much larger and more powerful than standard riding mowers. Garden tractors can be useful for cutting grass over larger areas, and are also capable of hauling heavier loads |
| Zero Turn | Zero turn riding mowers offer a great deal of manoeuvrability, and are also often faster than other kinds of riding mower. This manoeuvrability is achieved through the use of a pivoting front axle, and is useful for avoiding flower beds, sheds and other obstacles likely to be encountered in a garden. They can mow a lawn more quickly as they do not need to repeatedly reverse like traditional riding mowers. |
Riding Mower Transmission Types
Another important factor to take into account when considering purchasing a riding mower is the type of transmission which is used.
| | |
| --- | --- |
| Belt Transmission | Belt transmission is the simplest form of transmission often used in riding mowers. Generally found in the smaller mowers and garden tractors, this is an affordable method, and is generally controlled through the use of a lever. |
| Gear Transmission | Gear transmission is similar to that which is used in manual automobiles, this reliable kind of transmission typically offers up to five speeds, as well as a reverse gear. Used in all types of riding mower, gear transmissions are affordable and reliable. |
| Hydrostatic Transmission | Riding mowers featuring hydrostatic transmission greatly enhance manoeuvrability and offer a range of speeds and reverse gears. Many mowers which feature hydrostatic transmissions also have preset gears for rough terrain. Hydrostatic transmissions offer a variety of benefits, but are expensive to purchase and maintain. |
Riding Mower Features
Husqvarna riding mowers can offer all kinds of useful features, which can make them suited to different needs, and help make it easier to mow and maintain a large lawn.
· An adjustable blade height is a highly useful feature, and means that the user can alter how high the grass is to be cut, without having to get off the lawn mower. This also enhances the safety of the user.
· Another useful feature of a riding mower is the capacity for multiple speeds. Often achieved through the transmissions, these mowers allow the rider to adjust their speed depending on their needs. For example, six speed riding mowers are a popular choice.
· A petrol level indicator can also be a useful feature, informing the rider of the level of petrol in the tank, meaning they can be informed if the tank will soon need to be refilled.
Husqvarna Riding Mower Accessories
A variety of accessories can also be found for use with ride on mowers, which can be a great way of enhancing the performance of the mower, as well as the comfort and safety of the user.
· A chipper or mulcher can be attached to many types of riding mower. These kits take in grass clippings, as well as twigs and other debris, and use blades to cut it up into very small pieces. The mulch produced can then be used to help plants grow.
· Alternatively, a bagging kit may also be used. This saves time by automatically collecting the grass clippings which are output by the machine, which can then be disposed of or used as mulch.
· Bumpers can be added to a riding mower to provide additional protection from any accidental collisions with garden furniture or other obstacles, and can help to prevent dents or damage to the riding mower itself.
· A small but convenient accessory is a cup holder. This accessory can securely hold a beverage during operation of the lawn mower, enabling the user to keep hydrated on a hot day, or have a hot drink close to hand during colder weather.
· A wide range of parts are available for riding mowers, which can be kept as spares, or used for repairs. Important parts which may need to be replaced include the blade of the lawnmower, as well as the band, which is required to cause the blade to spin.
How to Buy a Husqvarna Riding Mower on eBay
A wide variety of Husqvarna riding mowers, as well as a range of lawn mowers, accessories and other gardening equipment, can be found on eBay.
· The full listing of available Husqvarna riding mowers can be found through the Home & Garden portal, in the Riding Mower section of the Lawnmowers category, which can be found under Gardening.
· The listings of available riding mowers can be narrowed down by a number of different categories, including price, condition and item location.
· Key information about a riding mower, such as the type or any additional features the mower offers, will often be prominently displayed in the item listing. This helps a buyer to quickly see if an item meets any specific requirements.
· More detailed information about an item can also be viewed on the item page, and pictures of the item can also often be found here. Also available on this page is information about the seller, such as item reviews and feedback ratings, which can help to ensure that a purchase can be made with confidence.
· If a specific Husqvarna riding mower is required, it may be easier and more effective to make use of the search function, which can be found at the top of every page. Entering keywords into the search bar will return relevant results from within a specified category, or from across the site.
· Don't forget to look out for any deals which may be available on Husqvarna riding mowers in the Gardening section.
Conclusion
When a large stretch of grass needs to be regularly mowed, a riding mower is the best option, and will more quickly and efficiently cut larger lawns than a push mower. There are a number of different types of riding mower available, which can be more suited to the needs of different users. Zero turn mowers, for example, are highly manoeuvrable and often used by professional landscape gardeners, while garden tractors are more powerful and can be used for more heavy duty tasks. A wide range of Husqvarna riding mowers and accessories can be found on eBay.