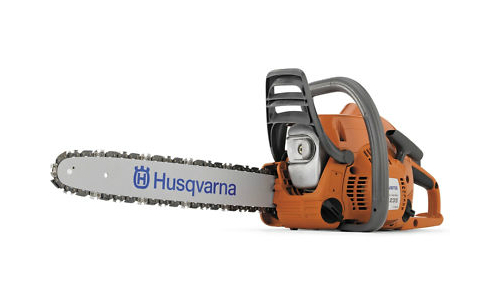 Husqvarna and Stihl are leading manufacturers in the power tool market. Their chainsaws are widely known for their reliability and durability. Both homeowners and timber cutters use these tools for a wide range of tasks. Which manufacturer offers the best products has been debated heavily over the years. Some timber cutters choose products depending on the job, while others find the choice is simply a matter of personal preference.
Both Husqvarna and Stihl offer various models of chainsaw. When buying one of their products at retailers such as eBay, shoppers should consider the history of each manufacturer, understand the difference between petrol-powered and electric outdoor tools, learn about the features chainsaws offer, and familiarise themselves with the various factors that help them to choose the right tool for the job.
A Brief History of Husqvarna and Stihl
Husqvarna is based in Sweden and has been a global leader in outdoor products for many years. In addition to their line of chainsaws, the company also manufactures lawn mowers, tractors, construction equipment, and diamond tools for cutting concrete. Husqvarna chainsaws come in a variety of bar lengths, ranging from 14 to 20 inches. The company also produces chainsaws under the Poulan brand name.
Stihl is based in Germany and is a leading manufacturer of small engine machinery and power tools. The company has continued to expand, with plants and branches worldwide. They are well known for several inventions, including automatic chain oiling, centrifugal clutch, chain braking systems, and electronic ignition systems. Stihl makes both consumer and professional grade petrol and electric chainsaws in various bar lengths, ranging from 14 to 20 inches; electric chainsaws have smaller bar lengths than the petrol version. Stihl is the only company that also creates its own chains and guide bars.
Types of Chainsaws Produced by Husqvarna and Stihl
Husqvarna and Stihl produce chainsaws in two basic types: petrol and electric. The right type depends heavily on the job at hand.
Petrol Chainsaws
Petrol chainsaws tend to cut more quickly and smoothly than electric versions. However, they are heavier and noisier, often emitting exhaust fumes. Starting the engine generally takes several pulls of the cord. They require regular maintenance in order to work properly and safely. Petrol chainsaws can do more powerful jobs, making them well suited for cutting substantial trees or for regular use by timber cutters and homeowners.
Electric Chainsaws
Electric chainsaws cost and weigh less than petrol models because they have a power cord rather than carrying their fuel. These chainsaws start more easily than petrol versions; they simply require the operator to pull the trigger. Electric chainsaws tend to be smaller, which limits them to light duty tasks, such as cutting smaller trees. In addition, because they are corded they must be used close to mains power or with a long extension lead.
Features of Chainsaws
Husqvarna and Stihl chainsaws vary slightly in the features they offer. These features promote chainsaw safety, convenience, and ease of use. Common chainsaw features and their function are listed in the table below.
Feature of Chainsaw

Function

Reduced kickback chain

Extra guard links on the chain keep the cutting teeth from taking too large and aggressive a bite

Most chainsaws have this feature

Reduced kickback bar

Bar with a narrow tip to limit the cutting area that generates the most kickback

Most chainsaws have this feature

Chain brake

Stops the chain almost instantly when the front hand guard is pushed forward or when the tool kicks back

Most petrol and many electric chainsaws have this feature

Bar tip guard

Steel attachment that covers the nose of the bar to prevent the tip of the chain from getting caught

Shortens the usable length of a bar

Helps to prevent kickback

Often removed because it gets in the way of cutting

Chain catcher

Metal extension beneath the guide bar

Keeps a thrown chain from flying back towards the operator

Most chainsaws have this feature

Trigger lockout

Prevents accidental engagement

Throttle trigger cannot work until the button is pressed

Most chainsaws have this feature

Designed for the guide bar and chain

Protects the operator from the sharp cutting teeth when carrying or storing the chainsaw

Can be purchased separately

Wraparound front handle

Provides a comfortable grip

Eases horizontal cutting

Automatic chain oiler

Lets operator keep cutting without having to stop and manually pump a plunger to oil the cutting bar

Allows both hands to be kept on the chainsaw while cutting

Most chainsaws have this feature

Bucking spikes

Near the base of the bar

Bite into logs and serves as a fulcrum, letting the operator pivot the bar and chain downward while cutting logs in a log saw horse

Many chainsaws have this feature

Tool-free chain adjuster

Hand-operated wheel-and-crank mechanism

Unlocks and locks the chain bar and moves it in and out, allowing chain tension adjustment

Visible bar oil level

Translucent tank or viewing strip

Lets operator check the chain oil level at a glance

Anti-vibration

Most petrol models have rubber bushings or metal springs between the handle and the engine, bar, and chain to minimise vibration

Takes some burden off the operator
Chainsaw features tend to vary by model and manufacturer. When deciding between a Husqvarna and Stihl chainsaw, buyers should consider the features of the tool and choose a model that suits their needs and simplifies the task at hand.
Factors to Consider when Choosing Between Husqvarna and Stihl Chainsaws
When deciding between Husqvarna and Stihl chainsaws, buyers should think about the general use of the tool with respect to its size, price, and cutting quality. Both brands of chainsaws perform quite similarly. However, there are slight differences in affordability and long-term use.
Size of Chainsaws
Both Husqvarna and Stihl manufacture a wide range engines and bar sizes. Husqvarna chainsaws are better tailored towards farmers and homeowners, many of whom prefer the power-to-weight ratio of these products. Stihl chainsaws are geared towards timber cutters. These chainsaws are often larger and heavier than those manufactured by Husqvarna.
Price of Chainsaws
Both Husqvarna and Stihl chainsaws are considered a small investment when compared to other brands. This is due partly to their reputable brand names. In general, Husqvarna chainsaws are slightly less expensive than Stihl, which makes them ideal for those that use a chainsaw occasionally.
Cutting Quality of Chainsaws
The cutting quality and ease of maintenance of both Husqvarna and Stihl chainsaws is considered to be similar. Both tools have powerheads designed to maximise cutting efficiency. The light weight of Husqvarna chainsaws makes them easier to use over a long period of time. Stihl products are often preferred for their ability to endure for long hours of professional use.
How to Buy Husqvarna and Stihl Chainsaws on eBay
Husqvarna and Stihl chainsaws are available to buy on eBay. Buyers simply need to navigate to the appropriate product by entering keywords, such as "Husqvarna chainsaw" or "Stihl chainsaw" into the search bar. Alternatively, buyers that have a more specific idea about the type of chainsaw they require are free to use eBay's advanced search feature. For those looking for ideas for chainsaws, eBay's Deals page provides hundreds of products to choose from. This feature allows buyers to narrow results by price or condition.
Once buyers find the Husqvarna or Stihl chainsaw they wish to buy, it is important to check the seller's feedback rating to see how other buyers have rated his or her service. An eBay Top-rated seller has a good reputation for dealing fairly on eBay and receives consistent positive feedback ratings from buyers.
Conclusion
The level of reliability, durability, and efficiency between Husqvarna and Stihl chainsaws has been a long-standing debate. With the tools of each manufacturer offering their own benefits and drawbacks, buyers should consider the task at hand to decide which tool to purchase. Buyers should also take into account the type of chainsaw they require. Petrol chainsaws are more powerful, making them ideal for large-scale jobs, while electric chainsaws, due to their need for mains power, are best suited for light duty tasks.
Husqvarna chainsaws are generally lighter, which makes them popular with homeowners and those performing smaller tasks. Stihl chainsaws are generally larger and have more power, so they are considered ideal for timber cutters and other frequent operators.