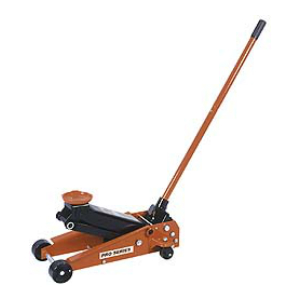 Hydraulic floor trolleys
are convenient and portable pieces of equipment used to lift up a car or truck safely to allow the tyres to be changed or for other maintenance to be done. They are a great investment for those that work on their own cars performing regular tune-ups. The unit generally has four wheels so that it can be manoeuvred easily to access the underside of the car.
When purchasing a hydraulic floor trolley, buyers should consider the various features it offers, familiarise themselves with the different factors that help them to choose the right product, and learn about the alternative, more portable, types of trolley that are available. Hydraulic floor trolleys can be bought at auto stores and from online retailers, such as
eBay
.
Features of Hydraulic Floor Trolleys
Hydraulic floor trolleys have an array of features, including a wide base, operating handle, and position stop. When searching for this equipment, it is important to consider the features that increase convenience and make the trolley easy to use.
Feature of Hydraulic Floor Trolley

Description

Wide base
Stabilises the trolley
Prevents shifting or sinking into the ground during operation
Operating handle
Trolleys may come with an operating handle, tyre iron, or similarly sized tool
Offers convenience for emergency repair situations where the handle may be missing or damaged
Position stop
Prevents users from extending the trolley beyond its rated capabilities
Featured on most trolleys
Hydraulic floor trolleys are ideal for those that perform routine maintenance on cars. Consider the features offered by the equipment to ensure that it operates as desired.
Factors to Consider when Buying a Hydraulic Floor Trolley
There are various factors to consider when buying a hydraulic floor trolley, including capacity and manufacturer. These factors ensure safety and make the car maintenance process easier.
Capacity of Hydraulic Floor Trolleys
Capacity is perhaps the most the critical factor when buying a hydraulic floor trolley. Trolleys are defined by the amount of weight they are able to lift. This means that buyers should consider the total weight of the vehicle in order to select the right model of trolley.
Manufacturer of Hydraulic Floor Trolleys
When searching for a hydraulic floor trolley, it is important to consider the equipment's manufacturer and to choose a reputable brand. Cheaper models may compromise the safety of the car or the mechanic.
Trolley Stands for Hydraulic Floor Trolleys
In addition to a hydraulic floor trolley, buyers should consider purchasing a
trolley stand
. While the floor trolley is ultimately responsible for lifting the car, the stand supports the weight of the raised vehicle temporarily. The floor trolley itself should never be the sole support of a car that a mechanic is working under as it is susceptible to failure.
Trolley stands come in various types, each compatible with a specific type of trolley. They are also categorised by height and weight capacity, and are designed to support the vehicle they are rated for. Smaller stands are used for smaller cars or equipment, while larger stands are reserved for heavier vehicles, trucks, and farm equipment. When purchasing a compatible trolley stand, buyers should consider the specifications listed in the table below.
Trolley Stand Specification

Description

Lift height
Stand height ranges from a few centimetres to over 1.8 metres
Weight capacity
Stands are rated in tons by the weight they can support
Ratings range from as little as half to over 25 tons
It is essential that the stand is rated for the weight of the intended vehicle
Adjustability
Consider whether the stand is adjustable in height and the how easy it is to adjust
Tripod is the most common type, and uses a notched centre column, with the user releasing a lever to select the desired height
Pin-and-hole types use a steel pin inserted into holes in the centre column to adjust the height; used for heavier stands
Rotation types have a centre column turned to adjust the height
Material
Small stands are often made of aluminium or light steel

Heavier stands should be made of cast iron or heavy steel

Type of metal used should be appropriate for the capacity
Although adjustability is often considered a convenient feature, stands that are fixed in height have a safety advantage in that they have no moving parts; this reduces the risk of failure. Buyers that are using the stand with a single vehicle or several that are similarly sized may choose a fixed height stand, while an adjustable height stand is more versatile and well suited for use with multiple vehicles.
Alternative Types of Floor Trolley
In addition to hydraulic floor trolleys, there are several other types, including scissor and hi-lift. Each type is designed for a specific purpose.
Scissor Trolleys
Scissor trolleys
are often included with a new car. They are designed to help drivers in the event of emergency maintenance that needs to be performed at the roadside. They have a compact diamond shaped design, so they can be stored in the boot easily. Unlike hydraulic floor trolleys, they use a screw mechanism to raise and lower the equipment, and are operated by the crank of a handle or tyre iron. It is important to note that some scissor trolleys can be powered using the car's cigarette lighter.
Scissor trolleys are car specific, so it is important to know the vehicle's make and model. If planning to purchase a replacement scissor trolley, buyers should consider the car's specification, especially its weight.
Hi-Lift Trolleys
Hi-lift trolleys
are designed for use with large vehicles, such as farm equipment. They are also well suited to specific off-road situations, where height and leverage are critical, for example, when a vehicle is stuck in deep mud. Hi-lift trolleys can raise a vehicle up to 1.5 metres. They are generally built around a vertical bar and are light enough to be stored in a vehicle.
How to Buy a Hydraulic Floor Trolley on eBay
There is a wide array of hydraulic floor trolleys available to buy on
eBay
. Buyers simply need to navigate to the appropriate product by using the keyword search. Typing in "
hydraulic floor trolleys
" is likely to render a large number of search results. For a more selective search, buyers should include specific terms, such as the name of the trolley manufacturer. Alternatively, eBay's advanced search feature allows buyers to narrow down listings by price or condition. Before buying a hydraulic floor trolley, determine the specification required so that it can be used safely. Buyers should communicate clearly with the seller by using the "Ask a question" feature to ensure they are purchasing a trolley compatible with their car. Check the
eBay Deals
section for hydraulic floor trolleys at a lower price.
Conclusion
Hydraulic floor trolleys are a great piece of equipment for those that perform regular car maintenance. They help lift and support a car so that its underside is easy to access. When searching for a trolley, buyers should consider when it is used. Hydraulic floor trolleys are best suited for use in garages, while those that plan to use the trolley on the road should choose a scissor or hi-lift model. Buyers should also consider the features that hydraulic floor trolleys offer that make them more convenient to use, including a wide base, operating handle, and position stop. Although the equipment supports a car to some degree, buyers should consider investing in a trolley stand for more secure support. eBay offers a wide array of hydraulic floor trolleys, well suited for any maintenance situation.