With proper landscape lighting, you can easily extend the breathtaking natural beauty of your outdoor space long into the night. By adding garden lights in your outdoor space, you eliminate the night and extend your outdoor space use into the night plus creating more moments with your family and friends.
Installing LED lights is so much better than using regular halogen lights. Solar outdoor lighting depends on sunlight, that is not predictable, so at times the different kind of lighting will be much more dependable and of course made with better quality fittings that look first class in your outdoor space.
Firstly LED lighting lasts longer and consumes lesser energy, their technology is going forward and leaps and bounds and can save you a fortune on your electricity bill. Our lights start at 1W, so comparing a 12W halogen bulb they will still put out the same light but will last up to 10-15 years before they need changing. Plus they also don't heat up like halogen lights, so this means no burning foliage if they are too close to your plants and no attracting those flying insects:)
Decide what you want to highlight in your garden, landscape and then choose your garden lights. The best way to work this out is to start with a piece of paper. Create a design on paper and make changes to it while you are still in the design process, measure out your distance and work out cable length and how far apart you will space your lights and then total the amount of lights and don't forget about measuring how far from your power outlet also!
You then need to decide what kind of light you are going to have in your outdoor space. If you want a something really highlighted like a big palm tree or large textured plant try a Blue or Green Spotlight.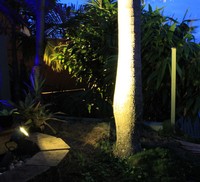 If you are looking for a softer look on your pathways, gardens or plants try the cool white spike light and for a more yellowy light on darker areas use a warm white bollard or spike light. Landscape lighting can dramatically change your home from dark and unused to something that instantly changes how you use your outdoor space, turning it into a place you love.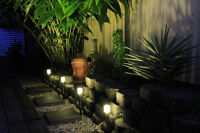 Check out our garden light range in store if your looking to transform your outdoor space into an entertainment haven for family and friends.
If you have found our guide helpful please vote on it below.
Thanks