Hello there! This is Wen from OzAnimart, I'm going to guide you as to how to tell a genuine anime from a reproduction or a fake in eBay. Hopefully after reading this guide, you'll be confident in purchasing your anime merchandise off eBay, without the fear of getting conned or buying a dud.
This guide is written based on my experience of buying anime merchandise both offline and online. Additionally some insights come from being a part of OzAnimart, selling anime merchandise and listening to other people's story and life experience.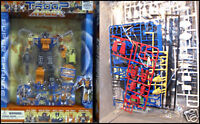 [Some items scream 'bootleg!' from meters away ... While some are not so obvious]
There have been many other guides on spotting bootleg anime DVDs. Mine will try to fill up the gap that other guides may have not covered.
I will discuss mainly on spotting non-DVD bootlegs, which is general anime merchandise. This includes, but not limited to: figures, model kits, key chain, plushies, purse, watches, wall scrolls, in other words, every anime related items.
To some of you, especially hardcore or life long anime fans, some of the things that I will be discussing may be old hat. However, I believe there are others that may be benefited from learning the basics of bootlegs.
There are two parts to this guide: first one is a general discussion about bootlegs. And the second is the actual how-to of identifying bootlegs online/ in eBay.
Continue to Part 1: A Bootleg's Tale