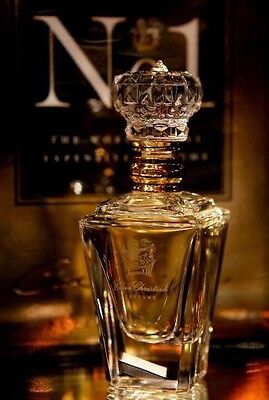 Clive Christian No.1 for Men or Women
Can you imagine spending over $12,000 on 30ml of perfume? For some, this is standard. With so many beautiful perfumes around the world, two stood out to us when looking for the most expensive perfume ever. And it might surprise you why they were so expensive…
According to the Guinness World Records, the most expensive perfume in the world is Clive Christian No.1 for Men or Women. For 30ml, you would be looking at over $2,000. But for their limited edition 10-bottle Clive Christian No.1, named Imperial Majesty, each bottle was sold at over $200,000 in November 2005. The bottle was made from Baccarat crystal, had an 18-carat gold collar, as well as a 5-carat white diamond. The box was made from ebony, with velvet of gold and platinum. And the people who bought it? Well, the bottle was delivered to them in a Bentley. Pretty fancy! But for a $200,000 perfume, Clive Christian had to go above and beyond expectations.


A limited edition of DKNY's Golden Delicious apple-shaped perfume was created in 2011, boasting a 1 million dollar price tag. Including 2,909 precious stones, such as yellow sapphires, white diamonds, turquoise tourmaline, sapphires, pink diamonds, rubies, and a yellow Canary diamond on the cap, the process took almost 1,500 hours to complete! The jewels were added to create the New York City skyline, which dazzled those who did buy it. The bottle was designed by jeweller to the stars Martin Katz, who has worked with Ray-Ban, Victoria's Secret, and several of Hollywood's rich and famous.


Luckily, you won't have to fork out thousands or millions of dollars for our perfumes, but we might not be able to deliver them to you in a Bentley!