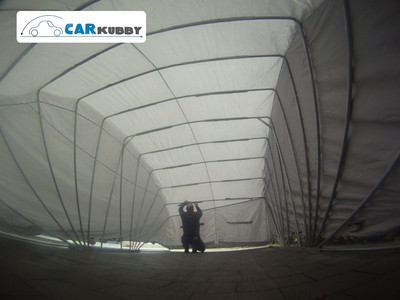 Flammability Standards of a Kubby?
CPAI-84 is a standard for flammability of recreational tents. It was set by the Industrial Fabrics Association International. The name CPAI stands for Canvas Products Association International which used to be the name of IFAI. The standard was drafted in 1976 and revised in 1995. This body is internationally recognized as establishing the technical means and recording the acceptability of the results.

When a fabric meets the CPAI-84 standard, it has achieved a standardized level of flame and heat resistance. This standard was developed to ensure an acceptable level of fire resistance and is required of fabric structures that for temporary shelters for people.

Is CPAI-84 Relevant to a Kubby?
Specifically, the standard applies to "camping tentage," This strange term is further defined as "any portable temporary shelter or structure designed to protect people from the elements. This includes, though not exclusively, the following: camping tents; play tents (indoor and outdoor); recreational vehicle awnings; dining flies and canopies; fabric screen houses; add-a-rooms; and ice fishing tents. Please note - that these are all things that should NOT burn - just like a Kubby

The tests involve exposure to heat and open flame, accelerated weathering exposure (using Fluorescent UV, Carbon Arc, and Condensation), and tearing force.

Passing this test Internationally certifies that the Kubby Protects your Treasure at a safety level required to ensure the safety of Humans