There are many things that can make a book valuable. It could be the age, it could be the quality, it could be that you just love it. Below I've outlined a number of possible reasons a book can increase in value and what to look out for.
Rare?
An interesting statement, which I've seen put to a number of books and have wondered on the veracity. Especially when there's been 10 other books of the same edition right below it. So how do you know if the book you have your eye on truly is as rare as the seller states, and what makes a book rare in the first place?
There are a number of reasons why a book can become rare. Probably the most common is that it is out of print - OOP. Every book ever written has become OOP at some time or other. I remember many years ago when I wanted to purchase Tolkien's book of Lost Tales and had to go through a second-hand dealer to secure one. Book stores no longer stocked them beyond the first few editions. Of course you can get them everywhere now due to the re-popularisation of the Lord of the Rings by the movies.
Books become out of print often after the first edition. If they sell well then they are reprinted and distributed to a larger market. It isn't you, the customer, who decides whether a book is reprinted, but the bookseller or store who puts their order into the publisher's warehouse. There follows a huge marketing hype by the bookstore to 'off-load' their purchase.
Books can become rare because of their extreme age. Let's face it, unless you and your descendants have kept books under optimum conditions they are going to deteriorate over time. Sunlight, dampness, poor storage can all shorten the life of a book. But, not all old books are valuable.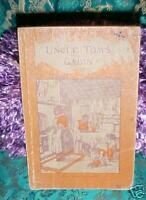 Uncle Tom's Cabin: Old, but in poor condition
Pages could be missing, the story may be of little interest, and there could still be hundreds of copies about. Some books, regardless of condition or subject matter are extremely valuable simply because of when and where they were printed. Finding out whether the book you own or want to own has value may take a little research.
What if the book is signed by the author? The value will depend on how popular the author is currently, if the author is still alive, and how many signed copies are in existence. Also, if the book was inscribed by the author in a very personal way giving the book some provenance, the value can increase a great deal.
Many bookstores hold 'book signings' where an author will sit and sign their latest books - sometimes by the thousand. A book signed by a popular author such as Stephen King therefore may not be as rare as some people might think, but possibly still sought after.
First edition books are usually preferred by the collector. But how do you know what a real first edition is? Oftentimes just reading the details at the front of the book won't give you the true printing history. A first edition means that it is the very first time a book is printed. Sometimes there is confusion, as a book can be printed again in another country and for all intents and purposes the details in the book could indicate that it is a first - it isn't. The best and quickest method of finding out is to Google a fan-site.
How a book is made can also effect the rarity. A limited edition with a very short printing run can give value to a book but not necessarily cause it to become rare. These type of books are often bought as an investment so are usually well looked after. On the other hand, a poorly printed book with errors could fetch an extremely high price.
For example, from the mid - late 19th century many thousands of books were printed with the 'lower and working classes' in mind. These were often directed at the 'teen' market and were made very cheaply. Known as 'Penny Bloods' or 'Penny Dreadfuls' by their detractors, they could be classed as the forerunner to today's comics. Often dealing with gothic horror or romance stories, they were illustrated using crude woodcuts. These dramatic stories of lust and murder often shocked the sensibilities of Victorian England. Although they were printed in their 1000's, they were so badly made that there are few copies in good condition still to be found.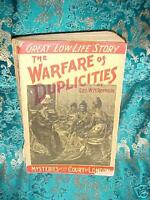 Mysteries of the Court of London
The most sought after of the 'Penny Dreadfuls' are those concerned with murderers of the time such as Jack the Ripper. These were sensationalised accounts with garish illustrations, often lampooning the inability of the local police to bring in the killer.
More information
If you are unsure about any book simply put the name and author into a search engine - Google is good but you could also search through Ebay. This can give you an indication of what the current market is and help you to learn a little more about the book's history.
You can also ask other members of the ebay community. At the Sports, Books, Movies & Music board there are many book sellers who are quite happy to assist.
I hope my brief guide has been of assistance.