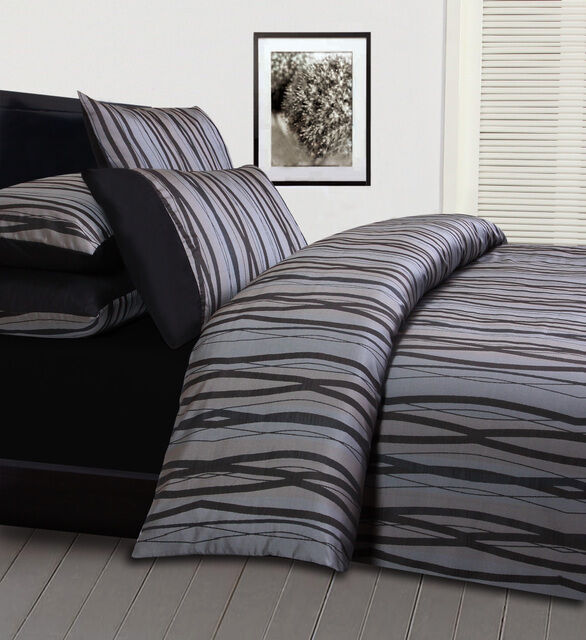 Buyers who want to decorate their bedrooms with luxurious textiles should consider purchasingJacquard quilt covers for theirbedding. Because the process of creating Jacquard fabric allows textile manufacturers to produce a range of patterns in different colours, a Jacquard quilt cover functions as a central design focal point or a muted component that coordinates well with the rest of a bedroom's decor. Jacquard quilt covers are available in local fine department and bedding shops and online at marketplaces like eBay. Before choosing a Jacquard quilt cover, however, buyers should learn how to evaluate Jacquard fabric's quality and research style options, like features and care requirements, to ensure they purchase a cover that is as usable as it is decorative.
Jacquard Fabric Construction
Understanding the intricate methods employed to weave Jacquard fabric helps buyers determine the quality of any quilt cover they consider for purchase. In plain weaving, the construction process begins with adding parallelthreads, referred to as warp threads, to a loom. An intersecting thread, or weft thread, passes above and below the warp threads to create a length of plain fabric. With Jacquard weaving, however, the warp threads rise at different intervals to produce intricate patterns and fabric textures. This contrasts with other types of fabric, which have patterns applied to the surface of the fabric after weaving completes.
Colour Use in Jacquard Fabric
Because manufacturers have more control over the blending of warp and weft threads in Jacquard fabric, they can alter the colour of the threads to produce intricate colour patterns throughout a length of Jacquard. This provides a rich appearance to the patterning that is difficult to replicate with other colouring techniques, like screen printing. To create some Jacquard patterns, manufacturers must weave the warp and weft threads tightly, causing the Jacquard fabric to increase its weight. Because of this, heavily-decorated Jacquard quilt covers are not appropriate for year-round use and are suitable only during cold weather months. Buyers who hope to use their Jacquard quilt covers throughout the year should opt for lighter varieties of Jacquard.
Fibres Used in Jacquard Weaving
When producing Jacquard fabrics, manufacturers can utilise a range of different textile fibres. Which type of fibre is preferable depends on buyers' individual tastes and available budgets.
| | |
| --- | --- |
| Types of Fibres Used in Jacquard Weaving | Description |
| | Includes cotton, wool, and silk fibres |
| Synthetic fibres | Includes rayon, nylon, and polyester |
Jacquard quilt covers made from natural fibres are generally more expensive than covers made with synthetic fibres, particularly when fine, luxury fibres, like silk, are used. Natural fibres are also more comfortable and breathable than synthetic fibres, but have some drawbacks like wrinkling easily. Because of this, textile manufacturers often make Jacquard fabric from a blend of natural and synthetic fibres which retains a high comfort level while resisting wrinkles. When shopping for Jacquard quilt covers, buyers should check the material composition of each potential purchase to be sure that they know which types of fibres manufacturers employed to create a cover.
Jacquard Quilt Cover Features
To meet consumer demand, Jacquard quilt cover makers offer buyers a number of different features that affect the adaptability and care of their covers. Before shopping, buyers should consider which of these features they may find valuable.
Reversibility
Jacquard quilt covers contain two layers of fabric that generally encase a layer of batting for insulation and softness. Depending on the style of the cover, the fabric layers consist of an upper layer of Jacquard fabric and a lower layer of lesser quality fabric, or two layers of Jacquard fabric. A quilt cover that has a double layer of Jacquard is more expensive than a single-layer Jacquard cover, but it is reversible so buyers can decorate with either side of the cover.
To extend the function of a double-layer Jacquard quilt cover, manufacturers often add two complementary layers of Jacquard that are not the same, but contain duplicated colours and patterns. This design-coordinated approach allows buyers to simply flip their covers over to change the look of their bedroom decor.
Edging Finishes
The rich appearance of Jacquard lends itself well to popular textile embellishments, like edging finishes, which some buyers may favour when choosing their quilt covers. Edging finishes allow textile manufacturers to decorate the seams of their products and include piping, fringe, and lace borders. Although edging finishes comprise only a small section of a Jacquard quilt cover, buyers should be aware that the finishes can impact the overall care requirements of the cover.
Care Requirements
The type of care that Jacquard quilt covers require largely depends upon the fibres included in constructing the Jacquard fabric and the intricacy of any edging embellishments. Silk and wool fibres often demand dry cleaning, even when blended with synthetic fibres. Conversely, cotton and synthetic fibres are machine washable. Certain types of finishes, like delicate lace and long fringe, also require dry cleaning, so buyers should carefully check care instructions for any Jacquard quilt covers before purchasing. This helps avoid costly long-term cleaning over the lifespan of the cover.
How to Buy Jacquard Quilt Covers on eBay
Buyers searching for a wide range of Jacquard quilt covers appreciate the large selection of options on eBay. Through eBay's network of sellers, buyers can find quilt covers in smaller sizes, like single-sized , or larger sizes, like queen- and king-sized covers . Buyers who want coordinated bedding components can also opt to shop for Jacquard quilt cover sets that include everything needed to complete a bed. If buyers are on a budget, they can browse the discounted Jacquard quilt covers available through eBay Deals' Bedroom products. Before making an eBay purchase, however, buyers should review the product details for a Jacquard quilt cover's fibre content, special features, and care instructions to ensure they are purchasing the perfect cover for their homes.