Jaguar Cars - Part 4
This is one of many illustrated classic car guides I've created for the community. I hope you enjoy it. If you wish to find out more about the classic Jaguar car art featured in this guide please click here.
This guide includes the following models:
Jaguar Mk V
Jaguar Mk IX
Jaguar C-Type
Jaguar XK120 FHC
Jaguar 2.4 / 3.4-Litre Mk I
Jaguar 240 / 340
Jaguar Mk5
Produced mainly in saloon form the Mk 5 was a well mannered, traditional model produced at a time when there was a strong demand for transport. Its pre-war lines were updated by the used of faired in headlamps. This was combined with a new independent front suspension chassis designed for the projected Mk VII. Power came from Standard-based 2.5 or 3.5-litre, six cylinder pushrod engines. It was the last Jaguar saloon to be offered with the option of drophead or coupe coachwork.
Jaguar Mk9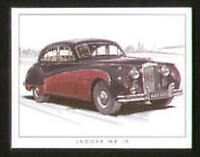 The final derivative of the Mark VII, the Jaguar Mark IX was produced between October 1958 and September 1961. Looking virtually identical to the Mk VIII, although there was a discreet MkIX badge on the boot lid panel, the Mk IX used the 3.8-litre version of Jaguar's XK engine, producing 220bhp, with four-wheel disc brakes (the world's first luxury saloon with these) and power-assisted steering. The last of Jaguar's big separate-chassis saloons top speed was 114mph. In eleven years a total of 47,190 of the Mk VII/VIII/IX family were produced, 10,019 of which were Mk IXs.
Jaguar C-Type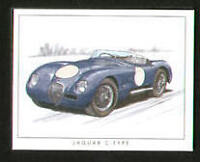 Jaguar's first purpose designed racing car, the C-Type, achieved a spectacular first-time victory at Le-Mans in 1951, giving Britain its first triumph in the 24 hour classic since 1935. The cars were similarly successful in 1953. In essence, the C-Type was a more powerful, lighter version of the XK120 and bore a strong family resemblance. Designated the XK120C (C for competition), it was a clever blend of beauty and function and is undoubtedly one of the greatest racing cars ever produced.
Jaguar XK120 FHC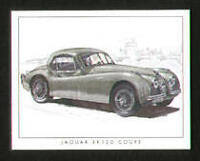 In the drab, post-war, car-starved world of 1948, this beautifully styled XK120 caused a sensation, and although Jaguar intended to produce only limited numbers, those plans were soon expanded. Since style carries all, buyers accepted the cramped cockpit, small luggage space, inadequate headlights and poor brakes. In return they got the most beautiful and the fastest production car in the world.
Jaguar 2.4 / 3.4 Litre Mk1

In 1955 the new 2.4 litre saloon started several trends for Jaguar. It was the first "small" Jaguar to be designed in the post-war years, the first to use the smaller version of the XK engine, and to used a unit construction bodyshell. It sold alongside the Mk VIIM and XK 140 models, as a smaller lower-priced car than the big saloon. The 112bhp 2.4 struggled to reach 100mph, so Jaguar introduced a 3.4 litre dating from 1957. The earlier 2.4 litre model can be identified by a slightly smaller grille and full rear wheel spats.
Jaguar 240 / 340
The Jaguar 240/340 represented the final phase of the Mk II and offered a mildly cheapened specification to distance them from the S-type and 420 models in Jaguar's range. Standard specification included Ambla trim, simpler woodwork and grilles in place of fog-lamps. Some preferred the slimmer more elegant bumpers, which became the easiest way of distinguishing 240/340 from a Mk 2. The 340 (rare today) used a revised cylinder head which boosted output to a useful 133bhp. Produced '68/69.
Thank you for reading my guide and I hope you found it interesting!