Jaguar Cars - Part 5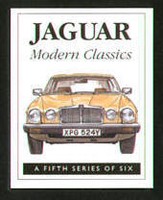 This is one of many illustrated classic car guides I've created for the community. I hope you enjoy it. If you wish to find out more about the classic Jaguar car art featured in this guide please click here.
This guide includes the following classic jaguar car models:
Jaguar XJ Series III
Jaguar XJ-S HE
Jaguar XJ6 (XJ40)
Jaguar Sovereign (XJ40)
Jaguar XJ6 (X300)
Jaguar XK8
Jaguar XJ Series 3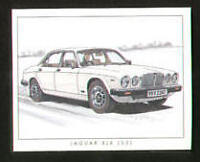 In 1979 the Jaguar XJ saloon entered its Series II phase, and was now even prettier thanks to styling touches by Pininfarina. These included a new grille, more glass and a sleeker roof. In keeping with Jaguar's reputation for good value, the 3.4-litre saloon continued, with twin Sus and cloth upholstery (£12,750) but 4.2-litre cars now benefited from fuel-injection. The ultimate XJ saloon, the XJ12 continues in SIII guise five years into XJ40 period until 1992.
Jaguar XJ-S HE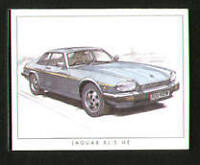 The second generation XJ-S arrived in 1981, fitted with new May-designed "Fireball" heads, which raised power (now 299bhp) and importantly improved fuel economy. Christened the XJ-S HE (High Efficiency) it received 6 ½ inch wheel rims and an elegant new interior, with wood veneer on facia and door cappings. The range was expanded in 1983 by the addition of a 3.6 litre model and a brand new cabriolet with rigid targa roof panels and a folding rear section. A full convertible (V12) replaced the cabriolet in 1988.
Jaguar XJ6 (XJ40)
The 18-year-old XJ6 was replaced by a new saloon (coded XJ40) of the same name in 1986. Visually related to its distinguished predecessor, it benefited from improved aerodynamics and was significantly lighter. The low volume XJ12 excepted, the new XJ was the first Jaguar saloon since 1950 not to be powered by the legendary XK engine. Available in single-cam 2.9 litre or a more refined twin-overhead camshaft, 24-valve, 3.6 litre form this second generation XJ6 was produced in 1994.
Jaguar Sovereign (XJ40)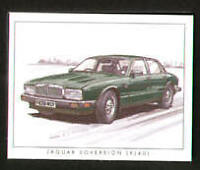 Jaguar started planning the XJ6's replacement in 1972, but neglect under British Leyland delayed its launch until 1986. Still unmistakeably Jaguar, but with AJ6 all-aluminium engine (which started as half of the V12), five-speed Getrag manual or four-speed ZF auto gearbox and new rear suspension with outboard brakes, it rode and handled better than ever and was much more economical. Sold as XJ6, Jaguar Sovereign or Daimler (3,6 auto only), the XJ40 was right for the time.
Jaguar XJ6 (X300)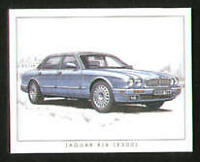 Jaguar's mainstream saloon model, the XJ6 was impressively revised in 1994 with the result that it was faster, quieter and better built than its predecessor. The most obvious difference between the revised XJ and earlier versions is the new headlamp layout with recessed quadruple lamps replaced by a more bulbous presentation. Available in two sizes, of 3.2 and 4 litres, with a manual Getrag gearbox or an automatic ZF unit, which is standardised on the V12 and XJR version.
Jaguar XK8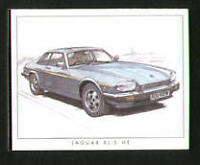 Available from October 1996 in both coupe and convertible body styles, the XK8 was the successor to the long-running XJ-S and delivered a distinct blend of style, luxury, craftsmanship and performance in a car that was uniquely British in flavour. Jaguar rightly played on the heritage of its E-Type sportscar, for the XK8 was its spiritual successor, as well as a comfortable grand tourer.
Thank you for reading my guide and I hope you found it interesting!