Worn Jaguar remote with broken buttons ? Simply buy Silicone Buttons from polmex_buttons on eaby and fix it at the small cost.
When you change buttons, No reprogramming is needed

. Your remote will be ready for immediate use.
Our Buttons are Designed and Made in Australia from top quality Silicone.
Our Replacement Buttons are made from LSR Silicone and will not break due to deteriorating effects of sunlight, water and chemicals commonly encountered in services such as detergent, oil, methanol. Unlike old hard plastic cover, our silicone buttons are flexible and will not deform, change shape and degrade over period of time.
Your remote may display some of the following problems:
case 1: Remote works intermittently.
case 2: Button has to be pressed hard to get the remote key fob to work.
case 3: Button stopped working.
case 4: Button is broken or disintegrated.
For scenario 1, 2 and 3 you need to check if battery is still good and microswitches in your remote are working correctly. You can change battery first to eliminate one possibilty. If switches need replacing then you can source some new once on ebay. If you are handy with soldering iron you can do it yourself. If battery change and new microswitches do not fix your remote than problem can be associated with electronic board. In such case you may have to buy new remote at the cost of a few hundred dollars.
If the problem with your fully functional remote is simply related to broken / worn buttons than we can help you with our Repair Silicone buttons.
We are offering replacement buttons for:
Jaguar XJ6, XJ12, XJR, Vaden Plas, Sovereign, X300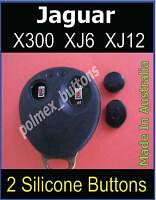 Jaguar XJ, XJR, XJS, XK, XKR


You can trust quality of our well tested
Truly Australian product
invented, designed and manufactured by West Australian company.
Check our Feedback
for total customer satisfaction comments.