Currently there are numbers of Japanese Softbank/Docomo mobiles unlockable which can be used world wide. Some are unlocked via soft unlocking (through PC, cable, software) and some can only be unlocked via INEX /Hyper SIM (a supplementary SIM sticker attached to your SIM card so the Softbank/Docomo mobile will detect your SIM card as a valid operator factory SIM card) at this stage. Most new mobiles including the 905 series and many of the Softbank mobiles can only be unlocked using this method.
1.SIM QUALITIES
BEWARE!
The highest quality supplementary SIM sticker is the INEX SIM(manufactured in Taiwan, Taiwan is the main country manufacturing/inventing the main IC chip attached to the sticker, it looks like this ==>


), there are a lot of cheaper Hyper SIM, Turbo SIM etc on eBay, you can tell by the position of the black IC chip. The Taiwan made sticker will always have the black IC chip positioned at top middle, whereas other cheap quality SIMs will have it at the side or other positions and have a totally different circuit design.
All these are proven counterfeits and copies of the original Taiwan made INEX SIM ==>


Many of the replica Hyper SIM might let you unlock the mobile, but it WILL NOT let you use 3G whatsoever. So be careful when choosing these SIM stickers, a normal INEX SIM will cost you around 85~120AUD whereas cheap quality ones will cost about 10USD with poor stability.
It's been proven that with Docomo mobiles, these counterfeit Hyper SIMs will require you to take it out into another normal mobile to obtain signal EVERY TIME you drop out of a network, also it doesn't support USIM 3G SIM cards, whereas INEX SIM will do a auto search, it might do a auto reset at most, but will not require you to take the SIM out, put it into another mobile, search signal, make and receive a call and put it back again. Genuine iNEX SIM supports 3G USIM SIM cards as long as it has GSM compatibility.
2.UNLOCKABLE SOFTBANK MODELS
Current more recently unlockable Softbank mobiles are:
Samsung: 920SC INEX SIM (SOFT UNLOCKABLE)
805SC SOFT UNLOCKABLE
709SC SOFT UNLOCKABLE
707SC SOFT UNLOCKABLE
707SCII SOFT UNLOCKABLE
706SC SOFT UNLOCKABLE
Nokia: 705NK SOFT UNLOCKABLE, all future models needs unlocking SIM
Sharp: 920SH INEX SIM(Soft+INEX to fully unlock, all models after this needs iNEX manual unlocking by sending it back to Taiwan)
913SH INEX SIM
904SH INEX SIM
903SH SOFT UNLOCKABLE
902SH SOFT UNLOCKABLE
811SH INEX SIM
705SH INEX SIM
Toshina: 920T INEX SIM (All models after are not stable after unlocking or only supports 3G)
912T INEX SIM
911T INEX SIM (SOFT UNLOCKABLE)
904T SOFT UNLOCKABLE
815T, 814T, 813T SOFT UNLOCKABLE
810T INEX SIM
803T SOFT UNLOCKABLE
Panasonic: 705P INEX SIM
705Px INEX SIM

Soft unlockable mobiles won't need INEX SIM/HYPER SIM to unlock.
If you buy a model that requires INEX SIM unlock, you need to check:
1. Does the mobile support both GSM & 3G
2. If the mobile only support 3G, does your provider support 3G and do you use a 3G compatible SIM card? (UK/AUS 3G networks are guaranteed to work using INEX unlock)
3. What sort of INEX/Hyper/PSS SIM does the seller provide?


3.Miscellaneous (how to handle the INEX SIM)

Some Japanese mobiles support 3G/3.5G ONLY(e.g. 920T, 911T), if you have a GSM SIM card and expect to use a INEX SIM with it and slide it into these 3G ONLY mobile, it WON'T work. When you purchase a mobile that requires INEX SIM unlock, you need to take into account the cost of the INEX SIM as they cost about 100AUD+- each, if you can buy it else where and you know that it's 100% compatible, that's fine, if you don't know what you're doing, don't try anything weird. When you get the INEX SIM in the box, best to cut a little bit around the INEX sticker out (about 1mm) before you stick it onto your SIM card, after you've sticked the INEX sticker on you SIM card like this == >

, use a thin piece of sticky tape to cover the bottom of your SIM and INEX sticker like this == >

, this prevents your INEX sticker gets flipped up and gets wrinkled while trying to slide your SIM card and the INEX sticker into the Sim card slot simultaneously due to the fact that some SIM card slots are tighter than others. Remember when you apply a sticky tape don't cover up the golden triangular section of the INEX SIM because that's where the phone reads the card.

Also when you take out the SIM card use something like a pair of scissors or so to pull it out like this ==>

do not try to take it out by pulling on the black IC chip section in case the INEX SIM breaks. You can use a scissors to push the SIM card in too, but after many tries, if it's still too hard to push in, do not attempt to push it in by brute force, you might need to use a piece of sand paper etc to thinner down your SIM card or may be cut a little bit of the sides of your SIM card because some SIM cards are a bit more thicker than the others and some SIM card slots are tighter than others.
You can also do this ==>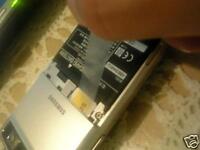 stick a piece of sticky tape on ur SIM card before you slide it in so when you want to take out the SIM card simply pull the sticky tape firmly without risking damaging the INEX SIM!


4.Something to watch out
Most soft unlockable mobiles have no problem, INEX unlockable phones like Sharp 920SH will have the camera and multimedia player functions locked as it uses a network lock. (This issue has been resolved thanks to INEX!) Japanese mobiles suffers from GPRS/3G content services compatibility. Some can be done via input network settings, some will have the network setting options locked. So if you uses 3G contents like game/music downloading a lot, Japanese mobiles won't be what you're looking for, if you're someone that wants to be center of attention and have a "wow factor" mobile phone which you mainly uses for messaging, talking, video talk, camera, music, then this might be something you'll be interested in. (Also note that, the fact that Japan is very strict regarding to copy rights etc, MP3 wouldn't work in most mobiles, you'll need to convert the file.) Moreover, in Australia, Optus SIMs aren't suupported for most Softbank mobiles yet. Although we do not have access to overseas SIM cards and their local network, but we guarantee that most SIM cards around the world can be supported by the INEX SIM.

5.About Docomo Phone Hyper/INEX SIM
All new INEX Sim dedicated to unlock the Docomo 905/906/01A/03A etc series
you are able to make and receive calls under GSM network; however, if you want to switch to 3G-only mode, you can only make calls under the 3G network but cannot receive calls yet.
In FEB 2009, the new SIM has been introduced to the market, you may purchase genuine INEX SIM from here http://search.ebay.com.au/_W0QQsassZinex.hypersim they are Taiwan's INEX representative and sell stable, genuine INEX SIM and provides after purchase services. They're always updating and have recently cracked the 920SH~932SH camera and multimedia functions.

These unlocking DOCOMO INEX Sim differs from other replica Hyper Sim in the following way:
1. Increased stability (up to 93%)
2. Should it disconnect from your current network, after reset (or auto reset) the handset you will still have up to 80~90% chance of receiving network.
3. However, if you cannot regain the network after several tries, all you need to do is insert your SIM along with the INEX SIM into a normal mobile phone to recover the network reception. (This greatly improved from the previous case where you'll have to bring two Japanese mobiles on you in order to reactivate the network.) However, after our years of testing, generally you won't need to do anything when it lost network, just wait for it to reset the network.

4. Due to the fact that Docomo unlocking technology differs from the Softbank unlocking technology, hence these INEX SIM may not be used on Softbank mobiles.
5. Docomo INEX SIMs are specifically designed to work on specific models only(because every carrier carries a different kind of chip), however new universal one has been introduced by iNEX, you may choose to purchase the universal one if you have more than one brand of DOCOMO phone.
6. 3G mode can only make calls, so all you have to do is switch it to GSM mode then you'll be able to call and receive calls and messaging etc.
NOTE FROM INEX:
In future, as a representative of iNEX Hypersim, should a new version of INEX SIM being introduced on the market that can make and receive calls under 3G network, and if you've purchased your INEX SIM from them/us, we will only charge you some slight labour fee and postage in order to send you a new updated version INEX SIM.
These INEX SIM are designed for use only with specific Docomo models, it will not work for any other Japanese mobiles. If you lost signal etc and unable to regain the reception, all you need to do is slide your SIM card in along with the INEX SIM into any other normal mobile phones (i.e Nokia, Motorola, Sony Ericsson etc) in order to reactivate the reception, you do not need to take your INEX Sim apart.
We Have aftersells services and future warranties in these unlocking SIMs, we also do a replacement at a cheap price if you accidentally broke your unlocking SIM. If one day the iNEX SIM stopped working, we will replace you a brand new one, no questions asked.

6. DOCOMO Hyper / INEX SIM compatibility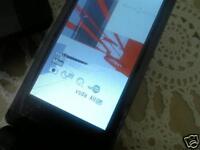 Tested and compatible with Vodafone AU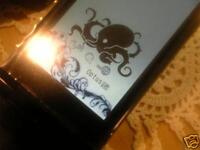 Tested and compatible with Optus
At the moment, pure 3G networks can only call but not receiving calls(in this case most 3G operators has GSM compatibility too so won't need to worry about this really), INEX are still working on it hopefully soon they will have a solution. 3G networks that roams on GSM networks will work fine, 3(Three) around the world now ALL WORKS FINE!!!!! Optus, Vodafone, Telstra, Virgin etc all works fine.

7. How to use DOCOMO INEX SIM(FAST TRACK)?
1. Cut out your SIM card and stick the INEX SIM together with your SIM card.
2. Insert both of them together into normal unlocked cell phones like your local NOKIA, SONY ERICSSON, MOTOROLA etc (we recommend a soft unlocked mobile like 707SCII or SE T630)

3. When you turn on your normal cell phone, there will be a "Hypersim for P905i Manual Network?" message (the "P905i" section depends on which INEX SIM it's for, if you purchased a N905i INEX SIM, the message will be "Hypersim for N905i Manual Network?" )
4. Press OK/Confirm if you want manual mode, RETURN/CANCEL if you want auto mode
MANUAL MODE - if there are network certification requests, mobile network will be OUT, and you'll need to manually reset it so it can find new signals.
AUTO MODE - if there are network certification requests, mobile network will be OUT, but it will auto reset to find suitable signals.
5. Now on your normal cell phone, please make sure that this phone is a GSM mobile or in GSM mode if it's a 3G/GSM mobile, make a call then take out the SIM/INEX SIM from your ordinary mobile phone.
6. Now put your INEX SIM and SIM into the DOCOMO mobile. After you put your SIM into the DOCOMO mobile, turn the DOCOMO mobile on and go to the settings section (International Roaming Settings) and change the mode from Auto or 3G to GSM mode and repeat steps 2 to 5.
NOTE: WE'VE NORMALLY DONE THIS STEP FOR BUYERS TO SAVE TROUBLE, SO IF YOU FIND OUT THAT YOUR DOCOMO PHONE NETWORK MODE WAS ON GSM/GPRS BY DEFAULT, THEN YOU CAN SKIP STEP 6.

7. Now put your SIM card along with the Hyper SIM into the DOCOMO mobile, you should be able to use the legendary DOCOMO mobiles now!
WE ALSO HAVE A SHORT VIDEO SHOWING STEPS 2, 3, 4, 5, 7 : http://au.youtube.com/watch?v=KBHehbg-lj0

NOTE: If you change a SIM card you'll have to repeat the above steps. All DOCOMO phones are now confirmed working on 905/906 N F SH SO P D series with INEX SIM. Have fun !