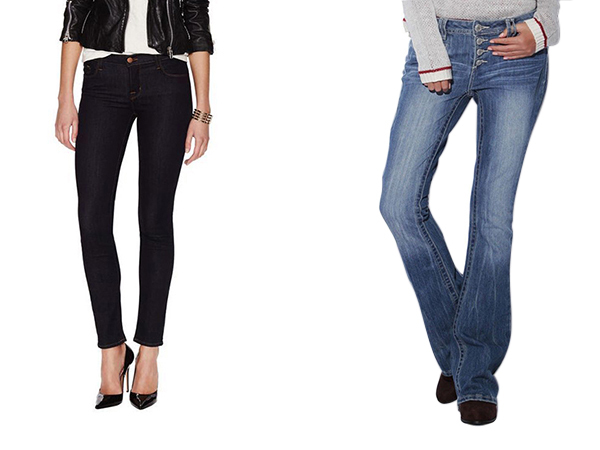 With so many available styles on the market, finding that ideal pair of jeans can be an elusive task. While sellers use the terms "slim fit" and "skinny" without separating the two styles, there are quite a few variations in these two cuts. Find out about the two choices before shopping for that perfect pair of jeans.
The best feature of slim fit and skinny jeans is that both these types are flattering on many body types. However, not all pairs of jeans are created equal, because particulars such as wash can affect the life of the jeans and rise and colour determine whether the style is trendy or timeless. Knowing what to pair with the jeans really increases the chances of getting admiring glances. One can buy Slim fit and skinny jeans from various outlets like department stores, designers and virtual markets like eBay.

Slim Fit Jeans
Slim fit jeans are form-fitting jeans that aligns to the body more snugly than regular fit jeans, but are not as taut as skinny jeans. This cut is similar to the straight leg jeans as the structure of the jeans is straight and there are no flares or narrowing cuts that change the shape. These jeans are not very tight; they just hug the body, thus showing slender thighs and calves. This cut also makes legs seem longer. This is a perfect choice for women who want to look slim, but find skinny jeans too close-fitting. The Slim fit cut is particularly apt for ladies with tapering hips since the design compliments this kind of body structure.

Skinny Jeans
Skinny jeans cling to the leg from the hip to the ankle. This can be worn with heels or boots as the jeans suit different kinds of accessories. Some models even feature ankle zips. Yes, the skinny jeans can be quite close-fitting, but these can be worn by people with any body structure. The trick to making this garment work is wearing it with the right top and footwear and selecting the correct wash.

Characteristics of Slim Fit and Skinny Jeans
It's important to consider the quality of the garment before buying slim fit or skinny jeans. Check out characteristics like colour, type of wash, length of rise and other information about the garment.
Denim Wash and Colour
There is wide range of choice in wash and colours for both slim fit and skinny jeans. Of course, the most common choice is the classic blue jeans. While buying blue jeans, it's important to keep in mind the fact that darker shades give a slimmer and sharp outlook. Petite and slender women look great wearing white jeans. Dark shades such as black and grey jeans go well with tops of any colour.
Why is the rise important?
Finding the proper style of jeans can take some effort and varies by body shape. The right rise can be extremely flattering but the wrong rise can be equally unflattering. It's better to let the wearer's body shape decide the kind of jeans that would best suit them.

Body Structure

Suggestions

A-shaped with prominent hips, rear and legs (pear)

Stay away from high rise jeans; opt for mid rise to show a poised structure and make legs seem longer.

Circular body shape with heavy midriff

Go in for mid rise jeans to show uniform body structure; keep away from low or high rise that highlight the tummy area.

Full-figured with small waist and rounded bottoms and hips

Opt for high rise to highlight the slender waist.

Top heavy with most weight concentrated on the upper portion

Go in for low rise jeans that divert attention to the thinner lower half.

Dainty build with a height of less than 1.63 metres

Can opt for high rise that makes the wearer seem taller.
Low rise jeans highlight features.

Hourglass shape with curves at the right place

Any kind of jeans can be worn by women with hourglass structures. Just take care while wearing low rise for it can pull down while sitting.
Buy Slim Fit and Skinny Jeans on eBay
Just make use of the search facility available in each page of eBay's website to locate slim fit or skinny jeans. Entering a search phrase like "Levis Skinny jeans" will bring about all the products available in this category. Identify retailers who provide complete information on the products such as fit and size. eBay Deals is the perfect place to look for discounts and offers.
Prior to booking the product through eBay, it's important to know about the product and the retailer. Go through the given product description and get in touch with the seller for queries. The final cost of the product is derived by adding postage and handling charges. It's advisable to verify the seller's credentials by checking out his feedback score.