Jim Clark Formula One Career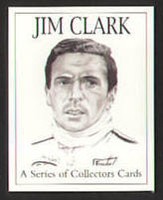 This is one of many illustrated classic motor racing guides I've created for the community. I hope you enjoy it. If you wish to find out more about the classic motor racing art featured in this guide please click here.
Jim Clark spent all his F1 career at Lotus, during which time he won 25 races and captured two world titles. More surely would have followed had it not been for his untimely death. In his first World Championship year in 1963, the Scot won a staggering seven races. When he won his second title two years later he won six races and was 14 points clear of his nearest rival Graham Hill. 1965 was made even more memorable, when Clark became the first non-American winner of the Indianapolis 500.
Born: Fife, Scotland, 4 March 1936
Died: Hockenheim, Germany, 7 April 1968
Lotus 25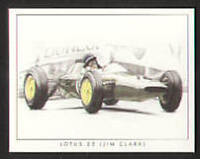 Colin Chapman revolutionsed Formula One racing car bodies with his Mark 25, which made its debut in 1962 and rendered all its competitors obsolete at a blow. The 25 pioneered a riveted box monocoque type of construction, more rigid than the conventional tubular space frame. It was to be widely copied. A year later the Coventry-Climax V8 engine was converted to fuel injection to give 200 b.h.p. and Jim Clark scored seven victories in grandes epreuves, plus another five in other Formula 1 races, to become the 1963 World Champion.
Lotus 33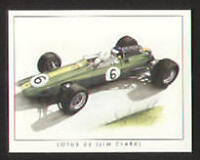 The Lotus 33 was a development of the 25 and dominated the 1965 Formula One season, winning six Grand Prix. Clark won the South African, Belgian, Freanch, British, Dutch and German Gran Prix to clinch his second world title. Derived from the Lotus 25, the 33 was initially fitted with the Coventry Climax 1.5-litre V8 engine. 1965 however was the last year of the 1500cc cars as the Formula 1 rules were changed in 1966 to allow three-litre engines. Lotus had no such unit, and instead used Climax two-litre and BRM 2.1-litre engines. The Climax unit gave around 205hp at 9800rpm.
Lotus-Cortina Mk1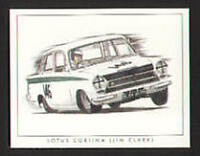 Jim Clark was a naturally gifted driver who could turn his hand to any kind of motor racing. He was equally at home in saloons or Formula One cars, and was just as competitive on twisting European circuits or in American oval racing. Clark's unique driving talent, combined with Colin Chapman's genius for innovative racing-car design, provided the outstanding racing partnership of the 1960s, setting British motor racing firmly at the centre of the world stage.
Lotus 38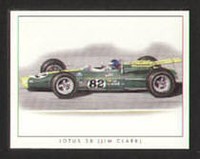 The Lotus 38 featured asymmetric-suspension and used a quad-cam, fuel-injected Ford V8 engine that gave around 50bhp more than the Offenhauser engine used in its rivals. Crucially, the car's superior roadholding enabled it to make full use of the extra power. Clark's victory in the mid-engined Lotus 38 was very influential - soon mid-engined cars started to appear in large numbers at Indianapolis and the heavy front-engined cars rapidly became obsolete.
Lotus 49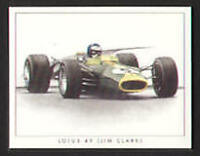 The Lotus 49 was purpose-built for three-litre F1, introduced in 1966. Like many other teams, Lotus were rather unprepared for the new regulations, and the Lotus 49 did not appear until the 1967 season was under way. The car made its debut at the 1967 Dutch Grand Prix, where it won, driven by Jim Clark. Although the 49 was immensely successful, Colin Chapman's intention had been to produce a reliable, uncomplicated car - he reasoned that such a design was all that was required, given that Lotus had the exclusive use of the powerful new Cosworth DFV V8 engine.
Formula One Record 1960-1968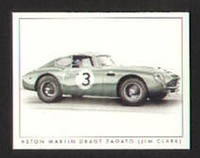 Races: 72
Wins: 25 (All Lotus)
1962 Belgian, British, United States.
1963 Belgian, Dutch, French, British, Italian, Mexican, South African.
1964 Dutch, Belgian, British.
1965 South African, Belgian, French, British, Dutch, German.
1966 United States
1967 Dutch, British, United States, Mexican.
1968 South African.
Points: 274
Pole: 33
Fastest Laps: 28
Thank you for reading my guide and I hope you found it interesting!