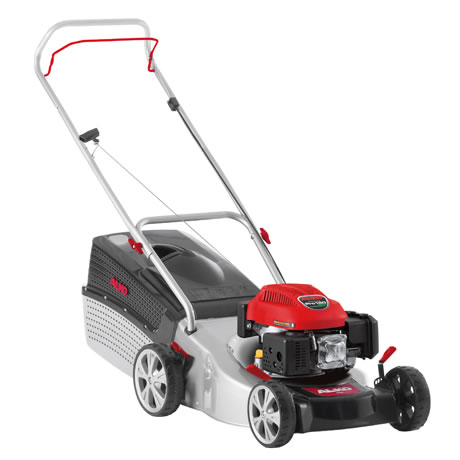 From early spring until the end of fall, one of the main pastimes of every homeowner is mowing the lawn. The smell of freshly cut grass, the farmer's tan, and the pride that comes with a well-kept lawn are just a few of the rewards that are reaped from an afternoon spent cutting the grass in the yard. Push mowers are essential tools to making this happen for those who have yards smaller than an acre. While many brands are popular in the lawn mowing industry, John Deere and Murray are two top companies who manufacture excellent push mowers at affordable prices. Deciding between the two brands when buying a push mower can be difficult.
There are many factors to consider when making the purchasing decision, including the size and terrain of one's yard, the type of push mower, and the price of the push mower. Push mowers can be purchased at gardening and home improvement stores as well as online on websites like eBay. Whether a buyer is a John Deere fan or a Murray enthusiast, there is a push mower for everyone.
Types of Push Mowers
There are three main types of push mowers: manual reel, gas-powered, and electric-powered. These push mowers all differ greatly from one another in environmental friendliness, noise, and ease of use. The prices vary slightly, as well, although maybe not as much as one might think.
Type of Push Mower

Description

Benefits

Price

Manual Reel

Looks like a transparent, bladed cylinder attached to a long handle

Best for smaller yards up to half an acre and grass up to 5 centimetres high

Does not collect the grass clippings, which is good for the grass

Not ideal for bumpy yards or long grass

Can be time-consuming to use

Best for grass health

Quiet

No pollution

Easy to use

Good exercise

Safest to use

$$

Gas-Powered

Heavy, loud, hand-pushed mower with an engine on the top of the mower and a bag attached to the handle to collect grass clippings

Good for lawns up to one acre and grass up to 10 centimetres high

Very loud and high pollution

Requires a lot of maintenance

Runs on gas

Most powerful

Good on the toughest grass

Portable and fast

$$$

Electric-Powered

Heavy, hand-pushed mower with a bag attached to the handle for collecting grass clippings

Good for smaller lawns up to 3/4 of an acre and grass up to 10 centimetres high

Limited by the power plug or a battery

Not good for large or hilly yards

Expensive to maintain

Efficient use of energy

Quiet

Little pollution emission

$$$
There is an ideal push mower for every homeowner. The more traditional consumer or environmentally minded homeowner may be more interested in the manual reel push mower, especially if he or she owns a small yard. Someone who has a large yard or who needs mowing to be an easy chore on the weekends would be more interested in the gas-powered push mower.
Deciding Factors When Choosing Between John Deere and Murray Push Mowers
Besides the type of push mower, choosing between John Deere and Murray can seem like a daunting task. There are many factors to consider, including the yard size, terrain, and the performance capabilities of the push mowers themselves. By knowing what priorities need to be met, a buyer can decide the power, price, and brand of push mower needed.
Yard Size
The size of a yard greatly affects one's ability to use a push mower. The most powerful push mower is best for up to one acre. For larger yards, push mowers are not recommended because it can take too long and is hard on the machine.
Terrain
Like yard size, if the terrain of the yard is too bumpy or steep, push mowers are not the best match for the lawn. Whether one chooses a manual reel push mower or a gas-powered push mower, the quality of the mower may need to be higher than standard to tackle tough terrain.
Engine
For those using electric or gas-powered push mowers, the capability of the engine is important when it comes to performance. John Deere and Murray both make strong engines for their lawn mowers, and the different models provide different levels of power and performance to match every terrain type and budget.
Weight of the Push Mower
The weight of the push mower, whether it is the manual reel mower or the gas-powered one, is an important factor to consider when selecting a lawn mower for one's yard. Since push mowers are manually pushed by body strength, a buyer may prefer a lightweight model, especially for a large yard. However, the weight of a push mower may also need to compensate for its performance.
Price
The price of the push mower may be one of the most important factors when it comes to choosing a mower, especially between brands like John Deere and Murray. The two brands are fairly competitive in pricing, but other factors that may impact the price are special features on the mowers, the engine capabilities, and performance. One way to save money on good quality push mowers is to buy them used. Used push mowers can be found in some resale shops, but they are more commonly found online on websites like eBay.
Quality of the Brand
The quality of brands like John Deere and Murray greatly impacts the price and the performance of the push mower purchased. In many consumer reviews, it is widely agreed that John Deere and Murray are on similar footing when it comes to push mowers. In general, they are slightly less preferred than the most popular brands, Honda and Toro. Murray is considered one of the best lawn mower manufacturers, while John Deere, who is the largest name in farming equipment, is considered a good or average lawn mower manufacturer. That being said, the quality of a Murray push mower may be slightly better than that of a John Deere, but they both fall in the 'reasonably priced' category of lawn mowers.
Buying John Deere and Murray Push Mowers on eBay
Buying a push mower, whether it is John Deere or Murray, is simple when using eBay. The large website offers its users an easy way to navigate its large database of products with the presence of a search box on every page. Users can insert keywords like 'John Deere push mower' or 'Murray reel mower' into the search box, and relevant search results appear on the screen. Shoppers can filter these results by specifying a price range, preferred brand, and even location to save money on the delivery of the mower.
When shopping online, it is important that shoppers feel safe and confident about the push mowers they are buying and the individuals selling the mowers. This is why eBay offers a feedback feature, where past customers write about their shopping experiences, the quality of their purchased items, and the reliability of the sellers.
Conclusion
Mowing the lawn is one of the great pastimes that characterises hot weekends in the warm months. Small and large yards alike require grass trimming to keep the lawns green, healthy, and inviting to anyone stopping by. Push mowers make this possible, and buyers can purchase manual reel mowers, gas-powered push mowers, and electric-powered push mowers. John Deere and Murray both make excellent and affordable push mowers. Choosing between the two is like choosing between apples and oranges. They are similar, yet different products, and the real decision depends on the size and terrain of one's lawn, the budget, and the desired features in a push mower.
New and used push mowers from both brands can be found in gardening, home improvement, and resale shops and online at eBay. With a push mower waiting in the garage, mowing the lawn could become a fun activity for a family to share every weekend.
John Deere push mower|Murray push mower|push mower|manual push mower|gas push mower