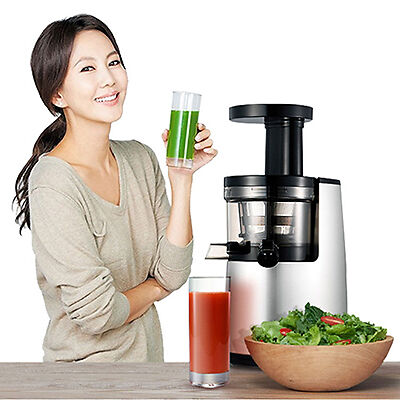 When trying to determine which juicer is ideal, it's best to consider what foods will be juiced most often. Believe it or not, alljuicers are not created equal, and the one purchased will determine the taste and texture of homemade beverages.
Buyers who are new to juicing should consider whether they will be storing juice or preparing it on-the-go. It is important to recognize that there are different juicers for basic fruits and vegetables, leafy greens, herbs, nut milks, and citrus. All of these foods have unique consistencies and require different juicing techniques. Some buyers may primarily be concerned with an easy cleanup, quick extraction, or a quiet juicing process, while others might need a juicer that transports easily. All of these factors must be considered before making a purchase. There are juicers for veteran adventurers, uncertain beginners, and everyone in between. Buyers must simply determine which qualities they are looking for when browsing online stores.
Centrifugal Juicer
For those in need of something affordable, high-speed, and simple to use, a centrifugal juicer is the best bet. These are the common household juicers typically found in department stores. They can quickly extract juice from most fruits and vegetables with an internal blade, and typically have an ovular opening where food is inserted. Keep in mind that juice made with a centrifugal juicer is highly oxygenated, which means it should be consumed as soon as possible while the juice is still fresh.
When to use it
Centrifugal juicers are great for fruit and non-leafy vegetables. For those looking to make a high volume of juice consisting mostly of greens (for example: lettuce, spinach, parsley), a centrifugal juicer is not the best option. On the other hand foods with high water content, such as celery and apples, will juice smoothly and easily in a centrifugal juicer.
Masticating Juicer
Masticating juicers, also known as cold press juicers, create less heat than centrifugals, allowing nutrients and enzymes to remain largely intact. Cold press juicers first crush fruits and vegetables, and then press them tightly to extract as much liquid as possible. They are overall more expensive than centrifugal juicers, and are generally quieter during the juicing process. Masticating juicers also tend to have a slightly more complex cleanup process than centrifugal juicers.
When to use it
For buyers who plan to make nut milks, this type of juicer is a must. Some masticating juicers are even versatile enough to whip up baby food, sauces, nut butters, ice creams, and sorbets. When storing juice before consuming it, masticating juicers with one or two gears are the best option for maintaining freshness.
Twin Gear Juicer
If you are looking for a top-of-the-line juicer and pricing is not a concern, twin gear juicers are incredibly efficient. These juicers extract extra slowly, allowing for the highest volume of liquid and the least oxidation. As the name implies, twin gear juicers have two blades that serrate inward. They are best kept stationary, as they tend to be heavier than other kinds of juicers.
When to use it
If wait time is not a priority and a more vigorous cleanup session isn't a problem, these juicers will provide the highest quality drinks around. There are fewer limitations with twin gear juicers, making them ideal for fruits, vegetables, leafy greens, and even rinds and seeds. However, for citrus, these juicers are not an appropriate choice.
Citrus Juicer
These juicers are designed to extract from citrus fruit such as orange, lime, grapefruit, and lemon. Manual citrus juicers are very low in price, and allow users to manually squeeze out liquid through various pressing methods. Electric citrus juicers will do most of the work, while you simply hold half of a citrus fruit against a grater.
Wheatgrass Juicer
Electric and manual wheatgrass juicers are made specifically for wheatgrass, a nutrient-dense plant packed with dietary fibre, vitamins and minerals. While manual wheatgrass juicers are easy to use, they require a bit of force to push the grass through the grinding area. Electric wheatgrass juicers juice with less force required. Both types have a juice spout and a separate hole that expels the dry pulp for easy disposal.