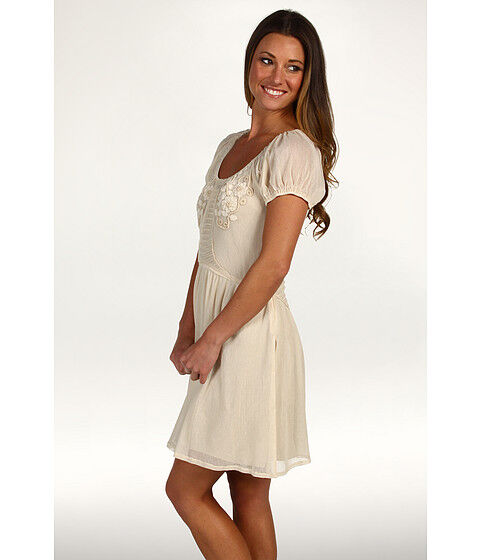 The sheer variety of necklines, cuts, skirt styles, patterns, and embellishments in the Juicy Couture line of dresses makes them extremely popular with women of all ages. Whether women are looking for a maxi dress for the beach, a striped dress for shopping, or a lace dress for an evening out, they are sure to find a Juicy Couture style that is appropriate and beautiful. Although most dresses look best on women with slim or hourglass figures, many Juicy Couture styles work for women of any shape. When shoppers are ready to look for their new Juicy Couture dress, they might want to check local shops and online retailers. eBay, for instance, sells Juicy Couture clothing, including dresses.
Choose a Dress Style
Juicy Couture rolls out new, incredible dress styles with each season. Shoppers should find plenty of fresh styles, as well as classic, beautiful dresses from past seasons that should hold their charm for years to come. Juicy Couture boasts some of the top flattering styles for women of many different shapes and sizes. These styles include sheath dresses , shift dresses, lace dresses, and dresses with unique features such as keyholes, colour-blocking, or low, scooped backs.
Juicy Couture Spring and Summer Styles
One of Juicy Couture's styles is the Fractured Floral Dress. The dress features spaghetti straps on the shoulders and off-the-shoulder sleeves that flutter around the wearer's upper arms. It comes in two versions, Cobalt or Hazy Summer, in which different tones of blue or orange blend in a subtle pattern. The hemline of the dress reaches the mid-thigh or comes just above the knee, depending on the wearer's height and body type. The dress has three small buttons and features some elastic just under the bust to add definition. The exposed shoulders and low back give the dress a summery, seductive look.
Juicy Couture also sells short linen dresses that are perfect for the warmer months. The lace dress features a relaxed fit, thin straps, and a buttoned front. A tie at the waist adds definition to the shape. Available in colours such as rich blue and vivid pink, this soft linen dress is ideal for a boardwalk stroll during a beach vacation.
Juicy Couture Fall and Winter Styles
For fall, Juicy Couture has a number of delightful dresses, including the Matte Jersey Boho Dress. The dress has a band at the waist for extra definition and includes a bow at the back so that the wearer can adjust the tightness around the waist. Seaming subtly creates and enhances curves. The neckline is somewhat square, and the front of the dress closes with four small buttons. The sleeves are three-quarter length, loose throughout the arms with a tight, buttoned cuff. Available in navy blue or purple, this jersey dress is warm, flowing, and comfortable at the same time. The hem comes a few centimetres above the knee.
Another style that works well for fall or winter is the Embellished Striped Shift Dress. The sparkling jewels at the neckline work with the nautical stripes to create a unique look that is appropriate for a variety of settings and occasions. The three-quarter length sleeves and mid-thigh length are flattering for most women. Since it is machine washable, the dress is easy to care for.
Check the Dress Size
Sizes vary between designers. Before buyers purchase a Juicy Couture dress online or in a shop, they must ensure that it fits them properly. When they are shopping in local brick and mortar stores, buyers can easily try on a dress to see if it fits. However, online shopping can be a little more challenging. Shoppers can locate a Juicy Couture size chart, including all the appropriate measurements for each size. Then they should measure themselves or have a professional take their measurements. As they compare their own dimensions to those of the dress, buyers should have a better idea of whether or not it fits properly. In some cases, online sellers may live nearby, close enough to allow potential buyers to visit and try the dress on.
| | | | |
| --- | --- | --- | --- |
| Size | Bust (cm) | Waist (cm) | Hips (cm) |
| | 76 | 58 | 83.5 |
| 6 | 78.5 | 60.5 | 86 |
| 8 | 81 | 63 | 88.5 |
| 10 | 86 | 68 | 93.5 |
| 12 | 91 | 73 | 98.5 |
| 14 | 96 | 78 | 103.5 |
| 16 | 101 | 83 | 108.5 |
| 18 | 108.5 | 90.5 | 116 |
| 20 | 116 | 98 | 123.5 |
| 22 | 122 | 104 | 129.5 |
| 24 | 128 | 110 | 135.5 |
Each manufacturer sizes dresses slightly differently so consumers would be wise to choose a size up because tailoring a dress is far more easy than letting it out - particularly if there is beadwork.
Select a Dress Colour
Juicy Couture typically sells the same style of dress in a few different colours. Women should find a broad range of hues from which to choose. They should select colours that flatter their skin tone, eye colour, and hair colour. If women are not sure which colours look best on them, they should consult with an image expert to identify whether they should opt for cool tones or warm tones.
Decide on New or Used Juicy Couture Dress
Like many designer pieces, Juicy Couture dresses are sometimes pricey. In some cases, buyers may not have room in their budget to invest in their favourite Juicy Couture dresses. Websites such as eBay, as well as thrift stores usually have some used Juicy Couture dresses available. The price tag on these pre-owned pieces is usually far lower than that of brand-new dresses. Buyers simply need to ensure that the dresses are clean and in excellent condition. If they cannot check the dress over in person, they can request digital photos so that they can examine the dress for spots, stains, tears, or flaws.
How to Buy a Juicy Couture Dress on eBay
Juicy Couture is popular with celebrities and fashion experts, yet the products often have a cost within reach of the average consumer. To find a Juicy Couture dress, locate the search bar on any page of eBay's website and type in ' Juicy Couture dress'. If you cannot find the style or colour you want right away, save your search or look for additional options ineBay Stores or on the eBay Deals page. Watch for special badges on Juicy Couture listings, indicating that the seller has high feedback ratings and has secured a position as one of eBay's Top-rated sellers.