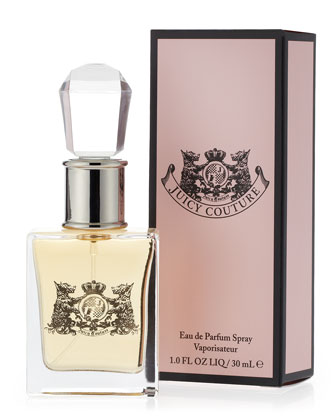 Many girls and women are familiar withJuicy Couture's flirty, stylishclothing lines and enchanting accessories. If they enjoy these other products from Juicy Couture, women should explore the brand's fragrances as well. Each one features a truly feminine flair with a unique twist that expresses Juicy Couture's love of surprises. Among the top choices for Juicy Couture fragrances are Viva la Juicy, Juicy Couture, Couture La La, Viva la Juicy Noir, and Viva la Juicy La Fleur. All these fragrances are available at retail prices in local brick and mortar perfume shops and beauty shops, as well as in department stores. For convenience and often lower pricing, buyers can check online venues such as the vast online marketplace of eBay.
Juicy Couture Viva La Juicy
Viva La Juicy is one of Juicy Couture's most popular fragrances. Its scent represents a fun, free-spirited girl who loves to celebrate every occasion. When buyers first smell Viva la Juicy, they should detect a wild berry aroma, tempered by luscious vanilla and lightened by notes of jasmine. More specifically, the perfume contains mandarin oranges and wild berries, with floral layers of honeysuckle, jasmine, and gardenia. Deeper sweetness in the base of the fragrance comes from caramel, praline, vanilla, amber, and sandalwood.
Scintillating and entrancing, Viva la Juicy from Juicy Couture is a favourite for many of the brand's fans. It comes in a square glass bottle that shows off its honey colour. Around the bottle is a fuchsia ribbon from which dangles a Juicy Couture charm. A chunky glass stopper tops off the look.
Juicy Couture Juicy Couture
The Juicy Couture fragrance by Juicy Couture is for girls who dare to challenge the norm and follow their heart. Bold yet sweet, the perfume is representative of the entire Juicy Couture brand, as its name would suggest. As users spray it on, they notice a delicious caramel scent, along with princess lily and water hyacinth aromas. Perfume connoisseurs may be interested in the underlying notes of the fragrance, which include fruits such as mandarin, watermelon, passion fruit, and green apple. Princess lily, tuberose, wild rose, water hyacinth, and marigold deliver the floral notes. Underneath it all is a base of vanilla, patchouli, caramel creme brulee, and precious woods.
This tantalising, romantic scent comes in an elegant square bottle with a crisply cut glass stopper. Wrapped several times around its neck is a slender chocolate brown rope with two tiny charms attached. The front of the bottle bears Juicy Couture's coat-of-arms style logo.
Juicy Couture Couture La La
The Juicy Couture perfume Couture La La is for girls with an independent spirit and a hint of rock goddess about them. A double impact of fruity mandarin and floral scents creates a bold yet feminine impact. Fans of this fragrance enjoy the unexpected twist of the scent. Top notes of Juicy Couture's Couture La La fragrance include water hyacinth, sparkling mandarin, red currant, and green apple. Blushing peony, violet leaves, and lily of the valley are also prominent. Under these layers are note of orange flower, liquid musk, and various smooth woods.
Like other perfumes in the Juicy Couture lineup, the Juicy Couture Couture La La bottle is square, with the iconic Juicy Couture emblem on the front. A crisp pink ribbon adorns the neck of the bottle. Several glittering pendants hang around the bottle's neck as well, giving it a bejewelled look.
Juicy Couture Viva La Juicy Noir
Juicy Couture sells another version of the classic Viva la Juicy fragrance, called Viva La Juicy Noir. This perfume is a shade darker, for girls and women who like to show off their dangerous and daring side. Seductive and mysterious, this unique fragrance is perfect for a night out.
Viva la Juicy Noir incorporates many of the same scents and ingredients as the original Viva la Juicy. However, it steps up the impact of the berry scents and deepens the base with rich sandalwood. Ripe berries and honeysuckle combined with the sandalwood create a luscious blend that may turn heads as the wearer passes by. In the bottle, the bold pink colour of this perfume is set off by a simple black ribbon.
Juicy Couture Viva la Juicy La Fleur
Another rendition of Viva la Juicy from Juicy Couture is Viva la Juicy La Fleur. This fragrance is an eau de toilette spray for a light spritz of delicious scent before owners walk out the door for class or for work. Soft and sweet, yet crisp and fresh, Viva la Juicy La Fleur creates a multifaceted sensory experience as interesting and eclectic as the wearer.
When applying this eau de toilette, users smell wild berries and mandarin. Next, notes of gardenia, honeysuckle, and jasmine surface. The caramel, vanilla, and sandalwood combination so common in Juicy Couture perfumes provides the lower layer of scent for this fragrance.
Viva la Juicy La Fleur comes in a taller, thinner bottle than many of Juicy Couture's other fragrance offerings. It also bears no coat-of-arms design on the front. Instead, "Viva la Juicy" appears in gold lettering with a pink rose swirled beneath it. A sheer pink ribbon around the neck of the bottle represents the freshness and clarity of the scent within.
How to Buy
Buying a bottle of Juicy Couture fragrance for yourself or as a gift is easy when you shop on eBay. Remember that eBay includes shopping areas such as eBay Stores and eBay Deals in addition to the main website. You can search any of these areas from the search bar located on every page of the website. Watch for seals that indicate that a particular item's seller is one of eBay's Top-rated Plus merchants. High feedback scores and a reputation for quality make these sellers among the most desirable if you want to ensure a successful shopping experience. If you cannot find your favourite Juicy Couture fragrance, save your search and eBay lets you know when it becomes available.