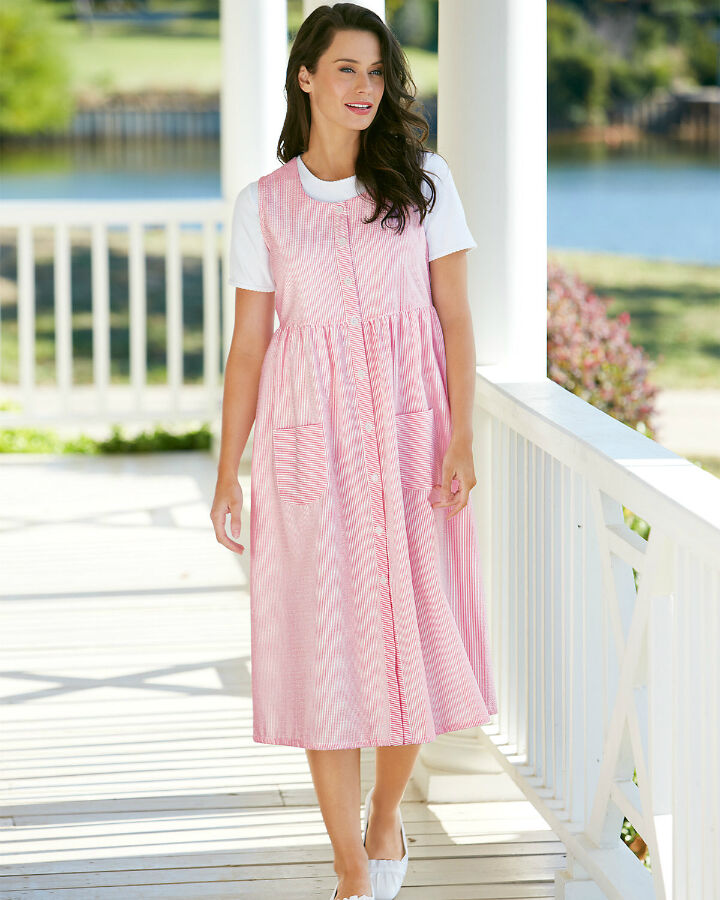 A jumper is a type of shirt that is also called a sweater, jersey, or pullover. Typically featuring long sleeves and knit fabric, the jumper is intended to be warmer than a T-shirt or top but cooler than a coat or wrap. The style is the standard casual top for cooler and cold weather, which means that at least a few jumpers are a must have in every woman's closet. The term jumper is also sometimes used to refer to a cardigan, which is very similar except that it features buttons down the front.
Women who are looking for a jumper should decide on a thickness, style, neckline, colour or pattern, as well as length and style. Setting a budget, deciding whether to purchase designer or unbranded, and deciding between purchasing from an online store like eBay or a local store are also considerations. The following information can be used to help choose and buy a jumper.
Jumper Material
The first thing that most buyers should consider is the material being used in the jumper. Gauge or thickness and the exact material can both make a difference to how the jumper can be worn, how warm it is, and how it looks while being worn. Different types of materials are warmer, softer, thinner, lighter, or a number of other qualities.
Knit vs. Woven Jumpers
Most jumpers are made of knit material because it is easier to make and less expensive than woven jumpers. Weaving does not traditionally allow for stretch so usually a woven sweater is made with darts, tucks, and extra seams so that it fits better. Most people prefer knit because it does not wrinkle as easily, stretches, and is usually softer than woven fabric.
Different Types of Materials
There are different materials used to make jumpers. The basic material for a lightweight jumper is cotton because it is inexpensive, versatile, and can be warm. Wool, cashmere, and cotton are the most popular materials with cotton being the cheapest. Rayon and polyester blends are typically much cheaper as well, although the quality is usually lower. Cashmere, mohair, and many blends of wool such as angora or alpaca can be quite expensive. However, different materials offer different traits. For example, a cashmere jumper is extremely soft and luxurious while wool is usually very warm but can be itchy.
Types of Knits
The type of knit is important to consider because the gauge of the knit affects the jumper's bulk and warmth. Cable knit jumpers are usually very bulky but very warm and are usually sold as oversized jumpers or pullovers. Cable knits are sometimes also sold as 'fisherman's sweaters' because they were originally styled after the bulky jumper worn by fishermen. Lighter knits are typically thinner and easier to wear but less warm than thicker knits.
Jumper Style
Choosing a jumper should have to do with the season, the type of cut, personal preference, and what the jumper is being used for. For example, a jumper intended for work should look reasonably professional, not be too low cut, and most likely not be too tight. Most people prefer casual jumpers to be a little loose, while many women also prefer fitted styles, which are usually more flattering.
Jumper Neckline
The neckline of the jumper is the first feature of a jumper that most women should look at. There are a couple of basic popular necklines including V-necks, boat necks, and crew necks as well as several other flattering, but less popular styles. Most women should choose a neckline that flatters the shape of their face.
| | |
| --- | --- |
| Neckline | Description |
| V-Neck | Neckline ends in a V; can be low cut; a variation is the split neck; almost universally flattering |
| Jewel Neck | Small round neckline; should be avoided by anyone with a shorter neck or round face |
| Boat Neck | A large circle neckline that ends at the top of the neck; usually shows a good amount of shoulder |
| Turtleneck | Full neck that goes up to the chin and usually folds over; not a good choice for petite women or anyone with a very round face |
| Off Shoulder | Can be off one shoulder or off both shoulders; usually worn very loose for casual styles and tight for formal styles |
| Crew Neck | A larger version of the jewel neck; mostly universally flattering |
| Square | Perfect for highlighting collarbones and enhancing an oval face |
| Draped | A more formal style featuring a draped neckline that can be low or high cut |
Choosing a neckline is usually very easy. Most women with short necks or round faces should avoid high-cut tops while women with strong jaw lines should almost always go for a lower or V-cut. V-necks, draped necks, and boat necks are generally flattering styles, although boat necks might not be perfect for women with a double chin or very short neck. Most styles can be chosen based on personal preference and style.
Jumper Cut
Basic cuts for jumpers includes fitted, oversized, loose, standard, cropped, long, hip, waist, and more. Each of these cuts affects how the jumper fits when worn. For example, a cropped jumper most likely ends at or above the high waist. A standard jumper ends right at the hips and should usually overlap with the standard waist on jeans or a skirt. Higher waisted jumpers are usually meant to be worn with a higher waisted bottom.
In general, women who are larger on the bottom than the top should wear fitted tops to avoid adding bulk to their waistline. Hourglass figures should wear fitted or belted jumpers. Apple and banana figures can usually pull off any jumper style they like because the oversized and loose versions do not add extra bulk if the hips are not larger than the waist. Buyers can browse through a range of tops to get an idea of different styles and cuts before purchasing.
Jumper Colour or Pattern
The colour or pattern of the jumper is usually a personal decision, and there are plenty of options out there. Everything from prints to solid colours is readily available so buyers can pretty much choose anything they like. If a specific print or pattern is not available locally, it is probably available from an online site like eBay. Most women should consider what they plan to wear the jumper with and when they plan to wear it before buying colours or patterns because some are not suitable for every occasion.
Budget
Last but not least, it is always a good idea to set a budget before making a purchase. Most buyers can easily decide how much they want to spend based on how many jumpers they would like to buy, how long the jumper can be worn, and what the style is. Most women should aim for quality because a jumper is a closet essential, which means that it is likely to be used for years to come. On the other hand, if two jumpers are needed, it might be a better idea to look for a slightly lower cost jumper and then buy two. For anyone who needs a great deal on a jumper, eBay is always a great place to look.
Buying a Jumper on eBay
eBay is an international marketplace with plenty of jumpers ranging from high-end designer to budget unbranded items. You can choose to look through a range of different styles, colours, and options, or simply search for exactly what you want and buy it. eBay offers a unique shopping experience because you can search, compare, and buy from anywhere in the world without leaving home.
When purchasing on eBay, remember to use shipping cost as part of price comparison. Read the full description as items may be used or damaged as well as new. Buyers can also check any photos and measurements from the eBay listing or ask the seller if these are not given. Buying on eBay is generally very easy and self-explanatory but it is a good idea to pay attention to the details before making a purchase.
Conclusion
Buying a new jumper does require some consideration but for the most part it is fairly easy. Most women should know their size or measurements and then have some idea of their figure before buying a jumper. Women who are smaller in the waist than the hips should almost always go with a fitted style in order to avoid adding more bulk to their waist. Other considerations include the neckline, which can flatter different facial shapes depending on the cut.
Most should consider the budget, the material, the type of knit, and the warmth of the jumper before purchasing it. Colours and patterns should also be considered but usually these are a personal consideration. Finally, it is always a good idea to set an exact budget for one or more jumpers. From there, it is usually quite easy to look for a jumper either in stores or in an online shop like eBay.