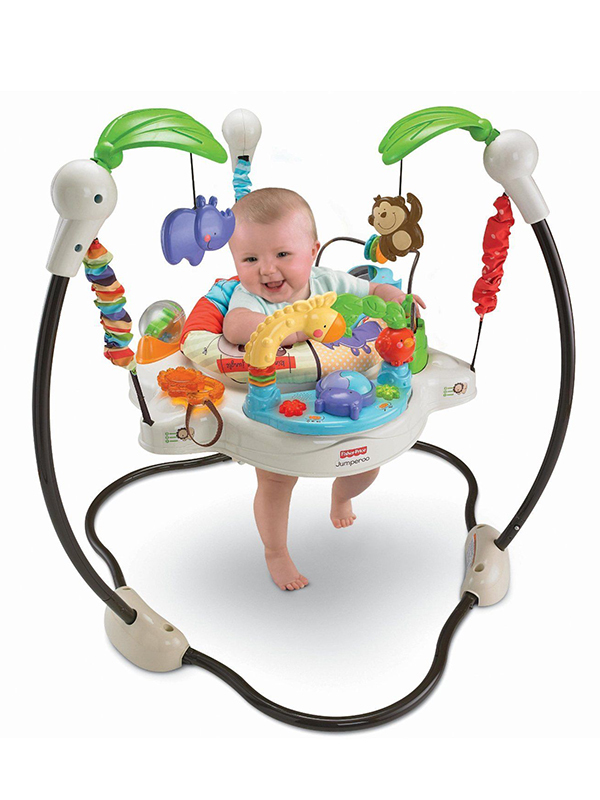 Babies of all ages love the Jumperoo. Very young children enjoy the coloured lights and energetic music, while older ones can make themselves jump and bounce. Some models even convert into a walker, letting your little one discover how fun being fully mobile can be. Online retailers feature examples of different types of Jumperoos that children at different stages may enjoy.

What Is the Jumperoo?
The Jumperoo is a complete activity centre for babies produced by Fisher Price that helps them develop vital skills they'll need in their first year of life. Most Jumperoos feature coloured knobs and balls baby can grab, spin or turn, and they have pieces on the tray that light up when baby touches them. The Jumperoo also has soothing music that baby can play. Jumperoos are designed for babies aged 3 to 12 months who can hold their head up on their own.
Variety of Themes
There are many variations on the basic Jumperoo. All Jumperoos are stable, non-moving units that baby can sit and jump in, but the decorations and toys included on the Jumperoo change based on the theme. For example, the Rainforest Adventure Jumperoo offers a seat shaped liked a giant frog and a mobile that features hanging toy parrots, while the Go Wild Jumperoo's mobile features monkeys, a plastic giraffe toy on the side of the Jumperoo, and a seat with a variety of paintings of animals found in the jungle.
Types of Jumperoos
There are two types of Jumperoos available from Fisher-Price. When most people think of the Jumperoo, they think of the stationary device that younger babies use. This device does not move at all; the parent simply places the child in the Jumperoo so that he or she can bounce, grab at items on the tray, and press buttons to make the mobile move or the music play. There is also a First Steps Jumperoo designed for children who are learning to walk. This Jumperoo functions as a walker, allowing the baby a stable, fun device to hold onto and move with while taking his or her first steps.
Benefits of the Jumperoo
Jumperoos are popular toys for babies aged 3 to 12 months because they offer baby a lot of activities to entertain himself or herself with while learning important motor skills.
Safe Place to Play
Jumperoos are very safe toys. The device is designed to be stable so that even the wildest young one can jump and kick without knocking over or moving the device. In order to maximise safety, parents should observe guidelines. Jumperoos are meant only for children who can hold their head up independently and cannot safely be used once the child's weight exceeds about 11.3 kilograms. Some Jumperoos are meant for children as young as 3 months, while others are meant for older children between the ages of 6 and 12 months.
Children Love Them
Jumperoos do an excellent job of keeping little ones entertained. Very young children enjoy grabbing things in order to learn what they are, and the Jumperoo offers plenty of knobs to grab, push, and spin, keeping baby entertained for hours. Babies also love discovering that they have the ability to move on their own, which the Jumperoo gives them. They can jump without the help of an adult and the First Steps model allows them to walk on their own.
Teaches Important Skills
Babies learn when they play with the Jumperoo. The many activities included with the device help stimulate the child's developing brain and can help increase cognitive abilities. Babies who play with Jumperoos also gain strength in their muscles, making it easier for them to crawl and walk on their own.
What You Need
The Jumperoo requires some assembly but you shouldn't need any specialised tools. The pieces generally snap together, making it easy to assemble and disassemble. You may need a screwdriver to attach some parts.
Other than that, all you need is a large enough space to put the Jumperoo and some AA batteries. The device takes three batteries, which must be purchased separately before baby can begin enjoying the Jumperoo.
Conclusion
Most young children love the Jumperoo. They can rock, bounce, play, and listen to music all on their own while learning cognitive and motor skills. Simply snap it together and insert the batteries so that your child can begin playing and learning.